On the Mainstage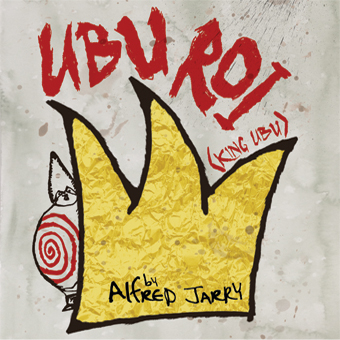 Ubu Roi
Feb. 21-25, 2018
by Alfred Jarry
Directed by Francine Roussel
Original Score by Douglas Ovens
A riot broke out as the curtain fell on opening night of Ubu Roi in Paris in 1896; Jarry's bizarre, subversive little play was shouted down as an ugly vulgarity and outlawed from the French stage. Since then, however, theatre historians have come to view the play as an essential work of the avant-garde theatre — an irreverent precursor to Dada, Surrealism, and the Theatre of the Absurd.
Ubu Roi parodies Shakespeare's Macbeth with elements of Hamlet and King Lear tossed in for good measure. Originally created to mock Jarry's terrible physics teacher, the character of Ubu eventually grew into a rotund, capricious tyrant who leads a revolution, kills the King of Poland, and gets attacked by a bear — all in the course of a couple scandalous hours. An absurd but trenchant political satire on greed and complacency, Ubu Roi continues to resonate in French society and shock audiences to this day.
For mature audiences.
Wednesday, Feb. 21, 8 p.m.
Thursday, Feb. 22, 8 p.m.
Friday, Feb. 23, 8 p.m.
Saturday, Feb. 24, 2 & 8 p.m.
Sunday, Feb. 25, 2 p.m.
Studio Theatre, Trexler Pavilion for Theatre & Dance
Panel Discussion: A panel of experts will participate in a panel discussion titled "Ubu Roi: It's Even Worse Than You Think," on Friday, Feb. 23, 2 to 3:15 p.m. Professors from several of Muhlenberg's academic departments will discuss what happens when politics becomes entertainment. Participants include Dr. Jeremy Teissere, neuroscience; Dr. Chris Borick, political science; Dr. Leticia Robles-Moreno, theater; and Dr. Eileen McEwan, languages, literatures and cultures. Theater professor Dr. James Peck will serve as moderator. The discussion will take place in the Studio Theatre, Trexler Pavilion for Theatre and Dance. Admission is free and open to the public.
Tickets
484.664.3333
or online.