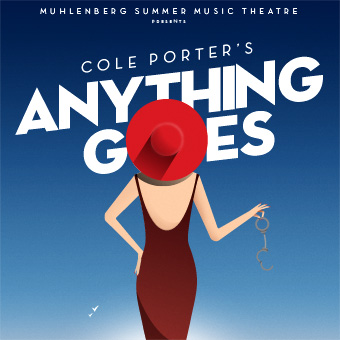 Cole Porter's
Anything Goes
July 11-28, 2019
Dorothy Hess Baker Theatre
Trexler Pavilion for Theatre & Dance
Music & Lyrics by Cole Porter
Book by P.G. Wodehouse & Guy Bolton
and Howard Lindsay & Russel Crouse
New Book by Timothy Crouse & John Weidman
Cole Porter's classic jazz-age musical stands among the most beloved of the 1930s, featuring timeless standards like "I Get a Kick Out of You" and "You're the Top."
A delightfully silly tale of love, deception, and hijinks on the high seas, Anything Goes features breathtaking melodies and wickedly clever lyrics by one of Broadway's all-time great songwriters.
Tap maestra Shelley Oliver provides the spectacular choreography for a rip-roaring evening of summer fun!
Director: Charles Richter
Musical Director: Bryan L. Wade
Choreographer: Shelley Oliver
Scenic Designer: John Raley
Costume Designer: Michael McDonald
Lighting Designer: Gertjan Houben
Sound Designer: Ian Scot
Get tickets now!
Purchase online!
or call 484-664-3333
Subscribe & Save!
Get tickets to Bring It On and Anything Goes...
Save more than 20% and get the best seats in the house!
July 11-28
July 11-14:
Thur & Fri: 7:30 p.m.
Saturday: 2 & 7:30 p.m.
Sunday: 2 p.m.

July 17-28:
Wed-Sat: 7:30 p.m.
Sunday: 2 p.m.

Tickets
First Week (Thur-Sat)
Regular Price: $35
Seniors (65+): $31
Students (19-22): $20
Youth (18 & under): $17
Rest of the Run (including Sundays)
Regular Price: $41
Seniors (65+): $37
Students (19-22): $24
Children (18 & under): $21
Groups of 15+
Regular price / seniors: $28
Students / Youth: $20
Groups, call 484-664-3087.
Accessible Performance
Sunday, July 28, 2 pm.
Audio Description & Open Caption

Open Captioning is available for patrons with hearing loss, and Audio Description is available for patrons who are blind or low-vision. See Accessibility Page for details.