Thinking about auditioning for Theatre?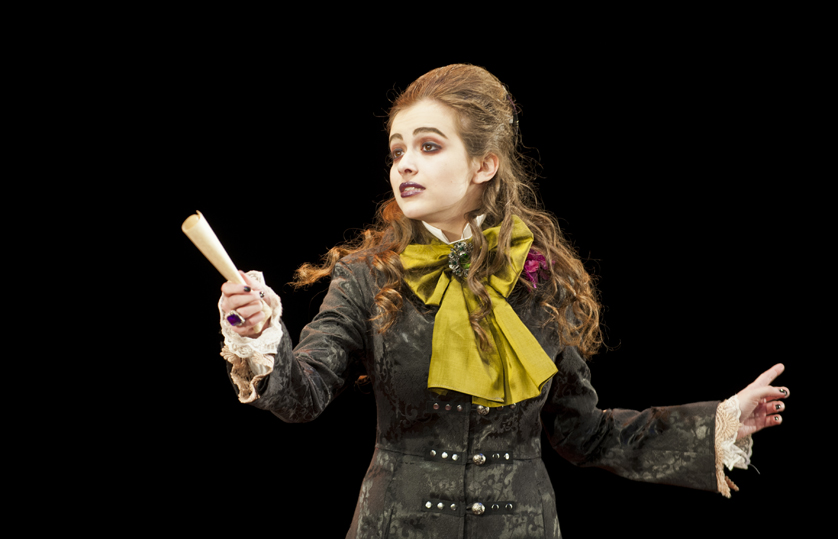 An audition is not required to study in the Muhlenberg Theatre Program — but an audition can be a great way for us to get to know you and for you to get to know the program!
Should I audition?
An audition and interview are not required for admission to study in the Department. However, students with strong skills are encouraged to audition/interview. A good audition will improve your chances of being admitted to the College, and an audition and interview is required for applicants who wish to be considered for talent-based scholarship awards.
Prospective students are encouraged to combine their audition and interview with a campus visit and the opportunity to observe or take classes in the department.
When are auditions and interviews held?
Auditions/interviews are held on campus, Monday through Friday. Dates for 2019-20 are: Sept. 2 through Nov. 26, 2019 (except Oct. 9 and 14), and Jan. 21 through Feb. 28, 2020. Please note that we do not hold on-campus theatre auditions on weekends.
West Coast auditions will be held Jan. 3-4 in Los Angeles, and Jan. 5 in Walnut Creek, near San Francisco. Register here.
Students who plan to apply Early Decision 1 should complete their auditions and interviews by Dec. 1.
How do I schedule an audition?
To schedule an audition and/or interview, email your request to Charles Richter, Director of Theatre, at richter@muhlenberg.edu. In your e-mail please specify the following:
Three dates you are available, in order of preference. We do not hold on-campus theatre auditions on weekends.
What time you can arrive on campus
Which concentrations you are interested in (acting, directing, design, stage management, performance studies). See below for audition/interview requirements, which vary by concentration.
Whether you plan to do a vocal or dance audition in addition to your monologue, if auditioning.
We will send you an audition date confirmation by return e-mail. For more information or to schedule an audition via phone you can call Charles Richter at 484-664-3330.
Can I audition/interview without coming to campus?
Students who live more than 200 miles from Allentown may submit a video audition for acting, have a telephone interview for stage management or directing, or (for design applicants) submit a portfolio by mail. Please contact Theatre Director Charles Richter for details and deadlines.
West Coast auditions are held in January. See above for more information, and register here.
Audition/interview requirements by Concentration
Acting and Musical Theatre
For the acting audition, two contrasting monologues totaling not more than four minutes in length are required. It is recommended that no accents be used and characters chosen should be in the actor's age range.
Students with an interest in musical theatre performance may also sing one song selected from the musical theatre repertoire in addition to the monologues. Students with classical voice training have the option to sing an additional art song or aria. A song is not required for the audition. Students with an interest in musical theatre performance who have strong dance skills may also schedule a dance audition on the same day as the acting audition.
To schedule, contact Charles Richter, at richter@muhlenberg.edu.
Directing & Stage Management
An interview is required. Students may bring prompt books from productions they have directed or stage managed. Two letters from theatre teachers or theatre professionals attesting to the quality of the student's talent and work habits are also required. Directing students are strongly encouraged to present an acting audition in addition to the interview.
To schedule a stage management interview, contact Curtis Dretsch, Director of Design and Technical Theatre, at 484-664-3739 or dretsch@muhlenberg.edu. To schedule a directing interview, contact Charles Richter at richter@muhlenberg.edu.
Theatre Design & Technology
Scenic design, lighting design, and costume design students need to schedule an interview and are encouraged to bring a portfolio. The portfolio can be an informal collection of the student's work including (but not limited to) drawings from art classes, photos of work presented on stage, and other materials that show visual artistic ability and imagination. To schedule an interview/portfolio review or for more information, contact Curtis Dretsch, Director of Design and Technical Theatre, at 484-664-3739 or dretsch@muhlenberg.edu.
Playwriting
Applicants may submit a sample of their dramatic writing to Charles Richter, Department of Theatre and Dance, Muhlenberg College, 2400 Chew Street, Allentown, PA 18104-5586. Professor Richter will contact the applicant to arrange an interview after reviewing the work. Contact Professor Richter at 484-664-3330 or richter@muhlenberg.edu for more information.