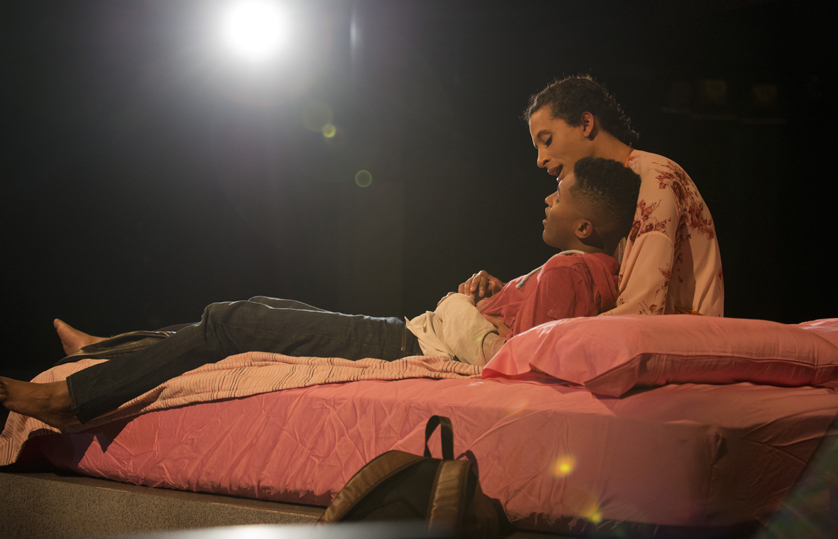 Is an audition required for admission to the theatre major at Muhlenberg?
No. Any student admitted to Muhlenberg can major in theatre. Students with strong skills, who would like their talent to be taken into consideration as part of the admissions process, are encouraged to schedule an audition.
Are there talent scholarships offered to incoming students?
Yes. An audition is required for consideration for a Muhlenberg Talent Grant or Baker Scholarship. Scholarships range in size from $1,000 to $4,000 per year depending on talent level. Students with skills as actors, directors, or playwrights, or in design and technical theatre, are eligible for talent grants.
How many students are involved in the theatre program at Muhlenberg?
We have more than 250 theatre majors and more than 300 students involved in dramatic activities through the Department of Theatre & Dance and the Muhlenberg Theatre Association.
How large is the Department faculty and staff?
The Department of Theatre & Dance has more than 30 full-time faculty and staff, along with a number of part time instructors, adjuncts, and technicians. In addition, we utilize the talents of several nationally renowned guest artists each year.
How many productions are mounted at the college each year?
Typically, we mount at least six theatre projects in our Departmental Season each year. At least one of those productions is always a musical, and students frequently have opportunities to direct for the Departmental Season. In addition we also produce anywhere from 25 to 40 student-directed workshop productions each year. These include one-act plays and musicals in the Studio Theatre. There are also several informal readings, improvisational evenings and special one-night performances each season.
Can first-year students and non-theatre majors audition for theatre productions?
Any full-time student, regardless of class year or major, can audition for any Muhlenberg theatre production.
What are the areas of study offered in the Theatre Program?
Students can take courses in Acting, Directing, Production Design (costumes, sets, lights, sound), Stage Management, Playwriting, and Performance Studies. Read more here.
Can students specialize in more than one area of study?
Yes! Students are strongly encouraged to design a curriculum within the Theatre Program in which they pursue all of their various interests and prepare for a career as multifaceted theatre artists. Students also take extensive coursework in the liberal arts, and frequently pursue a second major or a minor in another area of study.
Do you offer a musical theatre major?
No, but students can receive very high quality musical theatre training at Muhlenberg. We offer complete training in acting, dance and singing. The vocal component of the training is offered through the music department, which has an excellent voice faculty. Dance and acting training is offered through the Department of Theatre & Dance. Our acting curriculum is carefully structured, and we offer complete dance training in ballet, tap, jazz, and modern. It is strongly recommended that students with a serious interest in musical theatre major in theatre performance and complete minor programs in dance and music (vocal performance).
With this kind of program students receive an extremely intensive, well-integrated musical theatre training experience. We also regularly produce large-scale and workshop musical theatre productions during our school-year production season.
Are there study abroad opportunities for Muhlenberg theatre students?
Theatre & Dance students are encouraged to spend a semester studying abroad, and more than half do so, in one of several different programs specifically designed to complement the department's curriculum. The department is formally affiliated with the Accademia dell'Arte in Arezzo, Italy, and Theatre Academy London. Find out more.
What kind of career preparation opportunities do you offer graduating students?
Each year we run a senior seminar program for students heading for careers in the theatre. As part of the program we bring a professional casting director from New York to work with our seniors on audition preparation for the professional theatre. The students also have seminars with working theatre professionals who have graduated from the program.
We present a Senior Showcase in New York every spring. This is a four-day experience held in New York that allows our graduating students to work closely in workshops with agents, casting directors, and professional music and stage directors. At the end of the four days the students present a showcase presentation for a large audience of industry professionals. The Showcase is open to all senior theatre majors. Several of our graduates have retained managers or agents and have received significant professional casting opportunities as a result of the showcase.
In addition to the group programs, many of our students do individual career and graduate school counseling with our resident staff, all of whom are experienced theatre professionals. Full-time faculty members are available for individual coaching and help with audition preparation.
What do Muhlenberg theatre students do after graduation?
Many of our graduates have gone on to very successful careers in the performing arts. Our alumni have been seen on Broadway, in regional theatre, film and television. Many alumni have gone on for advanced study at the finest graduate theatre programs in the country, including degree programs at The Yale School of Drama, New York University, The Mason Gross School of the Arts at Rutgers University, Brown University/Trinity Square, American Conservatory Theatre, and the University of California at San Diego. Others have gone on to satisfying careers in theatre production and administration at the nation's major regional theatres and in Broadway production offices. Because of the strong liberal arts background our students receive, several have been able to go on to law school, medical school, and a variety of other graduate programs. For further information see the alumni page.
---
Want to Know More?
Thank you for your interest in Muhlenberg College. This form is for prospective students to request additional information about the Theatre & Dance Department.
Performance Patrons: to sign up for the mailing list, or to request information other than prospective student info, please the See a Show page, and click Mailing List Signup in the sidebar menu.
Loading...