Thinking about auditioning for Dance?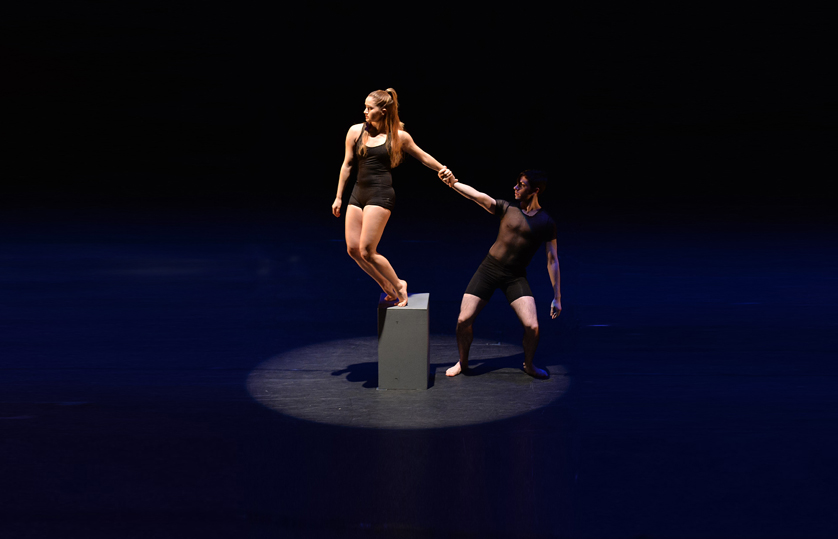 Dance Interviews & Auditions — for high school seniors & transfer students
Dancers are encouraged to attend one of our Open House/Audition events and engage with the Dance faculty and students. While an audition is not required for admission to the college or the dance major, a strong interview and audition can improve your chances of admission, and an audition is required for students who wish to be considered for a talent scholarship.
We are planning three Saturday Open House/Audition events in person during the 2022-23 Academic Year:
Oct. 22, 2022
Nov. 12, 2022
Jan. 28, 2023
CLICK HERE to register for an in-person Open House/Audition Day!
This is an opportunity for you to take classes with our faculty, talk with current students, tour the facilities, and audition for a talent grant if you wish.
If you're unable to attend one of our Open House/Audition dates, video auditions and Zoom interviews can be arranged. Here are the guidelines for video auditions.
If you would like to schedule a visit but you're not ready to audition yet, please fill out the Campus Visit Form.
Open House / Audition Day Schedule
| | |
| --- | --- |
| 8:45 a.m. | Check in with Admissions Office |
| 9 - 10 a.m. | Campus tour |
| 10 - 10:45 a.m. | Admissions information session |
| 10:45 a.m. | Check in at the Box Office Lobby, Trexler Pavilion |
| 11 a.m. - noon | Facility Tour and Q&A w/ faculty and students |
| noon - 1 p.m. | Lunch with current students |
| 1 - 3 p.m. | Classes in a variety of styles including ballet, modern, jazz and tap |
| 3 - 5 p.m. | Solo auditions and interviews with faculty |
More information about Dance Audition Days
Your solo can be in any dance style and does not need to be self-choreographed.
Music for your solo can be on your phone or a CD.
The solo should be one to two minutes in length, and it is fine to stop dancing before the music stops.
Dance attire appropriate for modern or ballet should be worn for the class and solo. The ballet class is noten pointe
Based on your audition, you may be awarded a Talent Scholarship of up to $4,000 per year.
We will send a letter about your dance audition to the Admissions Office. A good audition will positively influence your admission.
If you are not available during one of our scheduled Audition Days and would still like to audition, please contact Professor Karen Dearborn at

[email protected]

.
Frequently asked questions about Dance Program auditions
See a show!
Come see us in action! Prospective students and their families are welcome to attend Departmental theatre or dance productions as our guests! See the Department Performance Series page for details. Of particular interest:
The Threepenny Opera, Kurt Weill and Bertolt Brecht's groundbreaking musical — Oct. 28 – Nov. 6, 2022
Reset: New Dances, our fall student-choreographed concert — Dec. 1-3, 2022
In Motion, featuring choreography by acclaimed faculty and guest artists — March 30 – April 1, 2023
Dance Emerge, the spring student-choreographed concert — April 27-30, 2023
For free tickets, please fill out this ticket request form.
How to Audition:
Whether you're auditioning in person at an Open House event or remotely, here are guidelines you will want to follow in preparing for the audition.
Prepare your audition carefully

Gather supporting materials:

Résumé
Your résumé should reflect work experience, extra-curricular activities, volunteer work, and other experience — both arts-related and non-arts-related. Please convert all files to PDFs.
Current photo
For identification purposes only. It can be a headshot, school photo, or casual photo, as long as it's recent, your face is clear, you're the only person in the photo, and you look more or less like you do now. It should be at least 400 pixels on a side, and larger is better.
Frequently asked questions about Dance Program auditions
---
Want to Know More?
Thank you for your interest in Muhlenberg College. This form is for prospective students to request additional information about the Theatre & Dance Department.
Performance Patrons: to sign up for the mailing list, or to request information other than prospective student info, please the See a Show page, and click Mailing List Signup in the sidebar menu.
Loading...