Past Exhibitions
2013 Senior Thesis Exhibition
May 1 - 19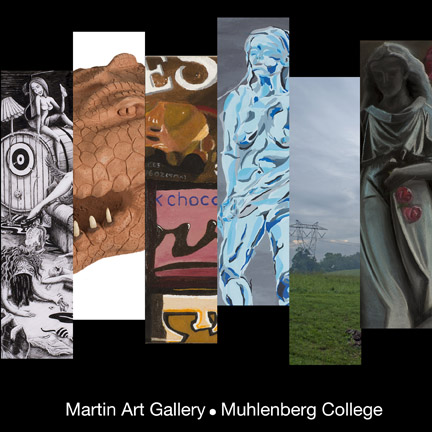 The Martin Art Gallery proudly hosts the 2013 Senior Thesis Exhibition, which will showcase the work of six art majors: Nina Marie Corona, Tori Kline, Mancy R. Maxwell, Jesse Nusbaum, Amy Elizabeth Osika, and Lowell Wynn.
Their work in painting, digital photography, print-making, sculpture, and drawing is the culmination of meeting all the requirements of the two-semester senior seminar course in studio art.
An opening reception will be held Wednesday, May 1, 4:30 – 6:00 p.m. The exhibition and reception are free and open to the public.
Gallery hours are Tuesdays – Saturdays, noon – 8:00 p.m. and by appointment. The exhibition closes Sunday, May 19. For additional information: 484-664-3467.
All art images and content are the property of Martin Art Gallery, Muhlenberg College, Allentown, PA. Any reproduction or distribution of this material without the expressed, written consent of the Martin Art Gallery is prohibited and a violation of federal law. All rights reserved.