Past Exhibitions
Along the Eastern Road:
The Fifty-three Stations of the Tokaido
March 14 – April 18, 2012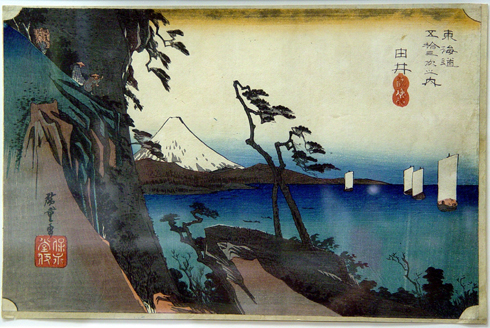 This spring the Martin Art Gallery proudly presents Along the Eastern Road: The Fifty-three Stations of the Tokaido a comprehensive exhibition that features 55 color wood-block prints by master Japanese printmaker Utagawa Hiroshige (1797-1858). The historic Tokaido Road linked Edo (now Tokyo) with Kyoto, the ancient imperial capital of Japan. In 1832, Hiroshige, having trained in the tradition of the ukiyo-e (floating world) wood-block print making, journeyed along the entire Tokaido route. He visited each of the fifty-three towns and villages—stations—that provided lodging, refreshments, and souvenirs for the steady traffic of merchants, religious pilgrims and tourists. While staying at these overnight stops, Hiroshige carefully recorded numerous views of each town and the surrounding landscape as well as the people.
Hiroshige's Fifty-three Stations of the Tokaido Road, first published in 1833-1834, became a popular series that established his reputation as the foremost artist of the topographical landscape in Japan at that time. The landscape genre developed late in the ukiyo-e period and had been greatly influenced by the color wood-block prints of another well known Japanese artist, Katsushika Hokusai (1760-1849).
During the last decades of the 19th century, Europeans were introduced, for the first time, to Japanese woodblock prints in large quantities. Many artists of that period, including Mary Cassatt, Vincent Van Gogh, and Toulouse Lautrec were highly influenced by the distinctly different style and exquisite craftsmanship. The influences of flat spatial relationships, asymmetry, and emphasis on diagonal composition became, and remain, part of the vernacular of visual artists world-wide.
This exhibition was organized by the Reading Public Museum, Reading Pennsylvania.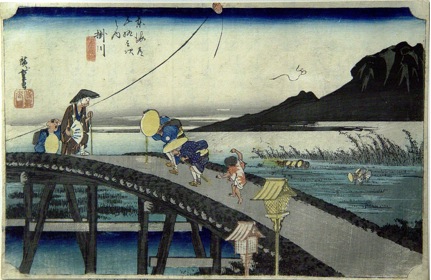 Twenty-sixth Station: Kagegawa, c. 1833-34, from Fifty-three Stations of the Tokaido Road, woodblock print, 9"x 14". Image courtesy of the Reading Public Museum, Reading Pennsylvania.
A reception to celebrate and enjoy and these masterworks will be held Wednesday, March 14, 4:30 – 6:00 p.m. in the Gallery. A wood-block printmaking demonstration by visiting artist Katie Baldwin will be held Thursday, March 29, 12:30 – 1:45 p.m.
All Martin Art Gallery events and programs are free and open to the public. Gallery hours are Tuesdays through Saturdays, noon – 8:00 p.m.; other hours by appointment. Closed during semester breaks and holidays.
All art images and content are the property of Martin Art Gallery, Muhlenberg College, Allentown, PA. Any reproduction or distribution of this material without the expressed, written consent of the Martin Art Gallery is prohibited and a violation of federal law. All rights reserved.