AM DeBrincat: Speculative Fiction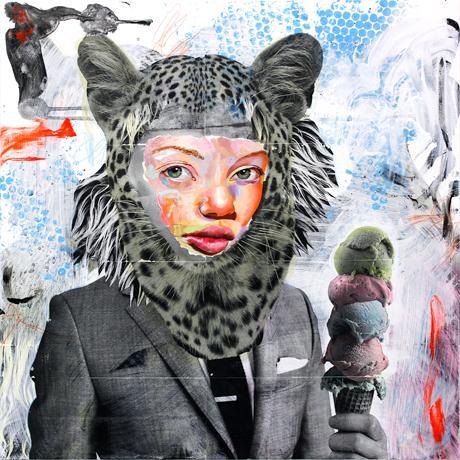 Scoop, 2016, Mixed Media Painting
Mixed Media Paintings by Brooklyn Based artist, publisher and curator AM DeBrincat January 30 - March 27, 2017, Public Reception February 8, 5 - 6:30pm; Public Artist Talk February 22, 5:00 pm.
AM DeBrincat is a Brooklyn-based multidisciplinary artist whose work explores the hybrid nature of identity in the digital age. DeBrincat's work has been included in group exhibitions throughout the US and internationally, and in solo exhibitions in the US. Recent residencies and grants include residencies at the Massachusetts Museum of Contemporary Art (MASS MoCA), The Wassaic Project, and Chashama, and grants from the Durst Foundation and the Deming Foundation.
Originally from San Francisco, California, DeBrincat received a BA in Spanish and English Literature from the University of Oregon, and received an MFA from Parsons the New School for Design.
Exhibition review: AS | ARTISTS STUDIOS CROSSING A POROUS BOUNDARY: AM DEBRINCAT, by Mike Dale Johson - New York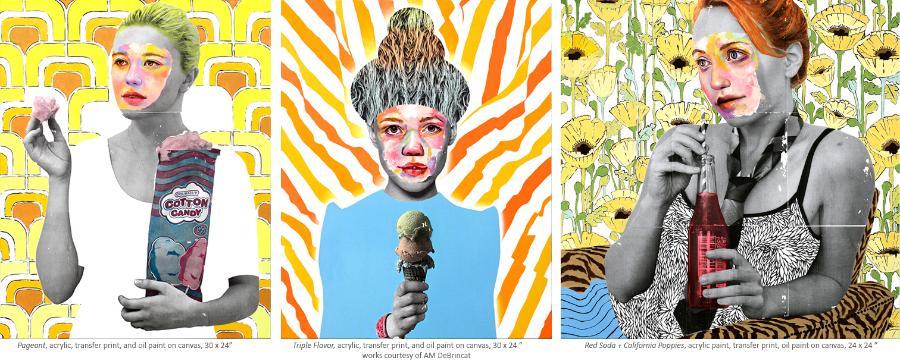 Works in this exhibition combine colorful detail, with lyrical brushwork interspersed by layers of collaged photography and transfer prints. DeBrincat employs imagery from various media. Historical kitsch intermingles with contemporary advertising, which is further obliterated and adapted. DeBrincat's images challenge nostalgia associated with halftone by vividly augmenting pattern and image with flourishes of paint. Eyes and faces are cut out or print and re-completed in luscious detail, expressions alternate between enthusiasm and malaise. Figures are surrounded with fun[!] props such as candy and ice-cream, and in a bipolar contradiction that seems to capture the frustration of bad internet on a transatlantic flight, the subjects' disquiet remains no matter the circumstance. The intermingling of public/private forces this pop-culture investigation to become personal. DeBrincat is unafraid of merging fast and slow techniques which unify as dynamic mixed media works defying our increasingly ubiquitous stock image culture.
- Paul M. Nicholson, Director Martin Art Gallery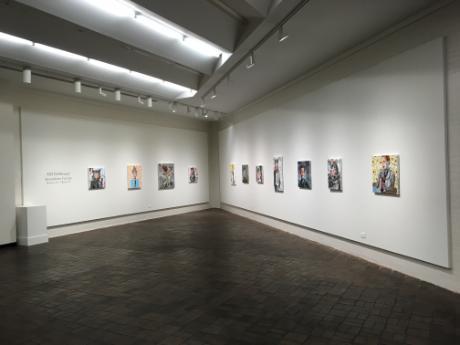 ‌
Speculative Fiction, as installed in the Galleria Space‌