Artists Quarantine With Their Art Collections
Curated by Stephen Maine
November 17 - February 6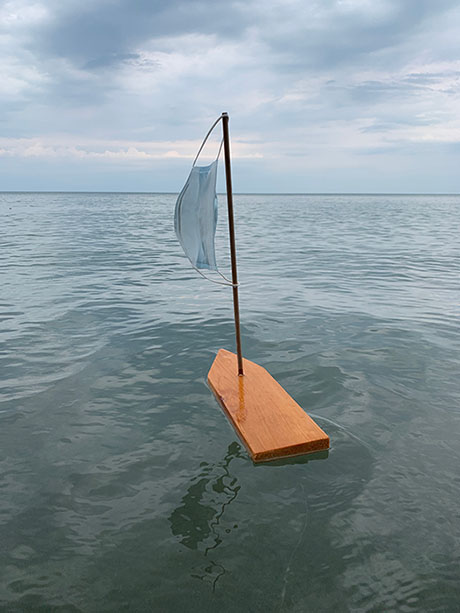 Image courtesy of Paul M. Nicholson

Martin Art Gallery at Muhlenberg College will play host to the exhibition Artists Quarantine With Their Art Collections, guest curated by Stephen Maine in our Galleria Exhibition Space. The opening reception will be on Wednesday November 17, 6:00 to 7:30pm. In the new year we look forward to holding a panel discussion with some of the lending artists, moderated by Stephen Maine.
Artists Quarantine With Their Art Collections began as a series of articles Stephen organized and edited for the arts journal Hyperallergic.com. The project looks at the ways global cataclysm can reshape meaning in artworks that predate it, and how the experience of a specific collective hardship can influence the significance we extract from (or project onto) artworks—even those we thought we knew well. During the height of the COVID-19 pandemic and subsequent lockdowns, Stephen asked his fellow artists: In the context of rampant disease, do you look at your personal collection differently now, and which works in particular? Is there one that especially resonates with you at this weird, frightening moment? And does it take on new meaning?
The premise is that, secluded at home, many people would come face to face with work they'd looked at countless times, but the extraordinary circumstances of global pandemic might prompt the involuntary creation of new meaning. What we see depends in part on when, in the course of events, we do the looking, because an artwork's significance, while often largely subjective, is also flexible—capable of shifting to meet the present moment.
The responses were assembled and published in biweekly installments in Hyperallergic beginning in May 2020, and continuing for the next year. Using the Artists Quarantine With Their Art Collections articles as a point of departure, Stephen has selected a group of works and paired them with the writings from their artist-owners, allowing gallery visitors to see firsthand the works described in his online project. Thanks to the generous lenders, this unique show will allow the public to engage with deeply personal possessions. Artists are typically thought of as object-makers, and in this unique exhibition, we are allowed into the personal spaces of artists, to see what works inspire or move them, and to learn a little bit about the works they found solace in, during what was truly a dark time for not only artists in the US, but across the world.
Stephen Maine is an artist, curator, and writer living in West Cornwall, Connecticut. He has shown his paintings recently at Hionas Gallery and Project: ARTspace in Manhattan; Furnace/Art on Paper Archive in Falls Village, Connecticut; and Kenise Barnes Fine Art in Kent, Connecticut. He has curated exhibitions at the Aldrich Contemporary Art Museum in Ridgefield, Connecticut, and in New York City at the Shirley Fiterman Art Center of BMCC, The Painting Center, Lesley Heller Gallery, the School of Visual Arts, and Pratt Institute. Stephen's writing has appeared regularly in Art in America, ARTnews, Artnet.com Magazine, Art on Paper, the New York Sun, and Hyperallergic.com. He teaches at Purchase College, SUNY.
Artists lending works from their personal collections include: Gina Beavers, Power Boothe, Dan Devening, Mark Joshua Epstein, Steve Greene, Jodi Hays, Carl E. Hazlewood, Lauren Henkin, Mary Jones, Christopher Kuhn, Elisa Lendvay, Judith Linhares, Helen O'Leary, Courtney Puckett, Vincent Ramos, Archie Rand, Howard Schwartzberg, Letha Wilson,and Antonius Wiriadjaja