David Ambrose: Conversations with Yesterday
September 16 - November 18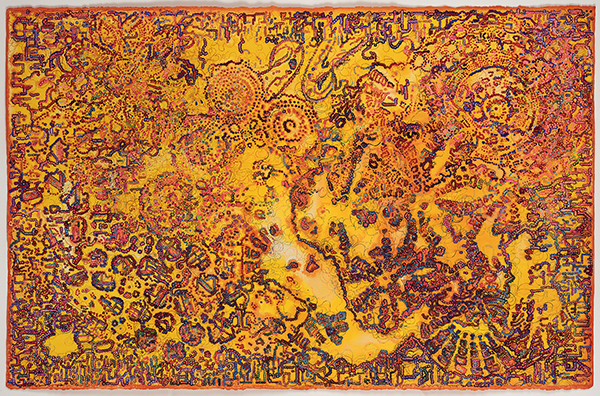 In Hot Haste, 2017, 25" x 40", watercolor and gouache on pierced paper
David Ambrose's exhibition Conversations with Yesterday has been a project forty years in the making. This show, however, is not a retrospective. Each piece, produced over the past two years, is the result of lessons learned throughout his nearly four decade career, which began at Muhlenberg College in the late 70's as a student.
Muhlenberg is excited to highlight this distinguished alumnus with an exhibition of new works in the Martin Art Gallery. Employing gouache, oil, pastel and watercolor, Ambrose stipples paint, pierces paper, and scrapes and reapplies pigment to systematically create unexpected color juxtapositions and vibrant fields of intricate layers. Using a near obsessive process, works remind us that persistence pays off. Iterative manipulation results in exquisitely detailed surfaces. Each piece seemly captures the ephemeral nature of concentration. The product of a long journey looking both outward and inward, this collection of works manifest Ambrose's unique vision.
The exhibition is accompanied by a catalog and essay by Stephen Maine, and will include a public artist talk in the Empie Recital Hall, in Baker Center for the Arts on November 1, from 5 - 6pm.