David Mann:
In Focus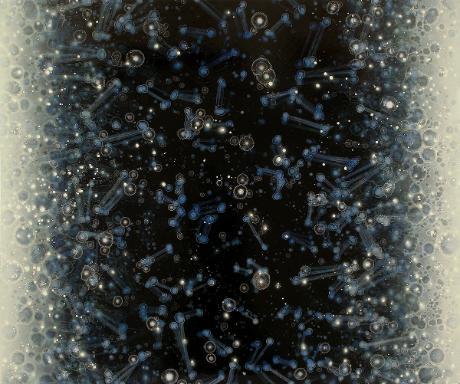 Second Sight

49 x 58" Oil/alkyd on canvas stretched over board
August 30 through January 2, 2019
Public Reception September 12, 5 - 6:30pm
Artist Talk November 7, 5 - 6pm
Five large works by New York based artist David Mann will be on extended display in the Martin Art Gallery's Baker Center for the Arts Galleria Area. Mann's vivid oil/alkyld works are intriguing in that they are both specific and broad at the same time. While his dramatic paintings include incredible detail, the scale of the subject matter remains elusive - as some appear cosmological in scope, while others appear as though they might be images taken looking through a microscope. Works will remain on long term display throughout the fall 2018 semester, and will include an public artist talk on November 7, from 5 - 6pm, in the Recital Hall, and a public reception on September 12, from 5 - 6:30pm.
David Mann makes abstract paintings which explore the crossroads between abstraction and connections to cosmology and microbiology. Recently he completed a major commission for the new James L. Sorenson Molecular Biotechnology and Neuroscience Research facility on the campus of the University of Utah. Mann received his MFA from the State University of New York at Buffalo. He is represented by Margaret Thatcher Projectsin New York City. Prior to showing with Thatcher Projects, Mann exhibited in New York with McKenzie Fine Art, James Graham & Sons and Ledis Flam Gallery. He has had solo exhibitions at galleries around the country, including Zolla Lieberman, Chicago, Elliot Smith, St. Louis, Nina Freudenheim, Buffalo and The National Academy of Sciences, Washington, D.C. His work is in the collections of The Brooklyn Museum, The Albright-Knox Art Gallery Buffalo, NY, National Academy of Sciences, Washington, DC, The Life Sciences Institute, University of Michigan, Ann Arbor, MI, and the New School University, New York. Mann's paintings have been in group exhibitions throughout the country, including The Brooklyn Museum, and The American Academy of Arts Letters. He has been the recipient of a Pollock Krasner Foundation Award. Before moving to NYC Mann taught in the School of Art at Syracuse University. He has been teaching in the Fine Arts Department at Parsons since 1991.