George Afedzi Hughes in the Martin Art Gallery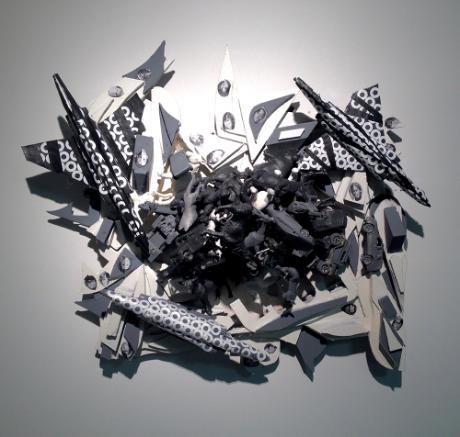 Collisions 33, 2015, 30 x 30 ins approximate, collage, acrylics, oils on wood and plastic
New works by George Afedzi Hughes, February 8 - March 4, 2017, Public Reception February 8, 5 - 6:30pm
George Afedzi Hughes' work uses the history of colonialism as a basis to highlight parallels between that violent history and contemporary global conflicts. In today's informational age global occurrences of violence reach us through the media: transmitting fear that increasingly replaces sensations of calm. Hughes' work interprets in visual form the spectacle of information, knowledge and subjectivity. Furthermore, he investigates postcolonial reconciliation through competitive sports imagery, popular culture and narratives of multicultural societies.
Originally from Ghana, George Afedzi Hughes studied painting at The Kwame Nkrumah University of Science and Technology, College of Art, where he earned a BA in Art (Painting and Drawing1989) and an MA in Art Education (1991). He moved to England in 1991 and finally settled in the United States in 1994 after a major solo exhibition of his works created in London were exhibited in Accra, Ghana at The Artists Alliance Gallery. He later received an MFA in Painting and Drawing (2001) from Bowling Green State University.
Since moving to The United States, he has taught Art at The University of Toledo (1997-2001), Bowling Green State University (1999-2000), The University of Oklahoma (2001-2006) and currently at SUNY at Buffalo (2006-present). His paintings, performances, and installations have been shown internationally in Germany, Portugal, England, Holland, China, Denmark, France, Nigeria, South Africa, and in Ghana.
Click here to read an interview with George Afedzi Hughes on Art File