Past Exhibitions
Girl Band
January 15 – February 22
Reception: January 22, 4:30 – 6:00pm
Artists: Pat Badt, Marthe Keller, Julie Shapiro, Kim Uchiyama
Guest curator: Stephanie Buhmann
The Martin Art Gallery opens the spring semester with Girl Band, a group show by mature, contemporary painters whose work is simply described by guest curator Stephanie Buhmann— "Abstraction rooted in color and line."
Buhman explains that each of the artists in Girl Band stands on the shoulders of non-objective painter Agnes Martin who from 1960 onward developed a signature style rooted in lines and grids. Many contemporary abstract artists continue to explore the simple structures and rhythms that vertical or horizontal lines create; they believe in the expressive range that can be achieved. Although Badt, Keller, Shapiro and Uchiyama vary significantly in their stylistic approaches, they have much in common. Above all, they share a concentrated devotion to a repeating line as a predominant compositional feature and they all take color personally.
Badt has worked in abstraction since the early 1970s and her paintings grow from specific personal experiences. "I work with a woven matrix of string that demands that I am always on the surface of the painting," she states. Her gesture is restricted and her lines of color accumulate into layers. Keller avoids nature-based color and prefers acrylic paint that offers colors made for automotive and military purposes. She has worked in abstraction since the 1960s and draws inspiration from chance and repetition. Conversely, Shapiro's palette is sparked by natural objects and her work is largely inspired by the landscape that surrounds her. She has worked for decades in painting, drawing, and printmaking and now finds collage has begun to play a role for her in both concept and method. Uchiyama's color concepts are also derived from nature, particularly referencing the psychology and mystery of light. Her paintings are horizontal banners of rich color. During her 25-year career she has settled on a format that is derived from the layering of earth and sky.
Girl Band opens January 15 at noon. A reception to meet the artists and guest curator will be Wednesday, January 22, 4:30 – 6 PM in the Martin Art Gallery Baker Center for the Arts. The exhibition and reception are free and open to the public. Gallery hours: Tuesdays through Saturdays, noon – 8:00 p.m., additional hours by appointment.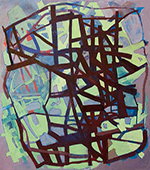 ‌
Julie Shapiro, Crop up September, 2013. Oil on canvas, 42" x 40"
All art images and content are the property of Martin Art Gallery, Muhlenberg College, Allentown, PA. Any reproduction or distribution of this material without the expressed, written consent of the Martin Art Gallery is prohibited and a violation of federal law. All rights reserved.