Liz Whitney Quisgard
Imaginary Architecture
January 15 – May 30 2019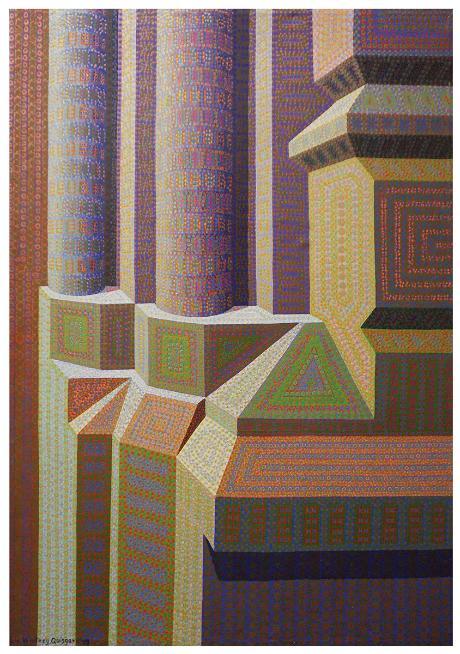 Italianate Detail, 1980s, Acrylic on canvas, 48" x 70"
Martin Art Gallery at Muhlenberg College is pleased to present Imaginary Architecture, an exhibition of newly acquired works by Liz Whitney Quisgard. Works will be on public display in our Philip Johnson-Designed Baker Center for the Arts atrium for the duration of the spring 2019 Semester.
Born in Baltimore Maryland, Liz Whitney Quisgard's decades-long career has resulted in a dizzying array of vibrant works in various media including sculpture, installation, fiber-art, and paint. Imaginary Architecture features five large paintings completed in the mid-1980's, shortly after her arrival in New York City. Quisgard employs a maximalist aesthetic to depict her fanciful imagined architectural interiors, appropriately on display in our campus' signature architectural masterpiece. Her design-forward aesthetic and obsessively meticulous color schemes evoke Twentieth-Century Modernism tinged with a Byzantine mosaic tradition. A through-line in her diverse body of work is her commitment to exploring how decorative and ornamental elements engage with physical, functional and descriptive elements.
Ms Quisgard is an American artist schooled at the Maryland Institute College of Art who currently lives and works in New York City. Her work delights people through dozens of public collections, including public art commissions in several Mid-Atlantic States, and in museum collections on two continents. Over 50 Corporate collections hold pieces of her work around the world. She has participated in hundreds of group and solo exhibitions, including recent solo exhibitions at the Bradbury Museum in Jonesboro AR, the Kingsborough Art Museum in New York, The Museum of Geometric and MADI art Museum in Dallas TX, and at Cleveland State University in Cleveland OH.
Contact: Paul M. Nicholson, Gallery Director Martin Art Gallery paulnicholson@muhlenberg.edu
Martin Art Gallery is located in our Philip Johnson designed Baker Center for the Arts, on Muhlenberg College Campus, at 2400 Chew Street, in Allentown PA 18104. Ph. (484) 664 3467. Hours: Tuesday - Saturday 12 - 8pm. All Gallery programming is Free and Open to the Public.
Works included in Imaginary Architecture have been generously donated to the College by the artist, and upon close of the exhibition will become part of Muhlenberg's permanent collection, to be utilized for research and teaching and for the enjoyment of campus and community.