Past Exhibitions
Joel Carreiro: Seeing Things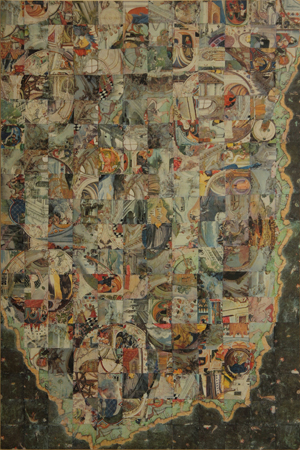 August 31 – October 1, 2011
The Martin Art Gallery at Muhlenberg College proudly hosts Seeing Things, a mid-career survey of collage work by Joel Carreiro, August 31 – Oct 1.
Western art history, specifically the Medieval, Renaissance, and Baroque periods are the spawning grounds for Carreiro's compositions. To make worlds within worlds appear on a two-dimensional surface, he dissects the historically rich images and arranges them in intricate patterns and juxtapositions that wax, wane, meander and swirl across birch panel supports. He has explained that working with imagery made by someone else compels him to be inventive, flexible and responsive. "It is like surfing; you have to adapt all decision making to a powerful external force, the wave. Your ego has to make room for
something else."
Carreiro, Professor and Director of the MFA program at Hunter College has been working with the medium of collage for more than 20 years. The exhibition was facilitated by Hunter College and the CUNY Research Foundation and curated by to Professor Scott Sherk, Muhlenberg College.
The following events will be held in the Martin Art Gallery, Baker Center for the Arts: A noon gallery talk Wednesday, September 7 for members of the Allentown Art Museum as part of their ongoing community programming. A reception for the artist will be held Wednesday, September 7, 4: 30 – 6 p.m. in the. This event is open to the public and free of charge.
Gallery hours are Tuesdays through Saturdays, 12:00 p.m. – 8:00 p.m., and closed during semester breaks and holidays.
All art images and content are the property of Martin Art Gallery, Muhlenberg College, Allentown, PA. Any reproduction or distribution of this material without the expressed, written consent of the Martin Art Gallery is prohibited and a violation of federal law. All rights reserved.