Joseph E.B. Elliott Monument and Ephemera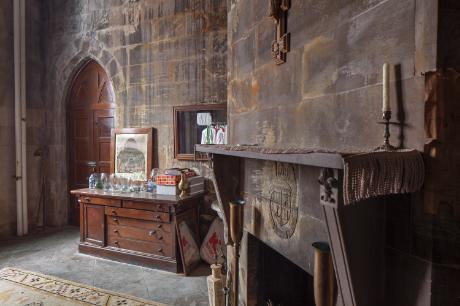 Image: Sacristy, Church of the Advocate, Philadelphia, PA, 2015
Martin Art Gallery at Muhlenberg College presents Monument and Ephemera, by Joseph E.B. Elliott. Elliott's exhibition will feature a sampling of works from the past three decades. It will include photographs made during surveys of industrial sites from 1980's to recent works from his forthcoming book exploring Philadelphia's cultural sites. Monument and Ephemera will be on view March 15 through April 22, 2017. Martin Art Gallery will host a public reception Wednesday, March 15 from 5 to 6:30pm, and a public talk with the artist Wednesday, March 22, 5:00 – 6:30pm in The Recital Hall at Baker Center for the Arts.
Joseph E.B. Elliott's photographic practice focuses on the idiosyncrasies of industrial, historic and religious sites. His lens captures architectural grandeur within expansive interior and exterior vistas, while being sure to include details that speak to cultural micro-ecologies. Bits of evidence left behind suggest how spaces are used, and allude to our human need to customize even thoroughly designed environments. His photos impart an otherworldly sensibility, as dramatic light and at times ethereal atmospheric effects abound. However, this abruptly collides with the banality of the everyday as lunchboxes, graffiti and other personal effects reveal themselves upon closer inspection.
Elliott is a sort of cultural geographer; he records the lingering narratives that our built-spaces retain. Largely absent of protagonists, the scant evidence of human activity [a half-filled bottle of water, a well used time clock, tools left at the end of the day] captures pieces of lived culture, often in industries at risk of erasure. Elliott says his work "resides at the nexus of documentation and art. Documentation implies a detached, non-judgmental process in which information is objectively recorded, analyzed, cataloged and communicated. For many, art implies sentiment, romance, interpretation. In my experience art and documentation are not mutually exclusive, lying instead along a continuum."
Joseph E.B. Elliott is Professor of Art at Muhlenberg College, Allentown, Pennsylvania, and an Adjunct Instructor in the School of Design at the University of Pennsylvania. Elliott specializes in photography of historic industrial and architectural sites. Over the past twenty-five years he has received numerous commissions from the National Park Service, U.S. Department of Veterans Affairs, University of Pennsylvania, and many private clients. His work is in the collections of the Athenaeum of Philadelphia, the Library of Congress, and several museums and universities. His photographs have been published in Common Ground, Smithsonian, Wired, and Metropolis, as well his books, The Steel and Palazzos of Power.
Ed Courrier article on Monument and Ephemera for the Bethlehem Press