Past Exhibitions
‌

Lydia Panas: After Sargent
October 8 – November 8, 2014
Reception: October 15, 4:30 – 6 PM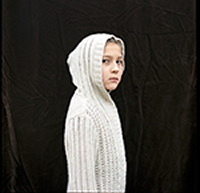 Reanna, 2013. Digital C-print.
##
The Martin Art Gallery, in conjunction with the annual InVision Photo Festival, presents Lydia Panas: After Sargent.
Panas has produced a seemingly simple yet complex and evocative body of large-format portraits inspired by iconic American portraitist John Singer Sargent (1856 –1925), particularly his well known and beautifully ambiguous painting The Daughters of Edward Darley Boit, 1882.
Although mystery is also at the core of Panas' work, her group of digital C-prints is balanced by sharply detailed close ups that allow the viewer to intimately confront and emotionally connect with the subjects. Enigma develops as one ponders what thoughts might lie beneath their quiet visages.
Also featured are a number of portraits taken from a distance. The subjects are surrounded by the natural world of high summer and do not offer viewers the same in-your-face information as the close-ups. Here the ambiguity is front and center as one looks carefully to catch more details of the subjects and ponders what relationships they might have to their surroundings. Both types of portraiture offer a rich opportunity to ponder human complexity, beauty, and form.
Panas' photographs have been featured in The New York Times Magazine, Photo District News, Popular Photography, Philadelphia Inquirer and many other publications. She has degrees from Boston College, School of the Visual Arts, New York University/International Center of Photography and a Whitney Museum Independent Study Fellowship. Her teaching positions in the Lehigh Valley include Muhlenberg, Moravian, and Lafayette Colleges and Kutztown University. Her robust exhibition schedule includes a diverse mix of regional, national, and international venues.

Lydia Panas: After Sargent opens October 8. A reception to meet the artist will be held Wednesday, October 15, 4:30 – 6 PM in the Martin Art Gallery, Baker Center for the Arts. Friday, October 31, 2 – 3 PM, Ms. Panas will present a slide lecture in the Martin that will end with an informal Q & A format. The exhibition, reception, and artist's talk are free and open to the public. Gallery hours: Tuesdays - Saturdays, noon – 8:00 p.m., additional hours by appointment.
All art images and content are the property of Martin Art Gallery, Muhlenberg College, Allentown, PA. Any reproduction or distribution of this material without the expressed, written consent of the Martin Art Gallery is prohibited and a violation of federal law. All rights reserved.