Past Exhibitions
Paper Architecture
January 16 – February 23, 2013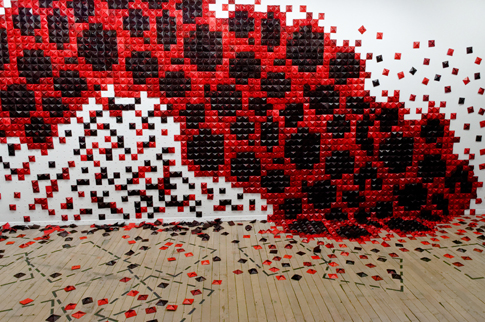 Paper Architecture features the disparate, yet cohesive, work of five visiting artists— Sarah Kate Burgess, Andrée-Anne Dupuis-Bourret, Colette Fu, Jacque Liu, and Lee Emma Running—who collaborated with guest curator Amze Emmons in his search for artists who are working at the intersection of two distinct visual media, drawing and sculpture. Emmons feels these artists, operating conceptually and quietly exploring innovations in process and perception, give viewers an exciting opportunity to consider the blurring of those traditional boundaries and distinct modes of making art.
Emmons uses a title he feels serves only as a linguistic container that signifies a host of loosely related ideas that deftly connects the work on view. Ideas such as the connection between complicated man-made systems and the patterns of self-organization found in the natural world, the cultural and historic narratives contained within the places, objects, and ornaments of the everyday, and the way materiality and structure can contain content are in full play.
Andrée-Anne Dupuis-Bourret works the grid of a video game environment that invades reality. Both Sarah Kate Burgess and Jacque Lui bring small architectural elements and utilitarian objects out of the history of American craft and architecture to re-assert their life as rich conceits that operate beyond the reach of functionality. Natural structures and mathematical systems creep across the gallery wall, as Lee Emma Running continues to beautifully collapse disciplinary divisions. Psycho-geography and architectural photography form an unexpectedly delightful union in Colette Fu's pop-up books. Even the exhibition booklet, designed by GDLOFT PHL in Philadelphia is part of the experience. The cover design allows change and chance to define its appearance with oblique references to bio-mimicry, the grid-systems of 20th century avant-garde typography, and interactive media
Emmons is a widely-exhibited artist/curator who currently teaches at The College of New Jersey in Ewing. Burgess has taught metalsmithing at numerous institutions and has exhibited both nationally and internationally. Her work has been included in Metalsmith Magazine.
Dupuis-Bourret has produced more than two dozen art books which are included in collections in Canada and abroad. She is currently completing her doctoral studies in art research and practices at the University of Quebec, Montreal. In 2008, Fu received a Fulbright Fellowship to photograph the 25 ethnic minorities of her mother's hometown of Yunnan Province, China. She has worked as a paper engineering consultant for stop animation commercials, freelances and teaches pop-up courses and community workshops at various art centers and institutions.
A native of Taiwan, Liu received a Fulbright Scholarship in 2002-2004 and has exhibited nationally and internationally. Running is a member of the art faculty of Grinnell University, Iowa, where she specializes in papermaking and teaches drawing and sculpture. She has exhibited her work nationally and is the 2010 recipient of a grant from the Jentel Foundation.
A reception to meet the artists will be held Wednesday, January 23, 4:30 – 6:00 p.m. in the Gallery. The exhibition and reception are free and open to the public. Gallery hours: Tuesdays through Saturdays, noon – 8:00 p.m., additional hours by appointment.
All art images and content are the property of Martin Art Gallery, Muhlenberg College, Allentown, PA. Any reproduction or distribution of this material without the expressed, written consent of the Martin Art Gallery is prohibited and a violation of federal law. All rights reserved.