Past Exhibitions
Lisa A. Turngren
Patterned Lineage: Facing, Backing & the Space Between
March 13 – April 13, 2013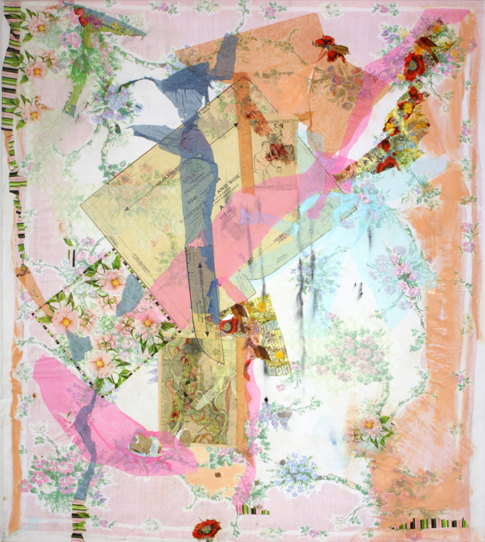 Lisa A. Turngren, Front and Center, 2012. Mixed media, 53" x 46".
Patterned Lineage: Facing, Backing and the Space Between includes new work by Turngren that examine personal and societal inheritances from the past, how these inheritances inform the present and their relationship to future narratives while taking into account the patterns and marks that imprint the spaces between.
Turngren's mixed-media Patterned Lineage series is process oriented and investigates personal and social gender constructs. Her work develops via stream-of-consciousness and chance—experimentations that then lead to alternate avenues of investigation. Her process is coupled with periods of aesthetic examination to analyze the materials, techniques, and concepts through both personal and collective lenses. Along this continuum exists an exploration of the inheritances and legacies across generations of women through the passing down of objects and unconscious processes, investigating what these objects and processes symbolize personally and culturally, and examining the social norms or constructs, ideals and traditions bequeathed both overtly and implicitly.
Begun in 2008, the Patterned Lineage series progresses into 2013 as Turngren continues to examine how the past informs us. She exposes that we need not adhere to ideals and gender stereotypes that may not apply to the future vision and perception of who "we" are, or wish to be, as individuals in society. The "we" connotes a shared experience perhaps outside of the perceived norm and outside of fundamental awareness. The artist, as self—looking inward and projecting outward— encourages viewers to investigate their collective histories and personal narratives and acknowledge how these intersect to form a relationship with, or disconnect from, societal and individual patterns that are created and repeated.
Lisa A. Turngren, a New York City–based mixed-media artist, holds a BFA in Painting from Tyler School of Art/Temple University. Her post-graduate studies include an MSW from Fordham University. Turngren went on to practice psychotherapy as an LCSW specializing in children and adolescents, while continuing studies in child and adolescent psychoanalysis and art therapy, all of which inform her current work. Turngren has now come full circle, realizing how important art making is, and reemerges mid-life as a professional artist who embraces the space between.
A reception to meet the artist will be held Wednesday, March 13, 4:30 – 6:00 p.m. in the Gallery. The exhibition and reception are free and open to the public. Gallery hours: Tuesdays through Saturdays, noon – 8:00 p.m., additional hours by appointment. Closed for major holidays.
All art images and content are the property of Martin Art Gallery, Muhlenberg College, Allentown, PA. Any reproduction or distribution of this material without the expressed, written consent of the Martin Art Gallery is prohibited and a violation of federal law. All rights reserved.