Past Exhibitions
‌Ramon Peralta: Color & Form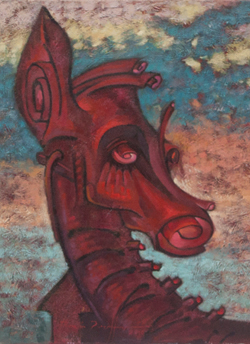 June 10 – July 30, 2011
Artist's reception: June 11, 6 -8 p.m.
In his most recent body of work, Peralta reveals essential attributes of his artistic personality and draws from the deep traditions of both surrealism and portraiture. Such juxtapositions are at the core of contemporary art.
Peralta starts with the most basic idea—the essence of paper—the flat surface so ubiquitous to the production of visual art. With paint and brushes he imaginatively engineers flat planes into three-dimensional forms that gesture and emote in decidedly familiar ways. He powerfully places the surreal, yet humanistic, forms on richly colored or intricately detailed ba
ckgrounds and presents them to the viewer to ponder, discuss and enjoy.
Ramon Peralta was born in Santiago, Dominican Republic and currently resides with his family in Allentown. While in the Dominican Republic he studied drawing and painting at Bellas Artes. After relocating to the U.S., he studied drawing at the Art Student League in New York City. He has been widely exhibiting his work in solo and group shows in the Lehigh Valley, New York and the Dominican Republic for the past decade.
An opening reception will be held Saturday, June 10, 6 - 8 p.m. in the Martin Art Gallery. The event is free and open to the public. The Gallery is located in the Baker Center for the Arts, Muhlenberg College, Allentown, PA.
All art images and content are the property of Martin Art Gallery, Muhlenberg College, Allentown, PA. Any reproduction or distribution of this material without the expressed, written consent of the Martin Art Gallery is prohibited and a violation of federal law. All rights reserved.