Past Exhibitions
Redefining the Multiple:
13 Japanese Artists
June 13 – August 2, 2013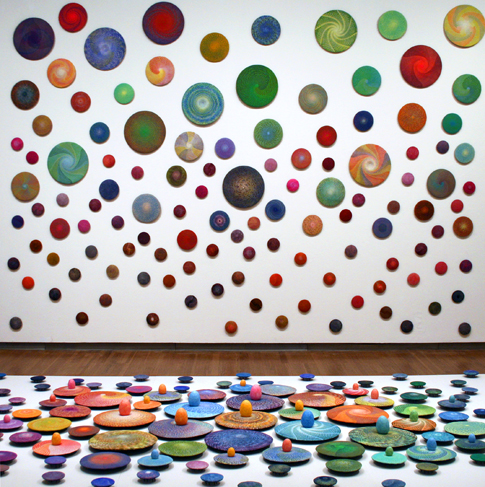 Koichi Kiyono, Cultivation II, 2011(detail). Etching on cotton-wool and felt with hand sewing. Dimensions variable.
Recent work in the medium of contemporary print-making, or multiples, by thirteen Japanese artists will be on view in Redefining the Multiple in the Martin Art Gallery, June 13 – August 2.
Historically, Japanese print-making embodies a revered and impressive tradition that evokes mental images of iconic prints by 19th-century masters, Katsushika Hokusai and Utagawa (Ando) Hiroshige. Their use of diagonal composition, and exacting craftsmanship inspired and profoundly influenced European painters and print-makers of that era and became forever embedded in Western art production, study, and appreciation.
Ironically, Western art in the past 40 – 50 years has significantly informed the work of contemporary Japanese printmakers. Under that influence and others, this artistic baker's dozen has moved well beyond the time-honored imagery of Hokusai and Hiroshige in unexpected, innovative and compelling ways; skillfully employing non-traditional materials, including a cicada shell, digitally altered photography, and fabric. Emerging printing techniques allow them additional ways to create powerful fusions of two- and three- dimensions—prints that are sculptural. However, even while exploring the very edges of innovation, the artists remain firmly grounded in the Japanese tradition of thoughtful and impeccable craftsmanship and presentation.
The Martin Art Gallery gratefully acknowledges the efforts of the curators of Redefining the Multiple--Professor Hideki Kimura, Kyoto City University of the Arts and Sam Yates, Director of the Ewing Gallery of Art & Architecture, University of Tennessee, Knoxville, to bring together this thoroughly redefined approach to printmaking.
The exhibition is free and open to the public. Gallery hours: Tuesdays through Saturdays, noon – 8:00 p.m.; closed July 4. More information: 484-664-3467.
All art images and content are the property of Martin Art Gallery, Muhlenberg College, Allentown, PA. Any reproduction or distribution of this material without the expressed, written consent of the Martin Art Gallery is prohibited and a violation of federal law. All rights reserved.