Past Exhibitions
The Art of Design
February 24 - March 18, 2012
The Martin Art Gallery proudly hosts the second annual exhibition of senior student design for theatre and dance in the Galleria Lobby of the Baker Center for the Arts, February 24th through March 18th.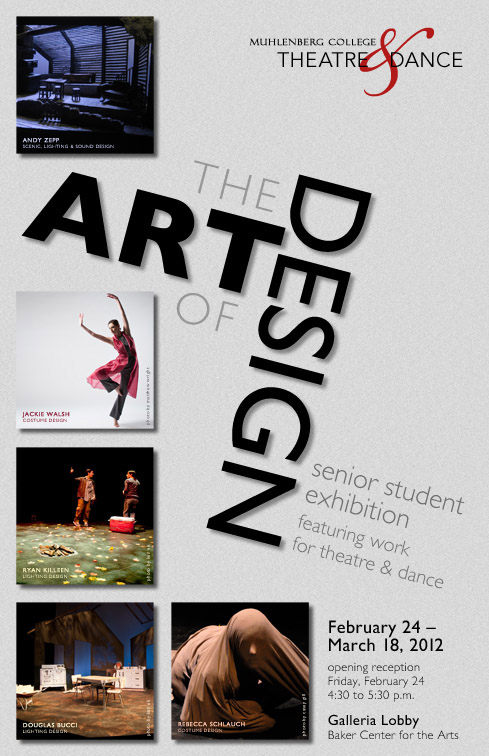 The exhibition features Douglas Bucci's and Ryan Killeen's work in lighting design; Rebecca Schlauch's and Jackie Walsh's work in costume design and Andy Zepp's work in scenic, lighting and sound design. All five students have participated extensively in numerous campus productions during their academic careers. Exhibition curator, Constance Case, a lecturer for costume design explains, "Designing for theater is challenging. Our students need to understand the elements and principles of visual art and then incorporate them in a way that enhances and defines the character and movement of the performers and aids in telling the story. When everything clicks the payoff is enormous."
Douglas Bucci is completing a theatre major and sustainability studies minor; Ryan Killeen technical theatre and communications double major; Rebecca theatre major/costume design and studio art minor; Jackie Walsh dance and theatre design double major; and Andy Zepp theatre design major.
A reception will be held in the Galleria Lobby, February 24, 4:00 – 5:30 p.m. This event is free and open to the public.
The Galleria Lobby is open daily, 9 a.m. – 9 p.m.; closed during semester breaks and holidays.
All art images and content are the property of Martin Art Gallery, Muhlenberg College, Allentown, PA. Any reproduction or distribution of this material without the expressed, written consent of the Martin Art Gallery is prohibited and a violation of federal law. All rights reserved.