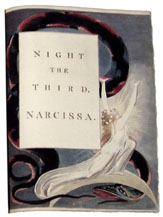 William Blake (English, 1757-1827)
Book Illustrations from Edward Young's
Night Thoughts, 1797
Hand colored watercolors and India ink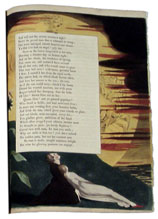 William Blake was a master of both Romantic poetry and Romantic painting. Blake wrote and then illustrated many of his own mystical poems. Possibly the most famous example of Blake's integration of poetry and printmaking was his 1794 work, Songs of Innocence and of Experience. For this work, Blake produced etchings to accompany his text. In addition to his own work, Blake hand colored illustrations of classic literary classics written by Dante and Milton. With the belief that artistic genius was a God given gift, Blake indeed was touched by a higher power as evidenced by his poetry, paintings or prints.
Blake was commissioned to illustrate Edward Young's work, Night Thoughts for publication. Blake produced nearly 50 illustrations for the first of four volumes of Night Thoughts (1797). As a result of poor sales of the book, the second, third, and fourth volumes of the text were never published making the first edition of volume one, now at Muhlenberg, all the more rare. Muhlenberg houses one of the 25 existing color copies of the text. According to Blake scholars and rare book dealers, the copy at Muhlenberg is an original work by Blake's hand. Blake colored this copy himself unlike some of the other copies that were hand colored by other artists under Blake's direction. Blake's strong colors, intense studies of nature, and striking artistic forms offer this work as an important example of Romanticism.
All art images and content are the property of Martin Art Gallery, Muhlenberg College, Allentown, PA. Any reproduction or distribution of this material without the expressed, written consent of the Martin Art Gallery is prohibited and a violation of federal law. All rights reserved.