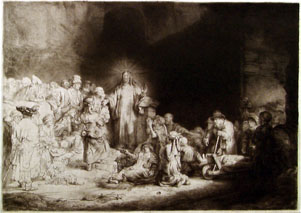 Rembrandt van Rijn
(Dutch, 1606-1669)
Christ with the Sick... ,
(Hundred Guilder Print, circa 1649)
Etching, drypoint,
on Japan paper

In the history of art, the name Rembrandt van Rijn often serves to define the term, "old master." His oil paintings including the famous Night Watch 1642 among the most important paintings in the history of Dutch Baroque art. His unprecedented skills as a painter, art market success, and fascinating biography offer art enthusiasts the opportunity to study a quintessential master.
In addition to Rembrandt's artistic achievements in painting, his development as a printmaker firmly places him within the realm of history's greatest artists. He addressed many different subjects in his etchings and drypoints, including religious ones. This interest is evident in possibly the most successful print of his career, Christ with the Sick around Him, Receiving the Children or the Hundred Guilder Print. As a printmaker, Rembrandt's unchallenged abilities are well accepted and were widely known during his lifetime. For example, Christ with the Sick... gained the subtitle the Hundred Guilder Print in 1649 because the etching was purchased by a Roman print dealer for that price, the equivalent of 150 gold pieces.
Unlike most etchers of the seventeenth century, Rembrandt often printed his own plates instead of handing over the task to a professional printer. While printing the plate, Rembrandt would make subtle changes in the composition which transformed the print from one state to another. His choice of paper also transformed each print. The Rembrandt etching from the Florence Foerderer Tonner Memorial Collection is printed on light grey Japan paper as indicated by its distinct watermark. The Muhlenberg example was pulled from the second state of the print.
All art images and content are the property of Martin Art Gallery, Muhlenberg College, Allentown, PA. Any reproduction or distribution of this material without the expressed, written consent of the Martin Art Gallery is prohibited and a violation of federal law. All rights reserved.