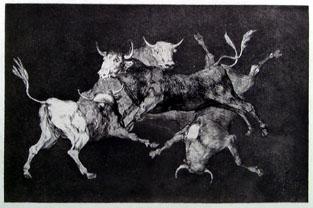 Francisco Goya
(Spanish, 1746-1828)
Folly of the Bulls, circa 1815
Etching

Born Francisco Jose de Goya y Lucientes, the artist known simply as Goya began a revolution in nineteenth century Spanish art. As the court painter to King Charles IV, the deaf artist broke many barriers as he introduced Romanticism to Spain. His dramatically composed and politically charged oil painting, The Third of May 1808, at Madrid: The Shootings on Principe Pio Mountain, 1814, depicted the horrific scene of the execution of the rebels by Napoleonic forces. This work has become synonymous with nineteenth century Romantic painting.
In addition to painting, Goya also produced prints including his Los Caprichos (The Caprices) and Los Disparates (The Follies) series. The prints of The Caprices series were produced between 1796 and 1798 and dealt with the surrealistic images of monsters and psychological horror and fear. In The Follies print series, Goya allowed the monsters of one's imagination to take over completely. The ferocity of the wild bulls in the etching, The Folly of the Bulls is indicative of Goya's print production from 1813 to 1819.
All art images and content are the property of Martin Art Gallery, Muhlenberg College, Allentown, PA. Any reproduction or distribution of this material without the expressed, written consent of the Martin Art Gallery is prohibited and a violation of federal law. All rights reserved.