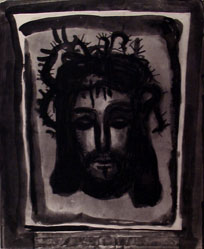 Georges Rouault
(French, 1871-1958)
C'est par ses meurtrissures que
nous sommes gueris, 1922
Engraving

During World War I, Rouault began collecting material for his greatest and most moving series of prints, the Miserere, commissioned by the art dealer, Ambrose Vollard. Rouault began the project in 1916 and did not finish until 1948 when the series of prints was published in 450 sets.
In the text accompanying the suite of plates for the Miserere series, Anthony Blunt wrote "whatever one's belief, one cannot but be impressed and moved by the intensity of his emotion, and by the conviction with which he conveyed it through his works." Blunt is describing the work of Georges Rouault, the Expressionist painter from France. The statement specifically refers to Rouault's work depicting Christ from the Miserere series entitled, C'est par ses meurtrissures que nous sommes gueris.
All art images and content are the property of Martin Art Gallery, Muhlenberg College, Allentown, PA. Any reproduction or distribution of this material without the expressed, written consent of the Martin Art Gallery is prohibited and a violation of federal law. All rights reserved.