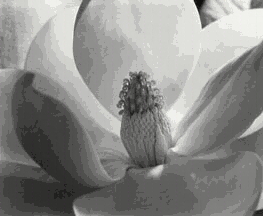 Imogen Cunningham
(American, 1883-1976)
Magnolia Blossom, 1925
Gelatin silver print

Imogen Cunningham was one of the premier female photographers of the twentieth century. Cunningham's diverse photographic techniques, varied subject matter and prolific artistic production spanned several decades. Best known for her floral abstractions and nude studies, Imogen Cunningham has inspired generations of photographers and photo historians.
This photograph was given on the occasion of the September 1997 opening of the exhibition, Imogen Cunningham Photographs 1906-1976 which was hosted by the Martin Art Gallery and guest curated by Richard Lorenz. The work was generously given to the college in memory of Lorenz's undergraduate botany professor, Dr. Robert L. Schaeffer.
All art images and content are the property of Martin Art Gallery, Muhlenberg College, Allentown, PA. Any reproduction or distribution of this material without the expressed, written consent of the Martin Art Gallery is prohibited and a violation of federal law. All rights reserved.