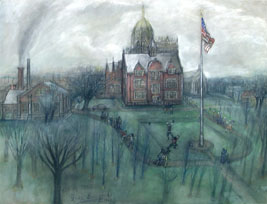 Philip Evergood
(American, 1901-1973)
Muhlenberg College, 1942
Watercolor

Through studying this watercolor, the viewer discovers that Muhlenberg's history runs parallel to the history of art. The first chair of the art department at Muhlenberg was the kinetic sculptor, George Rickey. Rickey, who gained fame for his dynamic metal constructions, gave the college a suite of drawings and small format paintings that demonstrate his early career style and remain in the permanent art collection. Today, these pieces are used for study by studio art faculty and students.
Rickey was teaching art at Muhlenberg in the early part of the 1940s when he was drafted into the armed services during World War II. Upon receiving the news that he would need a temporary replacement to teach at the college, Rickey called his friend, the painter Philip Evergood to come to Allentown. Evergood, exempt from military service because of his poor health, happily accepted Rickey's offer to teach at Muhlenberg. In the winter of 1942-43, Evergood taught studio art courses at Muhlenberg and this simple composition featuring the campus, its buildings, natural surroundings, and students at play is indicative of Evergood's feelings about the small liberal arts college. Evergood gave this lovely picture to the college when Rickey returned from the war and regained his teaching post.
Like Rickey, Evergood went on to gain fame in the art world and enjoyed market success. Evergood's works are in the collections of the Whitney Museum of American Art and the Allentown Art Museum.
All art images and content are the property of Martin Art Gallery, Muhlenberg College, Allentown, PA. Any reproduction or distribution of this material without the expressed, written consent of the Martin Art Gallery is prohibited and a violation of federal law. All rights reserved.