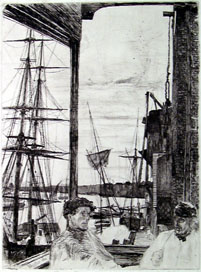 James Abbott McNeill Whistler
(American, 1834-1903)
Rotherhithe, 1860
Etching

In addition to the many important paintings to his credit including the groundbreaking abstract work, Nocture in Black in Gold: The Falling Rocket, James Abbott McNeill Whistler remains a most accomplished etcher in the eyes of scholars and students of art history. Whistler's Rotherhithe 1860 is the culmination of a series of sixteen prints based on the docks and piers of London and the Thames River. Whistler lodged there during the late 1850s and 1860s and composed some of his most valuable and important compositions there including: Wapping Wharf, Thames Police, Black Lion Wharf and Limehouse.
The plates were published as Sixteen Etchings and remain fine examples of Whistler's abilities as a printmaker. The piece in Muhlenberg's collection is the third state of the print. Rotherhithe is unquestionably one of Whistler's finest etchings. Described as the most finished of his etched work, the print of Rotherhithe captures a scenic view of London from the Thames River with an intimate vista of the dome of St. Paul's Cathedral at the far left.
All art images and content are the property of Martin Art Gallery, Muhlenberg College, Allentown, PA. Any reproduction or distribution of this material without the expressed, written consent of the Martin Art Gallery is prohibited and a violation of federal law. All rights reserved.