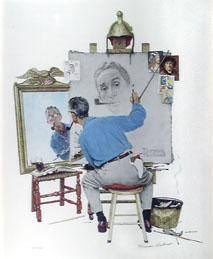 Norman Rockwell
(American, 1894-1978)
Triple Self Portrait, 1972
Collotype

Norman Rockwell has captured the American scene in illustrations and prints since the 1940s. With his wholesome and characteristically American illustrations for the Saturday Evening Post and other publications, Norman Rockwell has become a household name. The Triple Self Portrait shows his playful nature and his background in art history. The work shows Rockwell seated at his easel, with his back to the viewer. Looking into a mirror in order to capture his own likeness for the main canvas, Rockwell offers the viewer a triple view of himself, hence the triple self portrait. He refers to the history of art by including examples of history's great self portraits in his composition. Self portraits of Durer, Rembrandt, Van Gogh, and Picasso are all represented on the right side of the easel in the picture, while his own sketches for the work in progress are at the left. This signed collotype print was published in 1972 and is numbered 53/100.
All art images and content are the property of Martin Art Gallery, Muhlenberg College, Allentown, PA. Any reproduction or distribution of this material without the expressed, written consent of the Martin Art Gallery is prohibited and a violation of federal law. All rights reserved.