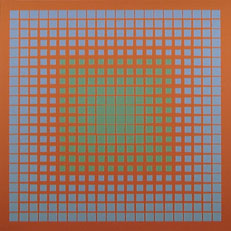 Richard Anuszkiewicz
(American, b. 1930)
Untitled #24, circa 1965
Serigraph

Born in Erie, Pennsylvania and educated under the direction of Joseph Albers at Yale University, Richard Anuszkiewicz is one of the pioneers of the 1970s art movement known as Op Art (a.k.a. Optical Retinal Stimulation Art). Anuszkiewicz's work demonstrates his interest in the color theories of Albers and basic relationships of geometric shapes. Anuszkiewicz emerged as an important figure in late twentieth century art as he embarked upon his own painting style.
The work in Muhlenberg''s collection, Untitled #24, has been attributed to the popular series of serigraphs or silkscreens called the Six Seritypien Screenprint series. Produced in 1965, this series of prints was produced in an edition of only 125 suites of six prints per suite. One suite of six serigraphs is in the college's permanent collection.
All art images and content are the property of Martin Art Gallery, Muhlenberg College, Allentown, PA. Any reproduction or distribution of this material without the expressed, written consent of the Martin Art Gallery is prohibited and a violation of federal law. All rights reserved.