William Hudders: Three views
September 1 - January 2, 2018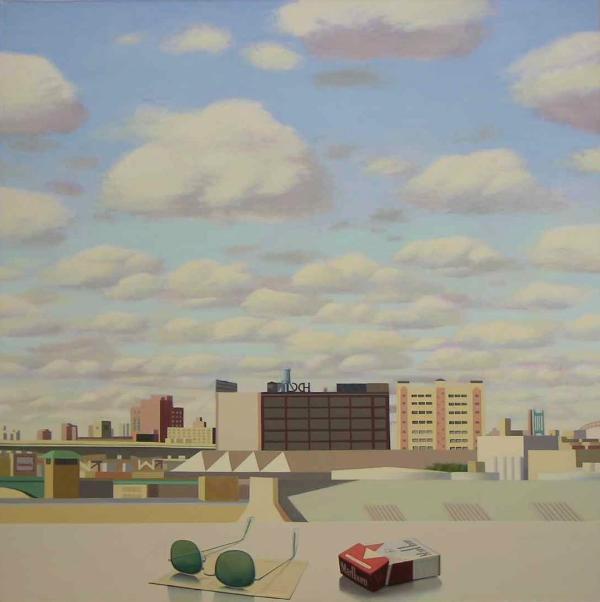 Postcard, 2004
Martin Art Gallery presents Three views, a collection of works by Easton-based artist William Hudders. Three views will be on display in the Baker Center for the Arts Galleria September through January 15, 2018. A reception for the artist will be held on Wednesday, October 18, from 5 – 6:30pm.
Each still life was selected from a larger body of work, and represents but a portion of Hudders' artistic output over the past decade-plus of work, split between New York and Eastern Pennsylvania. Completed in one or another of his studio settings, much of his work focuses on interiors - looking out - with varying degrees of obstruction. Employing a warm, albeit muted, palette, tableaus of tools and other objects are treated with an almost mawkish sentimentality. Keen attention to composition, perspective, and especially light helps Hudders to imbue common household items with an almost introspective quality.
William Hudders' recent solo and group exhibitions include the ReFind Gallery (Allentown, PA), Schmidtberger Fine Art (Frenchtown, NJ), Beauregard Fine Art (Rumson, NJ), The Baum School (Allentown, PA), the Tatistcheff Gallery (New York, NY), and the Alhum Gallery (Easton, PA). Hudders is a grant recipient of the Adolph & Esther Gottlieb Foundation, the Franz and Virginia Bader Fund, and the Pollock-Krasner Foundation. He has received a Yaddo, Saratoga Springs, NY Esteban Vicente Honorary Residency and a fully funded Vermont Studio Center Fellowship. His paintings have been reproduced in the films It's Kind of a Funny Story and Bewitched. Hudders has been favorably reviewed in the New York Times and the New York Observer.
Reception with the Artist October 18, 2017, 5 - 6:30pm