Financial Aid
Summer Advising: About Financial Aid at Muhlenberg
Get started with the Financial Aid process during Summer Advising at Muhlenberg College.
Online Portal
Learn more about Muhlenberg College's online Financial Aid Portal from the College's Financial Aid staff.
Master Promissory Notes
Learn about Master Promissory Notes and Federal Student Aid from the Muhlenberg College Office of Financial Aid.
Entrance Counseling
Learn about the Department of Education's important entrance counseling requirement from the Muhlenberg Office of Financial Aid.
About Payment Plans
Learn about payment plan options, timelines and processes from Muhlenberg's Office of Financial Aid.
Parent PLUS Loans
Learn about the Department of Education's Parent PLUS Loans from Muhlenberg's Office of Financial Aid.
---
Multicultural Life
Meet the Multicultural Life Staff
The Multicultural Center at Muhlenberg College offers a warm welcome to the Class of 2024.
---
Community Engagement
Community Engagement at Muhlenberg College
Join Muhlenberg students and community partners as they articulate their own understandings of personal and institutional change through community engagement.
---
The Career Center
Meet the Career Center Staff
The Career Center at Muhlenberg College is here to help. Take time to get to know them - it's never to early to begin thinking about your future.
---
Athletics
Summer Advising: Athletics
At Muhlenberg, you'll find true student-athletes, individuals who have learned to excel in every aspect of their collegiate experience. 22 Sports - One Team. Go Mules.
---
Muhlenberg Dining
Dining on Campus
Learn what makes Muhlenberg's dining options some of the highest-rated in Pennsylvania with a tour of our programs and facilities:
Muhlenberg Dining - Programs and Facilities 2020 (PDF)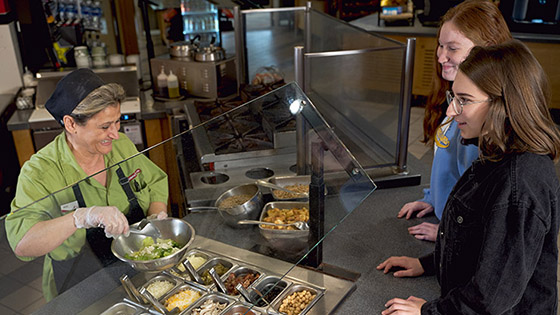 ---
Housing & Residence Life
Summer Advising: Housing & Residence Life
Life on Muhlenberg's beautiful campus is engaging and exciting. Meet our housing & residence life staff and hear from students what they love about a residential college experience.
---
Religious Life
Summer Advising: Religious Life
Muhlenberg community members find our campus a welcome place for any and all faith practices. Meet some of the active members of our College's religious communities.
---
Student Activities
Summer Advising: Student Activities
More than 110 clubs and activities mean that there's an interest or passion available to each Muhlenberg student.
---