Rosenberg Research Award
The Rosenberg Research Award provides a stipend to a psychology student who is engaged in research that is developmental in nature (either directly or indirectly).
This award is now administered through the senior thesis process. Check there for more details.
Previous Award Recipients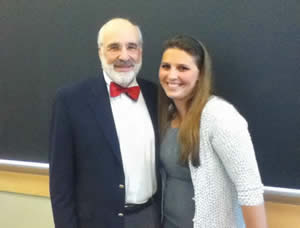 ‌
2012-2013 Melanie Franklin: The Sound of Music: The Effects of Music on Mood and Cognitive Abilities of Kindergarten Students
2011-2012 Julie Klein: Perceptions of Homelessness: The Impact of Perceiver Characteristics and Belief Systems on Stigma and Intended Behavior
2010-2011 Samantha Busa: Perceptions of White and Black Children with Autism versus Asperger's Diagnoses.
2009-2010 Samantha Silverberg: The Influence of the Protestant Work Ethic on Children's Reasoning about Distributive Justice.
2008-2009 Erica Cohen: The Prevalence of Selective Use: Patterns of Stimulant Medication Use among Undergraduates with an ADHD diagnosis.