Political science professors reflect on faculty seminar in Bangladesh
This summer two Muhlenberg faculty members led their peers on an international expedition in an effort to promote global education back in Allentown, Pa.
Thursday, September 8, 2016 02:06 PM
Photos courtesy of Jack Gambino, copyright 2016.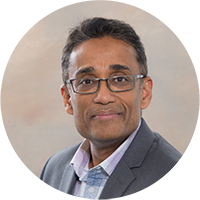 Mohsin Hashim is a professor of political science at Muhlenberg College. He researches post-Soviet Russian political and economic transitions. His life and studies have spanned three continents, and he remains fluent in Russian and Bengali. He has served as advisor to the Dana Scholars honors program and is the recipient of the Lindback Award for Distinguished Teaching, 2007 and the Paul C. Empie Memorial Teaching Award, 2011.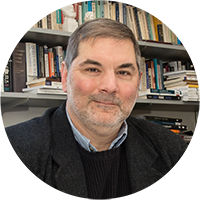 Jack Gambino is a professor of political science at Muhlenberg College. He researches the intersection of art and politics in political writers, the just war tradition and civic education. In addition to past service as the chair of political science, he served as director of environmental studies. He is currently co-director of the philosophy/political thought interdisciplinary major. Dr. Gambino is the recipient of the Paul C. Empie Memorial Award, 2001 and the Donald and Anne Shire Distinguished Teaching Professorship, 2003.
---
This wasn't the first time you focused on Bangladesh as part of a MILA course. What were your previous experiences?
‌Hashim: Jack and I have made 5 previous trips together to Bangladesh. The first was funded by a Mellon development grant in 2008 to investigate the possibilities for developing a MILA course on climate change and sustainable development in Bangladesh.
Mohsin, Bangladesh is a significant part of your heritage - can you share part of your history and your academic experience with Bangladeshi culture, economics and politics?
Hashim: I am of Bangladeshi heritage but grew up largely in other parts of the world. My connection to Bangladesh, however, always remained strong since my family history is strongly connected to Bangladesh's political history and culture. Even though my academic focus has largely been on post-Soviet Russia, my teaching and research interests have involved Bangladesh in one way or other.

Having strong connections in Bangladesh have helped us expose our students to internationally renowned scholars and policy makers, extraordinary NGOs and think tanks, as well as people at the grassroots who are in the frontiers of dealing with the vagaries of climate change and variability. These are the most vulnerable and yet resilient people of Bangladesh.
Jack, how did you become interested in researching Bangladesh? How has working with Mohsin influenced that research?
Gambino: I was the director of the Environmental Studies (now Sustainability Studies) program in the early 2000s and had taught about climate change issues as part of both the introductory course and an environmental policy course I taught. Mohsin taught courses on development as part of his teaching schedule. Both of us thought that we could combine our respective interests by focusing on Bangladesh as a case study on how sustainable development strategies at the international, state and non-governmental organization level attempt to mitigate and adapt to the serious impacts of climate change on the country. Bangladesh is widely regarded as the "ground zero" of both climate change impacts and sustainable development efforts.
What made this expedition different from previous MILA trips to Bangladesh?
Hashim: The Mellon Faculty International Studies (MIFS) program grew out of our MILA experiences in Bangladesh but has quite a different focus. The guidelines for the Mellon program explicitly call for a humanities focus, as opposed to our more or less social-science based MILA course. We therefore proposed an entirely different theme that focused on Bangladesh's "contested identities."
‌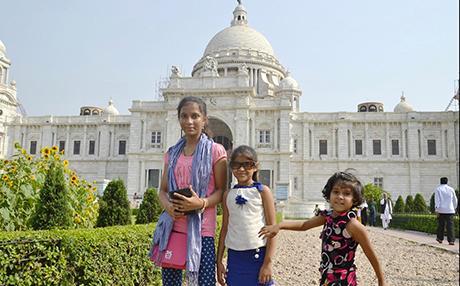 It also became necessary, given the focus on Bangladesh identity, that we include West Bengal, India, an area that was until 1947 included in the wider cultural, ethnic and linguistic region that has historically been the Bengal region. To a large degree, we were interested in how the 1947 partition, and the subsequent war for Bangladesh independence in 1971, affected the sense of identity on Bengalis (both in the east and west). This focus, of course, led us to include a trip to Kolkata, India, as part of our itinerary.
Can you talk about your itinerary and what your goals were for the visit?
Gambino: The first part of the trip was spent in Dhaka where we visited a number of sites commemorating the War of Independence (Language Movement Memorial, Martyrs Monument, the Liberation War Museum) and the development of Bangladesh national identity (e.g. the National Parliament, Dhaka University). The second part of the trip was a 3-day boat voyage into the Sundarbans mangrove forest (the largest of its kind and an environmentally vulnerable area that has been heavily impacted by climate change) that skirts the southern coast of Bangladesh and West Bengal, India.
Our itinerary included 5 days in Kolkata, West Bengal, where we visited important sites associated with the cultural past, including the British Empire. The trip was structured so as so present both the similarities and differences between the two contemporary Bengals, as well as to provide an awareness of how the new political border (which we physically crossed at Benepol/Haridaspur) has exacerbated differences among Indians and Bangladeshis.
How were faculty selected for this trip?
Gambino: Each participant was required to submit an application that detailed why they were interested in the program and how the experience would lead to concrete curricular and pedagogical innovations in their classes. Participants had to make explicit how the program would help internationalize their course offerings and pedagogical approaches.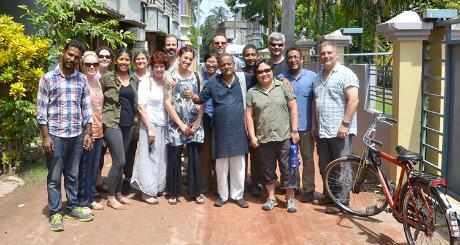 Faculty from anthropology, economics, English, history, media & communication, philosophy, political science, psychology, religion studies and sociology participated in the seminar and joined our trip.
What perspectives did you hope faculty gained from this experience?
Hashim: The trip associated with the faculty development seminar has given me (and I suspect Jack) the luxury of being exposed to diverse faculty intellectual horizons. It has been fascinating to observe how faculty from different disciplines and intellectual traditions view the same subject or themes. The conversations that flowed among our colleagues while on campus and during our trip enriched my own thought process. It is always rewarding when one is exposed to various ways of knowing and being.
How is this program important to the MILA (Muhlenberg Integrated Learning Abroad) program—and global education in general— at Muhlenberg?
Hashim: I would hope that this seminar will significantly enrich our curriculum by globalizing it. Otherwise, we simply will have failed! All the seminar participants will introduce Bangladesh into their teaching. Something interesting must be going on when you have Bangladesh show up in such diverse departments in a small liberal arts college like Muhlenberg.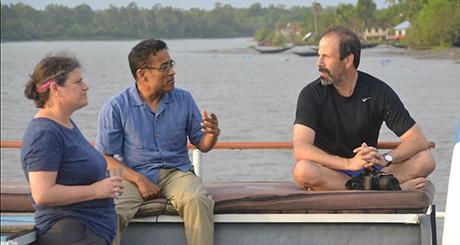 Our hope is that these are not piecemeal treatments of Bangladesh, but a gateway to having serious conversations across disciplines at Muhlenberg on the so-called developing world and our interactions with it. Our students need to seriously reflect upon their footprint on the world, be it moral, carbon or civic. We hope that our seminar, along with many more to come, will only help solidify our institutional commitment to global citizenship.
Is there anything about this experience that you were particularly excited about – something that makes this experience unique in your eyes?
Hashim: The uniqueness is defined by the nature of the class participants. What also made it unique for Jack and I was the content/theme of the seminar. Neither of us specializes in identity politics. We were not versed in the literature and scholarly debates, especially in relation to Bangladesh. So it was challenging, but ultimately rewarding, to engage in this important conversation.