A New Perspective on a Long-Ago Event
This rising senior looks into an under-researched facet of Central African history.
By: Meghan Kita Friday, July 6, 2018 10:04 AM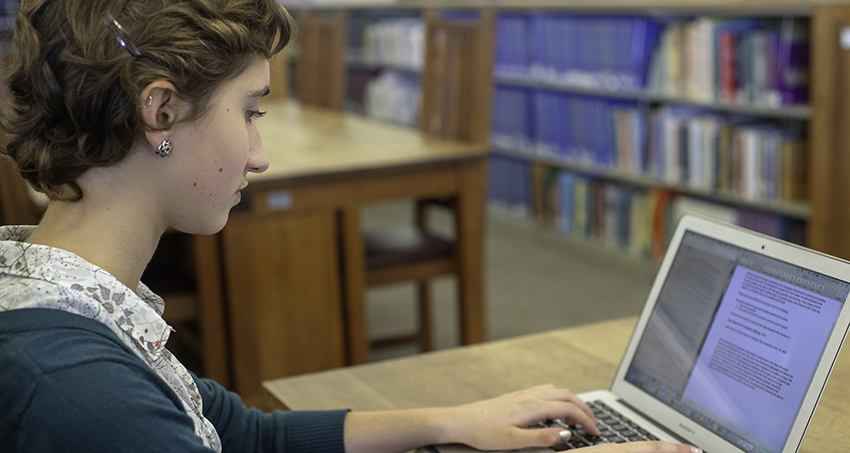 Michaela Feinberg '19 is researching a 1960 protest in what's now known as the Democratic Republic of the Congo this summer. Photo by Bill Keller.
Some people think studying history means memorizing a bunch of facts, says history major Michaela Feinberg '19. But that misses the nuance: How an event is remembered depends on who's remembering it, and, in the case of her research on a 1960 protest in what's now known as the Democratic Republic of the Congo, who's deciding which records are offered for public consumption.
"A problem in my research is that nobody thought to interview the women who were protesting," says Michaela, a Dana Scholar who's also pursuing a minor in anthropology. "There are classified files at the U.N. that I can't look at, so who knows what's in there."
Michaela's research began last summer in the (public) U.N. archives, which she visited upon the suggestion of her advisor, Danielle Sanchez, assistant professor of history and Africana studies. The U.N. has a wealth of information about the Congo, and its materials on the secession of the Katanga province piqued Michaela's interest.
Katanga's government declared its independence from the Congolese government 11 days after the Congolese government declared its independence from Belgium, and U.N. forces came shortly after to quash the Katangese secession. Last summer, Michaela examined the archives (at the U.N., the New York Public Library and Columbia University) to determine how the Katangese people saw themselves—and were seen by outsiders—during this upheaval.
This summer, she's homing in on the motivations behind a protest that drew 8,000 people, mostly women, and at which three protesters were shot. The U.N. claims the Katangese police were responsible for the shootings, while other sources suggest the U.N. forces were to blame, Michaela says.
"To my knowledge, no one has ever written about this protest before," Michaela says. "A lot of the research is about the main political situation. There's less on the people in Katanga and how they were handling this."
Michaela's goal for the summer is to write a paper she can send to grad schools and possibly get published, which means more archival work in addition to analyzing other scholars' writing on colonial and postcolonial nationalism. She's considering pursuing an advanced degree in either library science or history, and Sanchez hopes she'll choose the latter: "Her raw talent is so far beyond any person that I've encountered at her age," Sanchez says. "She has brilliant analytical skills. I really see her as the future of Central African studies."