Muhlenberg Commencement Speaker Tells Grads to Foster a "Sense of Loyalty to Yourself"
Honorary degree recipient Scott Turow drew upon a memorable undergraduate experience of his own to demonstrate the power of a college education.
By: Meghan Kita Monday, May 20, 2019 10:25 AM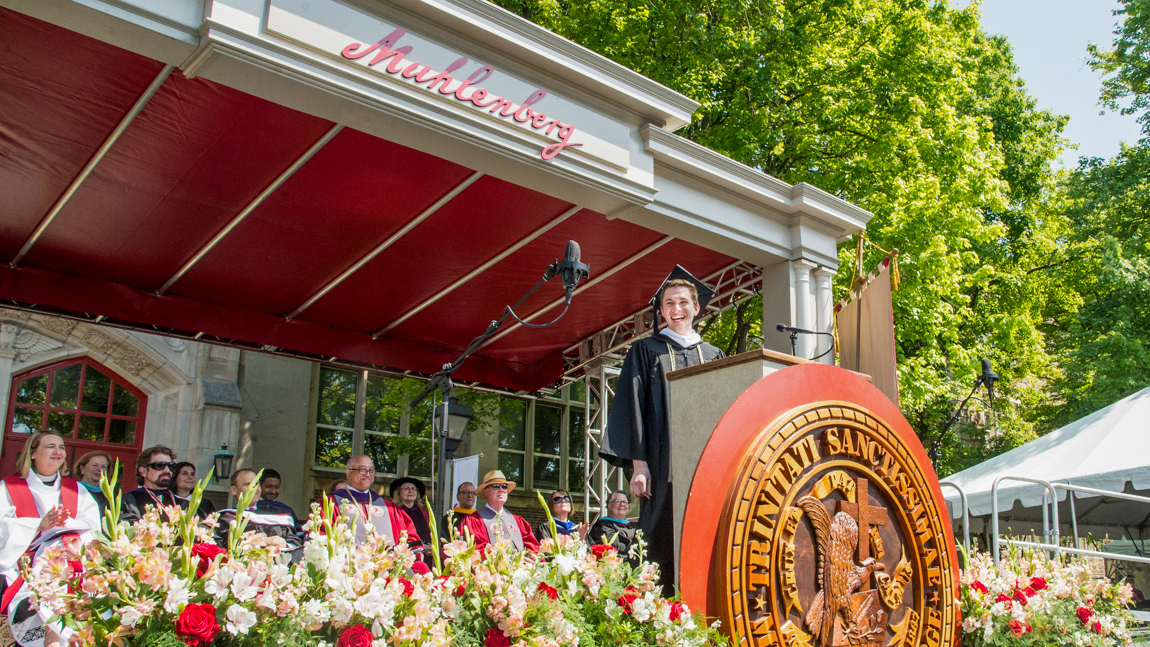 Student speaker Evan Plaza '19 prepares to address his fellow graduates.
On a sunny Sunday morning on the College Green for Muhlenberg's 171st Commencement, author and attorney Scott Turow told the 529 soon-to-be graduates before him, "What begins today is the process of forgetting some of the specifics of what you learned here."
He struggled to remember specific authors he read in specific classes at Amherst College, he said, but he did remember one English professor vividly. That professor would go around the room on the first day of class, asking each student what he was holding in his hand. When a student said some variation of "a pencil," the professor would rap them on the head with that pencil and move on to the next student. Once all the students had been struck, the professor cried, "It's a weapon!"
Turow's point was that words are important, one of the many unforgettable lessons a liberal arts education bestowed upon him. He encouraged the newly educated students before him to use the lessons they'd learned and the values they'd developed at Muhlenberg to have a positive effect on the world.
"Please remember who you are today," he concluded. "Please remember what is important to you today. Because a sense of loyalty to yourself is one of the key ingredients to being happy over the passage of time."
Later, student speaker Evan Plaza '19, who graduated with a bachelor of arts degree in business administration and theatre, reflected on his experiences at Muhlenberg, year by year, and on the "toolbox of skills" the College has given him and his classmates, skills that will help them as they confront their futures.
"Sometimes things are out of your control, and there is nothing you can do about it but learn and grow from it. Class of 2019—I don't think that we'll have a problem with that," Plaza said. "With all of the skills we learned in our four years, I believe we all have the capacity to go out into the world and make a difference in people's lives."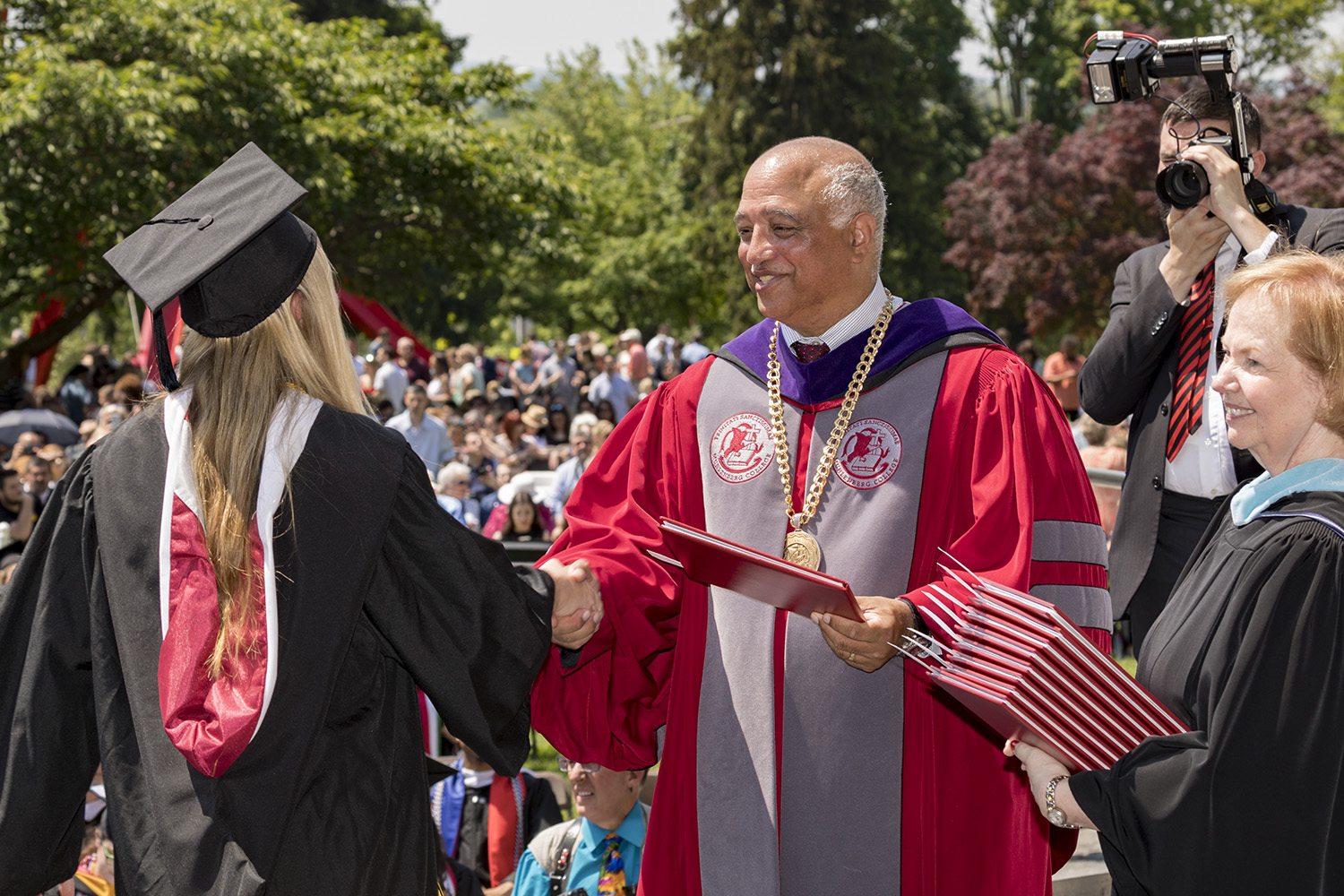 Muhlenberg College President John I. Williams Jr. concluded the celebration by congratulating the students before him on their transformation from students to alumni.
"We will miss you in the daily life of the campus, but you remain part of the Muhlenberg Network always, no matter where you are," he said. "We hope that you will remain active, engaged members of this global community for the rest of your lives."
Three members of the class of 2019 were co-valedictorians with perfect 4.0 GPAs: Emily Hofstetter, a history major with minors in art history and studio art; Patrick Sockler, a biology major with a minor in French & francophone studies and a Dana Scholar; and Annu Suresh, a biology major with a minor in public health and a Dana Scholar. The salutatorian, with a 3.991 GPA, was Meghan Falk, a neuroscience and political science double major. Elizabeth Roswig, a theatre major with a creative writing minor, and Taj Singh, a neuroscience major, received Alumni Association Future Alumni Leader Awards.
Brian Mello, associate professor of political science, earned the Paul C. Empie '29 Memorial Award for Excellence in Teaching.
In addition to Turow, former Deputy Secretary of the U.S. Department of the Treasury Sarah Bloom Raskin and chief of the Wills Eye Pediatric Ophthalmology and Ocular Genetics Service Dr. Alex Levin '78 received honorary degrees.