Finding a Welcoming Community
Muhlenberg College's Emerging Leaders program helps students of color adjust to the college experience.
By: Anaya Battle '22 Thursday, February 18, 2021 11:23 AM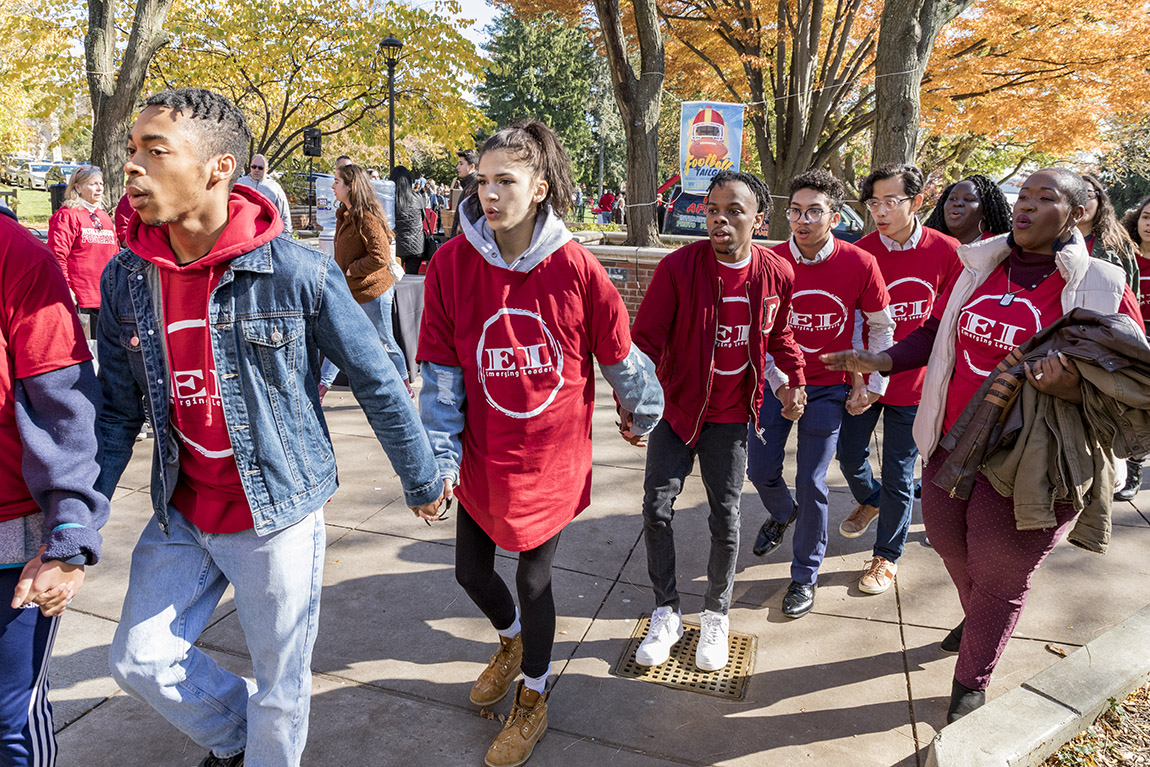 Emerging Leaders students participate in a performance at the College's Parents Plaza during 2019 Family Weekend.
Starting college and moving to an unfamiliar place such as a college campus for the first time can be a scary process for many first-year students. This can be especially challenging for students of color in terms of having to adjust to living in a predominantly white space.
Like many first-generation Black students, I have experienced firsthand the culture shock of entering a predominantly white space for the first time. When I first arrived at Muhlenberg for the fall semester of my first year, I was immediately surprised at the lack of people who looked like me or came from where I come from. I knew that Muhlenberg was a PWI (Predominantly White Institution) before coming in, but it really hit me when I came to tour the school during June advising. I knew that living on campus would come with some major adjustments.
To ease the adjustments, Muhlenberg College created the Jump Start Program in 2009, which then evolved to the Emerging Leaders program in 2011 as an opportunity for first-year students of color to be a part of a cohort of leaders on campus while learning how to navigate the culture shock of a new campus.
The program includes an early arrival week filled with community-building events such as introductions and icebreakers, as well as ways to become acquainted with the college campus, its staff and students and the services available. First-year students are initially grouped with current student mentors who help them to navigate the campus and its resources as well as to simply be a listening ear for any issues that may arise.
Each Emerging Leaders cohort allows its students to take their first-year seminar together to help alleviate the stress surrounding college courses as new students. In addition to student mentors, the Emerging Leaders program also pairs students with a faculty mentor and a staff mentor. The faculty mentors help with tasks such as registering for classes for the first time and assisting with the students' advising processes. The staff mentors typically are admissions or student resource staff at the college and are available to help students navigate their undergraduate journey throughout their time at the College.
"[In high school] I was a part of Princeton University Preparatory Program (PUPP). That's how I went on college tours and was able to experience the world outside of Trenton," says Shyler Smith '22.
"When I first applied to Muhlenberg, one of the PUPP counselors told me I should sign up to be an Emerging Leader, and that's how I first heard about the program," he adds. "I didn't know much about it, but I was told it's a great program for minorities like myself going to a PWI."
It is all too often that students from lower socioeconomic backgrounds do not have access to or have knowledge of educational programs and initiatives, so many go into higher education blind from all that is out there.
"I'll be the first in my family to graduate college. This is big, because I'm creating a legacy that needs to be created," says Smith.
In addition to being a part of the program as a student, Smith serves as a mentor on campus.
"I personally love being a mentor. I was not only a mentor for Emerging Leaders, but I am a mentor for a club on campus called the Bow Tie Club [a group that works with boys from underrepresented groups at a local elementary school]," he says. "Overall being a mentor is important because to have someone push me and encourage me is significant, so the fact that I can pay it forward to others warms my heart."
The Emerging Leaders Program encourages not only academic excellence on Muhlenberg's campus but leadership as a whole throughout one's undergraduate career.
---
Learn more about Emerging Leaders and how to become involved in the program's events at the Office of Multicultural Life website.
Anaya Battle is a student at Muhlenberg College who is pursuing a double major in media & communication and film studies, with a minor in documentary storymaking. This article was originally written in the Fall 2020 semester for a Writing for the Media course taught by David Erdman, adjunct professor of media & communication at Muhlenberg.