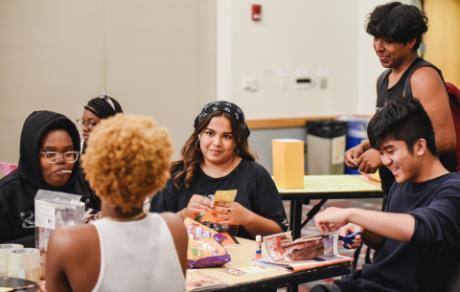 Muhlenberg's Emerging Leaders Program offers first- and second-year students from historically underrepresented and marginalized groups an opportunity to belong to a community of future leaders. Through this program, students who have demonstrated leadership potential participate in an academically focused cohort that values intellectual achievement, thoughtful curiosity and civic engagement.
The Emerging Leaders Program, with roots that trace back to 1988, endorses excellence and leadership throughout the college experience.
Students benefit from three separate mentors, each of whom are able to provide a particular perspective and increase the chances of a meaningful connection. No single mentor can be everything to each student, but by pulling together support from a variety of places on campus, the Emerging Leaders Program seeks to establish a network of community of support.
Peer Mentor:

Many first-year students have anxieties about finding their place to belong in a new community. A peer mentor, typically a second-year student, can help create social connections for their mentee. They can provide real-world advice on how to establish the best habits and routines for academic success and give the inside scoop about professors and classes.

Staff Mentor:

Staff mentors from offices all over campus can help students navigate what can seem, especially to first-generation college students, a myriad of college resources. Assistance can range from helping to find healthcare options or negotiating grant applications to offset financial emergencies. Staff mentors can also serve as trusted advisors to raise issues of social or family concerns that could be more difficult to raise with faculty.

Faculty Advisor:

Faculty advisors choose to be a part of the program through Emerging Leaders-dedicated First-Year Seminars and act as a student's primary academic advisor. They provide insight for class selection, help students explore potential majors and ensure a student remains on track to complete their degree.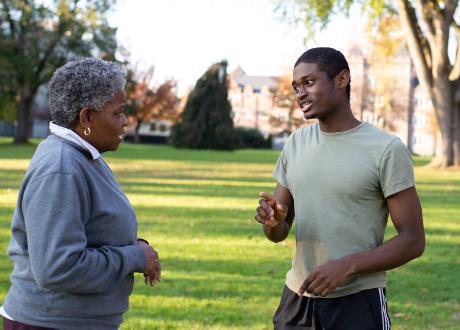 Meetings between mentors and program co-directors, Brooke Vick and Robin Riley-Casey, ensure program goals are met, allowing for adjustments, the sharing of successes and opportunities to identify students who may be struggling and need extra support.
Successful cohort initiatives are grounded in social psychology and student affairs research, which show time and again how providing a sense of belonging and multi-faceted support for students is more likely to lead to successful outcomes.