Personally Speaking: Michael Albdewi '22
Michael Albdewi '22 is a biochemistry and Russian studies major on the premedical track from Brooklyn, New York.
Thursday, November 4, 2021 08:26 AM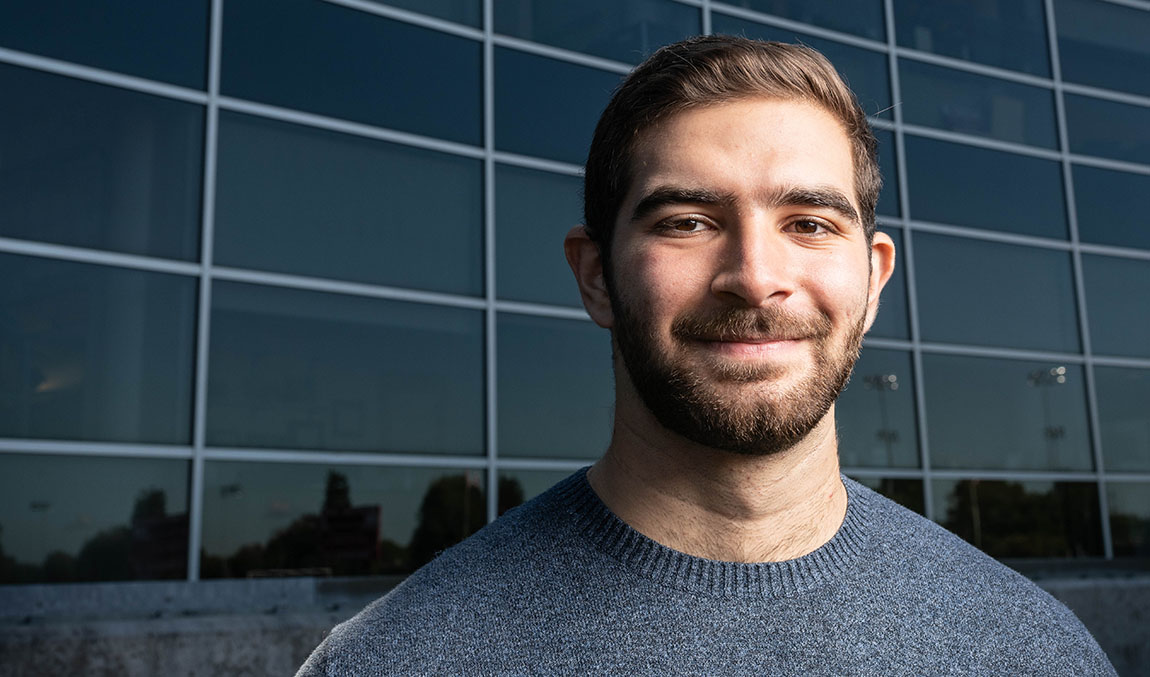 Michael Albdewi '22. Photo by Ryan Hulvat
Personally Speaking is a feature of Muhlenberg Magazine in which our writers interview students and alumni about their own personal stories. This article was originally published in the Fall 2021 issue of Muhlenberg Magazine.
He fell in love with biochemistry at Muhlenberg ...
"I came in wanting to study neuroscience. Before the spring semester, I emailed [Stanley Road Associate Professor of Neuroscience Jeremy] Teissere to say, 'Please put me into Mind & Brain,' one of the introductory neuroscience courses. He got me in after it was filled. I went to the first couple lectures and I could tell it was a really great class because everyone around me was enjoying it, but I was just like, I cannot do this. At the same time, I was taking Molecules and Cells, a molecular biology course. I would read the textbook, about proteins and DNA, and think, 'This is sick. This is the secret behind us.' I kept wanting to study that over this neuroscience course. It was a lot for me to drop the course and change my major, but that's what I did. Then, I went to see [Teissere] because I wanted to apologize."
… and he learned to appreciate the language he studied in high school.
"My high school made us take Russian—it was the only foreign language offered. I didn't plan on majoring in Russian studies, but during Through the Red Doors, I met [former Professor of Russian Studies] Luba Iskold. I was like, 'I have no idea why I took Russian in high school—why would I continue it now?' She convinced me to try it out, and I really enjoyed it. My favorite part of the major was learning about the culture and history of Russia. I don't mean to put on a tinfoil hat, but it's probably intentional that we don't learn a lot about Russia here. My family comes from Syria, and it's a similar thing—we don't learn much about the Middle East. If you're not well educated on a region, it's easy for your mind to be manipulated in a negative sense toward those people. Russian studies was an opportunity for me to expand my worldview by learning about another culture."
He conducts research with Associate Professor of Chemistry Sherri Young ...
"We study the transport of drugs across the blood-brain barrier. It gets frustrating—there's a lot of troubleshooting—but it teaches patience. It's really valuable to get involved in research if you're premed. It's necessary for the advancement of knowledge. At the root of the wish to be a doctor is to be able to help people, and that can be done in a myriad of different ways. One of those is conducting research, and at other institutions, it can be difficult to get involved as an undergraduate. Since I can at Muhlenberg, I thought it wouldn't be wise to let that opportunity pass me by."
… but his Russian studies courses have allowed him to develop an entirely different skill set.
"I wrote a big paper for [Professor of Political Science Mohsin] Hashim's course [Russian Government and Politics], and he liked it. He invited me to apply to present at the Pennsylvania Political Science Association conference next year. It's just a completely different mode of thinking. When you think about chemical processes or how certain molecules are supposed to work based on their properties and what they're composed of, you can make a claim that should be pretty close to the truth. It all makes sense and it makes my head feel nice, like, 'Ah, yes, everything works as it's supposed to.' But with a political science paper, you're reading so much and you're not finding an answer. It showed me how complex the world is and why there are so many issues in the world."
Becoming a student-athlete in the middle of his sophomore year, when he joined the football team as a tight end, enriched his Muhlenberg experience.
"Joining the football team has truly been the best decision I made in college. It's the thing that brings me the most joy on campus. I was hesitant to join the team freshman year because I was scared of balancing it with getting good grades—I knew med school was hard to get into. I thought it would be exceedingly difficult to balance athletics and academics. When I think back, I'm disappointed in myself because I succumbed to that fear without giving myself the opportunity to prove that I could or couldn't do it. What I learned is that if fear is keeping you from doing something you're really passionate about, you should try it anyway. I was glad I did because it ended up making school easier. I lost some time in my schedule, but I enjoyed my week so much more, which made everything else so much easier."