Registration and Education
Muhlenberg's student voter participation rates in recent elections have been higher than those of most peer institutions. Ahead of this midterm election, students, staff and faculty worked hard to ensure that this trend continues.
By: Meghan Kita Tuesday, November 8, 2022 08:34 AM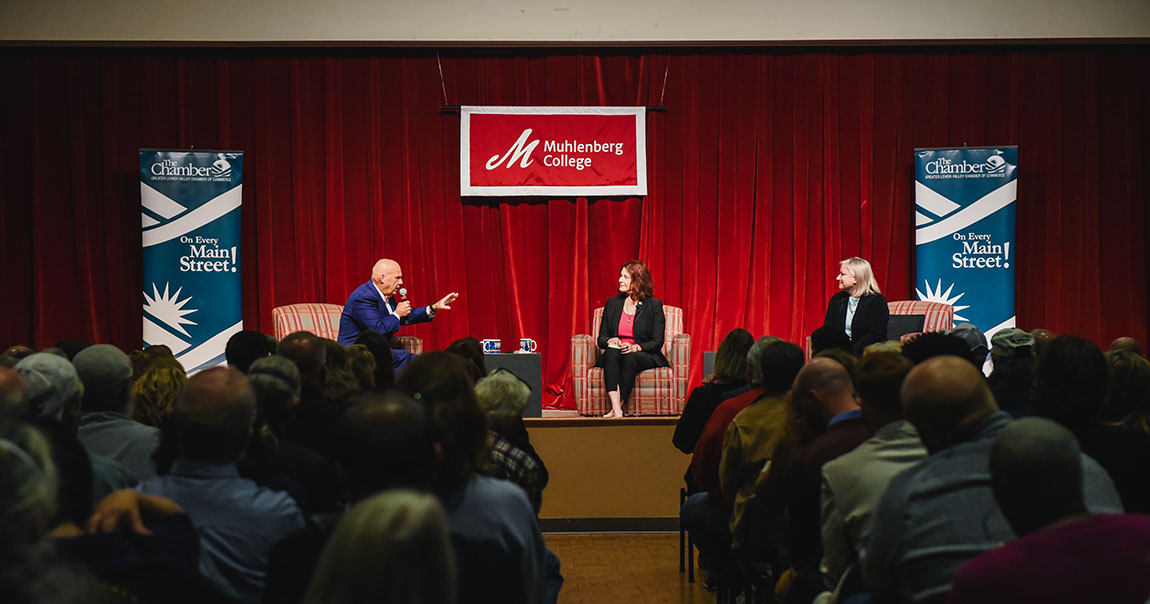 Students, faculty, staff and the local community had the opportunity to attend an on-campus debate between Republican Lisa Scheller and Democrat Susan Wild, candidates to represent Pennsylvania's 7th District in the U.S. House of Representatives. Main photo by Kristi Morris
This fall, Muhlenberg students, staff and faculty have been hard at work ensuring that students are prepared to vote in today's midterm elections.
Members of the nonpartisan student organization BergVotes along with student workers and staff from the Office of Community Engagement (OCE) have been helping students register to vote since Orientation Weekend. "Voter Promoters" tabled weekly in Seegers Union ahead of the October 24 voter registration deadline and also worked to register students at campus events. These efforts led to more than 100 students registering to vote for the first time using their College address.
"Much of the time, students underestimate the impact they can make in an election," says Ashley Paseltiner '23, vice president of BergVotes. "It's important for us as students to know that we can make a direct difference in the people we see in office and the legislation that is passed. The best way for us to make this impact is to make a well educated vote for candidates that most align with our values as individuals."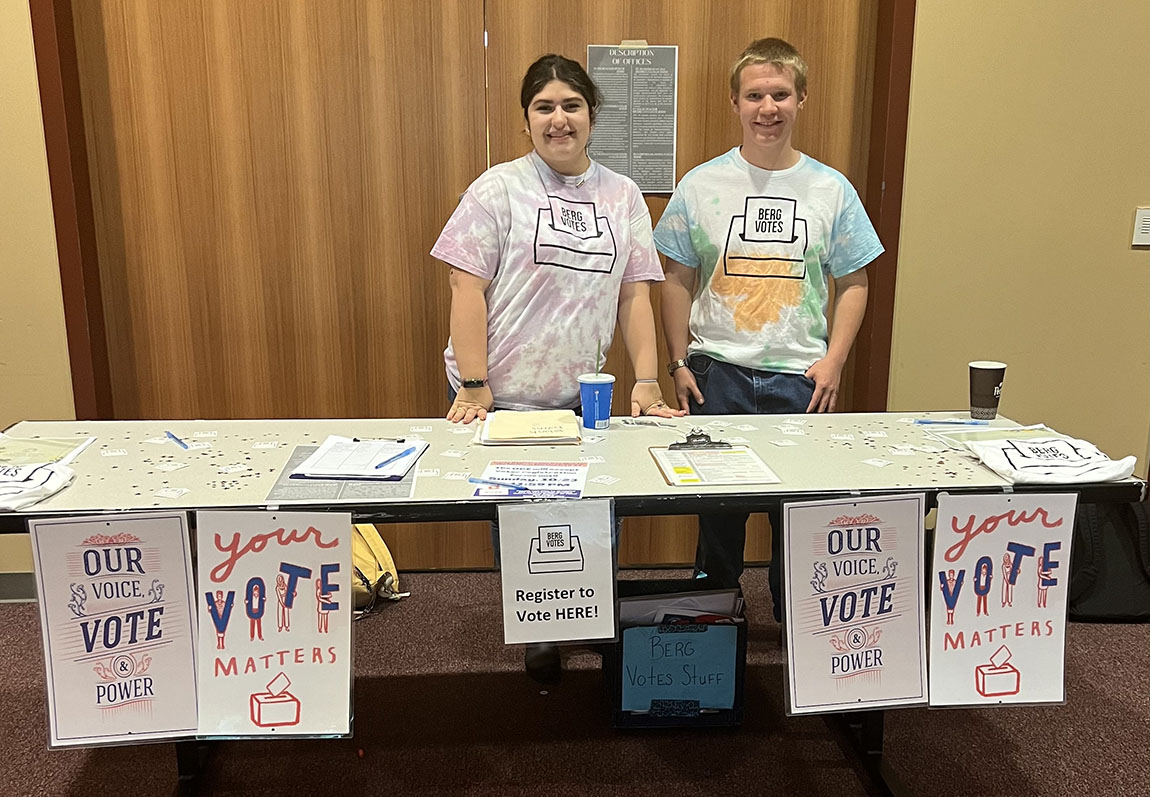 Students, staff and faculty have also been working to educate student voters about the relevant issues in this election. The Department of Political Science's biennial Election Series has brought in speakers to cover topics such as electoral reform in Pennsylvania and American foreign policy. BergVotes organized an Issues Expo (pictured above and below), in which clubs and organizations selected issues to cover and set up tables to share their information with students. BergVotes has also been fielding student questions via direct message on its Instagram account and will continue to do so until polls close.
Muhlenberg has been recognized multiple times for its commitment to increasing voter participation among its students. Most recently, it earned a platinum seal from the ALL IN Campus Democracy Challenge for nonpartisan student voter participation efforts in the 2020 election. The student voting rate at Muhlenberg rose to 82.6 percent in the 2020 election, far exceeding the 2020 national college-student voting rate of 69 percent for private institutions and 66 percent for all institutions.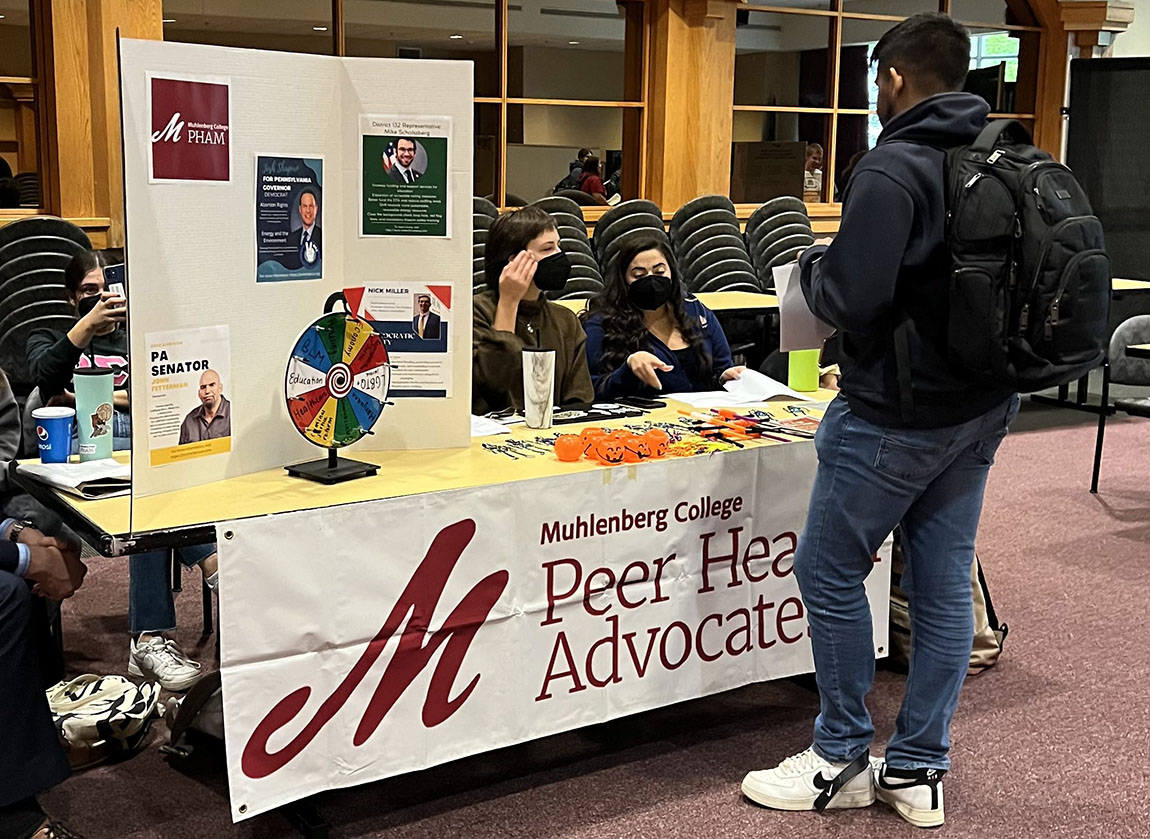 BergVotes was established in early 2016 and has been a driving force, alongside the OCE, behind the increasing levels of voter engagement among students. In 2020, students from the two groups worked together to ensure students could vote whether they were living on campus or attending classes remotely from home, which led to a student registration rate of 91.6 percent, up from 82.7 percent in the previous presidential election.
Muhlenberg has a long history of involvement in local elections, with fluent Spanish students serving as poll interpreters (pictured below) and other students serving as poll workers, and the polling place for students registered at their College address has been inside Seegers Union since the 2009 primaries.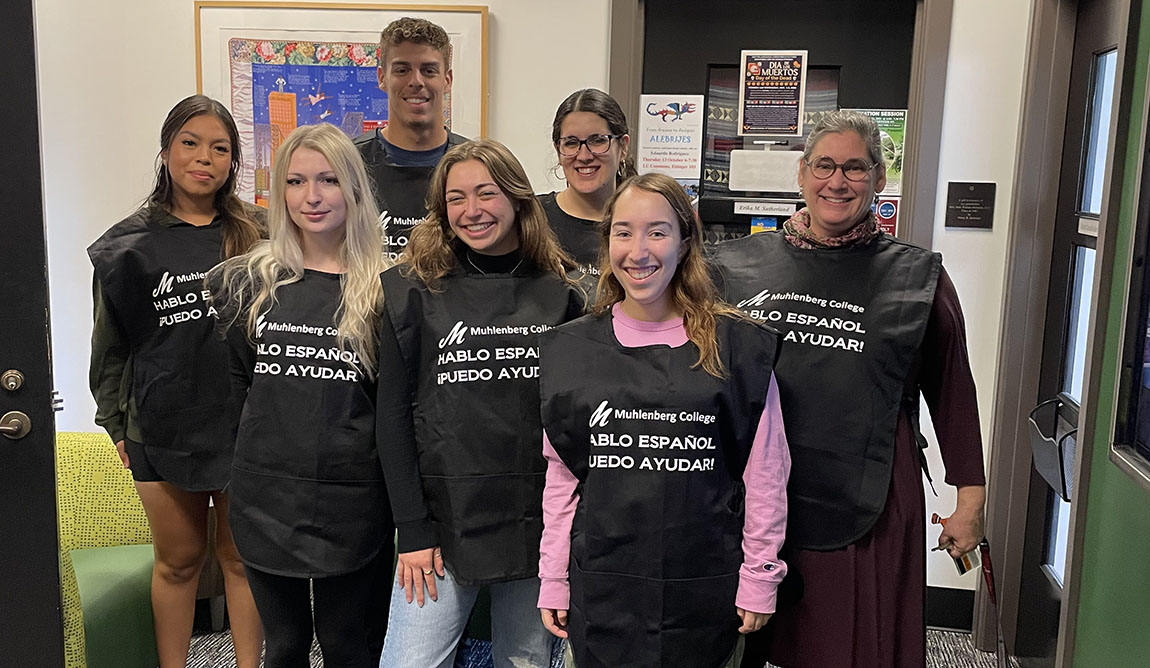 The College is also home to the Muhlenberg College Institute of Public Opinion (MCIPO), which consistently earns top ratings based on the historical accuracy and methodology of its surveys. Since its founding in 2001, more than 630 students have been actively engaged in the MCIPO's 350+ large-scale public opinion surveys, which measure the public's views on electoral and public policy issues with a concentration on environmental and health matters. Founder and Director of MCIPO and Professor of Political Science Chris Borick is frequently interviewed for his perspective by major news outlets.
Students who are interested in getting involved in civic engagement work at Muhlenberg can contact Director of Community Engagement Beth Halpern or @BergVotes on Instagram.