Muhlenberg Recognized for Commitment to Student Voter Participation
The College is named a 2022 ALL IN Most Engaged Campus for College Student Voting for increased nonpartisan democratic engagement in the midterm election.
By: Kristine Yahna Todaro Wednesday, November 16, 2022 09:53 AM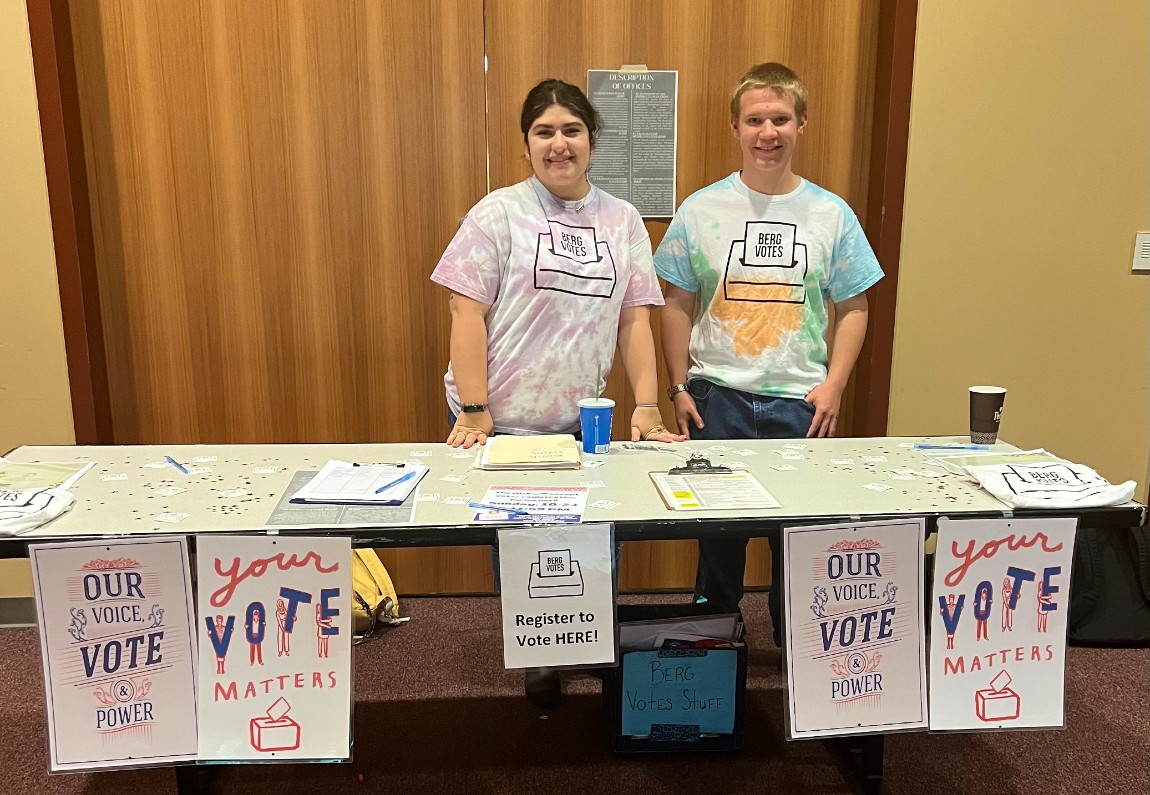 BergVotes, a non-partisan student organization that raises political awareness and engagement on campus, organized an Issues Expo this fall for students to learn more about important issues and answered election-related questions on its Instagram account.
Today, Muhlenberg has been named one of the nation's 2022 ALL IN Most Engaged Campuses for College Student Voting.
The College was recognized by the ALL IN Campus Democracy Challenge (ALL IN) for increased nonpartisan democratic engagement in the midterm election and efforts to increase student voter participation.
This fall, Muhlenberg students, staff and faculty were hard at work ensuring that students are prepared to vote in the midterm elections.
While the student registration and voting data for the 2022 midterm elections, which is compiled by the National Study of Learning, Voting and Engagement (NSLVE), won't be reported for about a year, Muhlenberg's student voter rate for the 2020 presidential elections was nearly 83 percent, one of the highest in the country and far exceeding the 2020 national college-student voting rate of 66 percent. The College received a platinum seal from the ALL IN Campus Democracy Challenge for nonpartisan student voter participation efforts in the 2020 election.
"At Muhlenberg, non-partisan and student-led efforts to demystify the election process coupled with an institutional commitment to encourage civic engagement has made a real difference in student voter registration and turnout," says President Kathleen Harring. "I'm so proud that this community-wide work is being recognized. All colleges have an essential role in making sure their students know that their voices and their votes profoundly matter."
Muhlenberg joins a group of 394 colleges and universities recognized by ALL IN for completing these four actions:
The ALL IN Campus Democracy Challenge empowers colleges and universities to achieve excellence in nonpartisan student democratic engagement. It currently engages over 9 million students from more than 950 institutions in all 50 states and the District of Columbia.
ALL IN seeks to make participation in local, state, and federal elections a social norm; substantially increase the number of college students who are democratically engaged on an ongoing basis, during and between elections, and not just at the polls, and; make educating for democratic engagement on college campuses an accepted and expected part of the culture and curriculum so that students graduate with the knowledge, skills, behaviors, and values needed to be an informed and active citizen.
About Muhlenberg College
Founded in 1848, Muhlenberg is a highly selective, private liberal arts college offering baccalaureate and graduate programs. With an enrollment of nearly 2,000 students, Muhlenberg College is dedicated to shaping creative, compassionate, collaborative leaders through rigorous academic programs in the arts, humanities, natural sciences and social sciences; selected preprofessional programs, including accounting, business, education and public health; and progressive workforce-focused post-baccalaureate certificates and master's degrees. Located in Allentown, Pennsylvania, approximately 90 miles west of New York City, Muhlenberg is a member of the Centennial Conference, competing in 23 varsity sports. Muhlenberg is affiliated with the Evangelical Lutheran Church in America.