Happily Ever After
Nisha Sharma '07 writes award-winning romance novels with South Asian characters, a career she began pursuing with passion at Muhlenberg.
By: Meghan Kita Tuesday, March 15, 2022 09:22 AM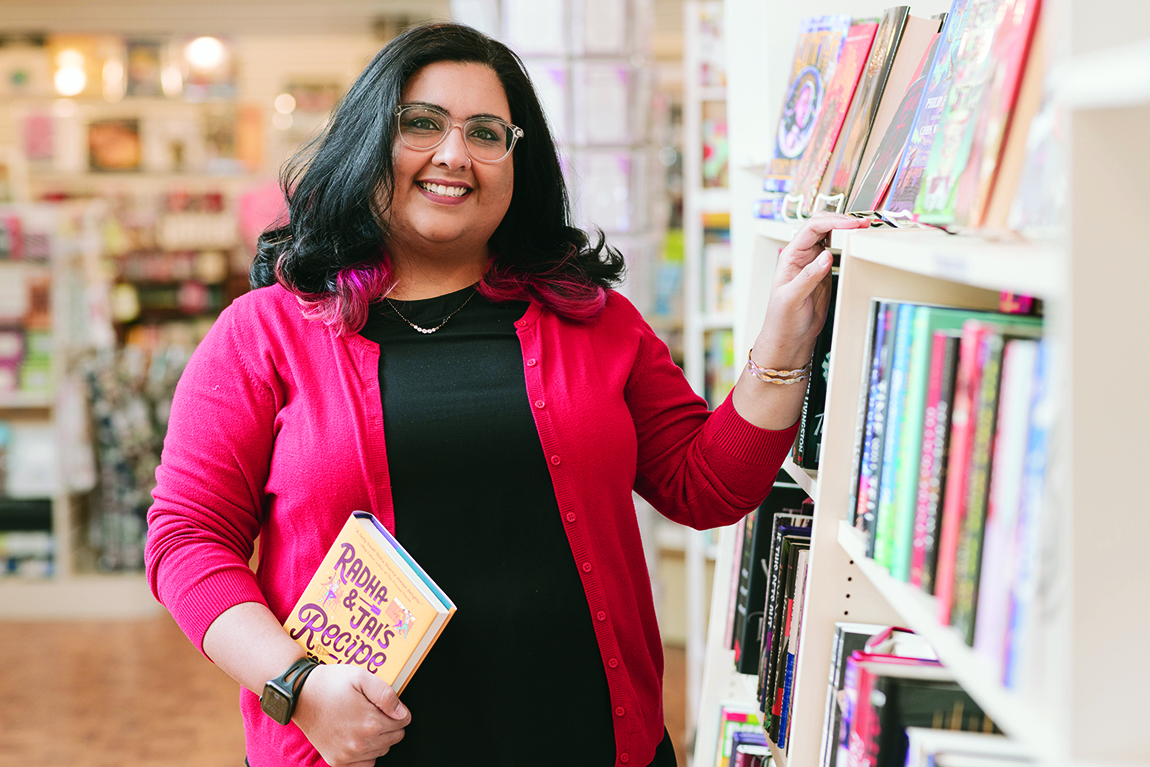 Nisha Sharma '07 at The Lahaska Bookshop in Lahaska, Pennsylvania. Photos by Marco Calderon
Sometimes, when author Nisha Sharma '07 does a book-signing, she'll meet a superfan. A South Asian teenager will approach her in awe, hands shaking, holding out one of the two young-adult (YA) novels Sharma has published, asking for an autograph. The fan might say something like, "I've never read anything else that has characters who are like me."
"After signing and taking pictures and smiling, I will go into the bathroom and just cry, because that's what I've always wanted to do," Sharma says. "That's been my goal—to make sure I reach and support those readers."
Sharma writes both YA and adult romance novels featuring South Asian characters. Her first book, My So-Called Bollywood Life, was published in 2018; she's published three more since, with another, Dating Dr. Dil, just released today. She thinks she gravitated toward romance because that's what she saw in the Bollywood movies she watched as a child of two immigrants from India growing up in the '90s.
Her upbringing also inspired her to start on the premedical track at Muhlenberg: Her father came from a long line of physicians, and "I felt this unspoken need to succeed in a professional field that had a history of success, which is, generally speaking, for South Asians, law, medicine or engineering," she says. After a year of being unhappy and doing poorly in her classes, she switched to an English major with a minor in political science (and a concentration in prelaw).
"I ended up just having to suck it up and tell my parents that I couldn't do it anymore. [Premed] was just not working for me," she says. "My father has this mentality of, 'Whatever you choose to pursue, pursue it with so much intention that there is no chance for failure.' So that's what I did next."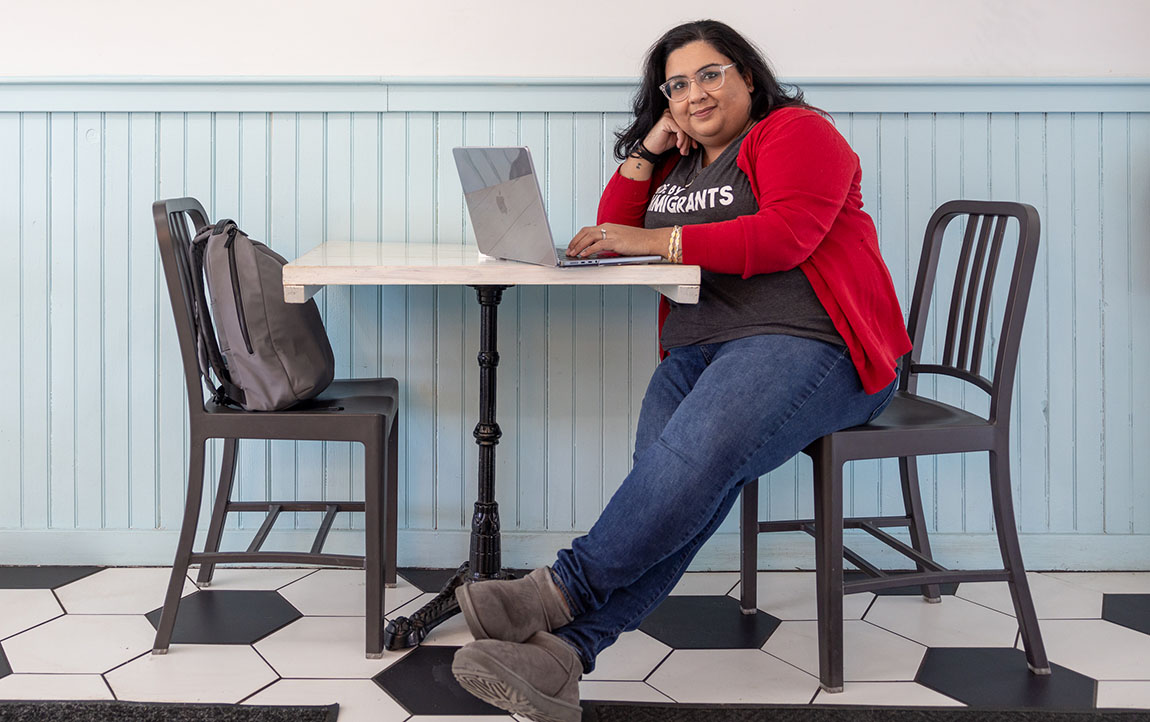 She chose to follow her dreams of being a romance novelist with law as her backup profession. In addition to loading up on classes in order to graduate a semester early, she went to weekly romance writer meetings of the local chapter of the Romance Writers of America (RWA) in Easton. She completed her first novel while she was a Muhlenberg student.
After graduating, she worked as a paralegal, took the LSATs and went to law school at Hofstra University. She continued writing and attending RWA meetings. She hired an agent to shop around the book she wrote at Muhlenberg. The agent told her, "Your book will sell better if you change one of the characters to be white."
"Racism is a little bit more in-your-face in publishing than people realize," Sharma says. "That was a terrible experience, but it was a learning experience."
She left that agent and put pitching on pause as she prepared to take the bar exam. She passed and began a career in corporate contracts in New York City. She would write on the train into the city before work and edit what she'd written on the return trip, but her legal career left her feeling unfulfilled.
"I felt so disconnected from my initial goal that I set at Muhlenberg," she recalls. "I had started this journey with the intention of publishing. Law would be my backup plan, not my primary purpose. So, I did the only thing I knew how to do at the time and I went back to school."
Over the course of two-and-a-half years, she completed a Master of Fine Arts program through Wilkes University while holding down her day job. My So-Called Bollywood Life was her master's thesis. She found a new agent at an RWA conference who sold the book to Random House. It would go on to win a RITA Award ("the Oscars of the romance genre at the time," Sharma says) and to be named an NPR Book of the Year for 2018.
She's published a novel every year since. Her writing process varies from book to book—sometimes she has the entire story planned before she starts, and sometimes it unfolds as she writes—but what remains consistent is an openness to inspiration.
"If I see something that sparks my interest, I'll often ask 'why' or 'why not' or 'what if.' That's my favorite one, the what-if question," she says. "I'll then continue to ask 'what if,' and I won't curb my imagination from running wild."
Sharma also teaches a course at Muhlenberg, Writing the Young Adult Novel, every other year. Writing is the part of her career that she enjoys—publishing, she says, is exhausting. The industry still struggles to support diverse authors and diverse books; for example, she's noticed that publishing houses don't understand how to market to non-white audiences. Sharma uses TikTok to reach the audience she's always wanted to write for: South Asian readers who want to read a happily-ever-after story with characters who look like they do.
"I'm so grateful and appreciative to every single person who connects with my stories," Sharma says. "When I see myself in them and they see themselves in my stories, that feels like magic."