Muhlenberg in Photos: Alumni Week Connections Conference
This year, for the first time, the Career Center developed two days of panels, breakout sessions and networking opportunities with alumni from a variety of disciplines to complement the already robust programming of Alumni Week, which takes place annually in March.
By: Meghan Kita Thursday, April 6, 2023 04:09 PM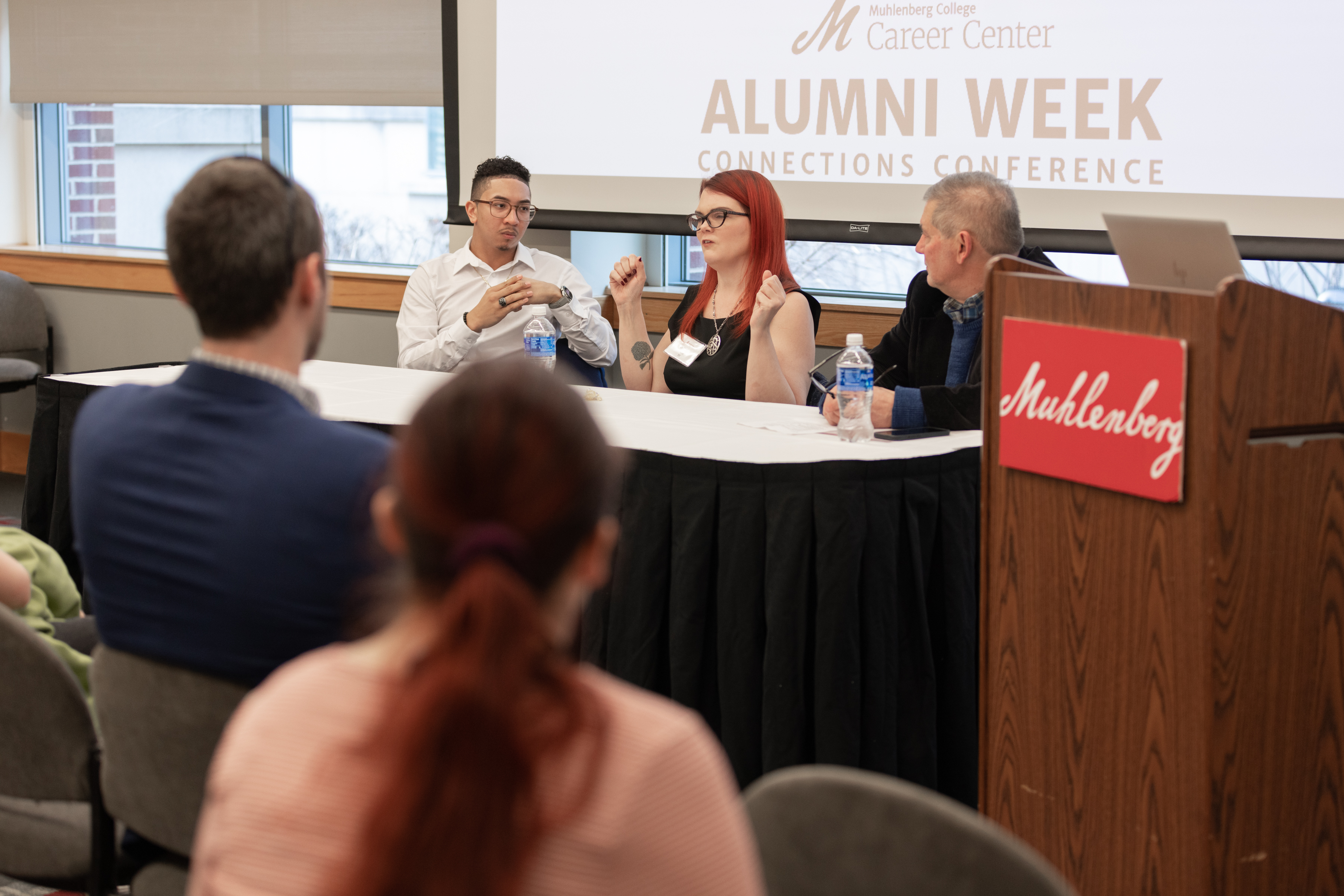 Staff Assistant for Senator Cory Booker Zaire Carter '22 and author and mental health advocate JoEllen Notte '01 speak on a panel moderated by Professor of Political Science Jack Gambino. Photos by Marco Calderon
Each year, academic departments invite alumni back to campus to connect with current students and share how they're making an impact in their industries and communities. The Department of Media & Communication and the Film Studies Program pioneered the Alumni Week tradition (and offered a packed schedule of events this semester).
This year, the Career Center brought together alumni from a wide variety of disciplines to participate in its new, multidisciplinary two-day Connections Conference. On the first day, Juan Martinez '06, a local entrepreneur who studied business administration at Muhlenberg, delivered the keynote address ahead of panels featuring alumni like Bob Belitz '89, an accounting major who's now CEO of the civil engineering firm Tighe & Bond; Zaire Carter '22, a political science and theatre double major who's now a staff assistant for U.S. Senator Cory Booker; and Kaitlynn Ely '19, an international studies major with minors in German studies and women's & gender studies who's now an individual and corporate giving manager at the nonprofit Womanspace Inc. The second day brought sessions related to specific career paths (like research, accounting and publishing) and other themes (how to evaluate job offers, for example).
Both days built in ample networking opportunities for students and alumni. See some highlights below.