Muhlenberg in Photos: "Toward Diversity" Roundtable and Diane M. Williams '72 House Dedication
The community celebrated the legacy of one of the College's most prolific activists with a panel discussion and the dedication of a residence for members of the Black Students Association.
By: Meghan Kita Thursday, April 27, 2023 09:44 AM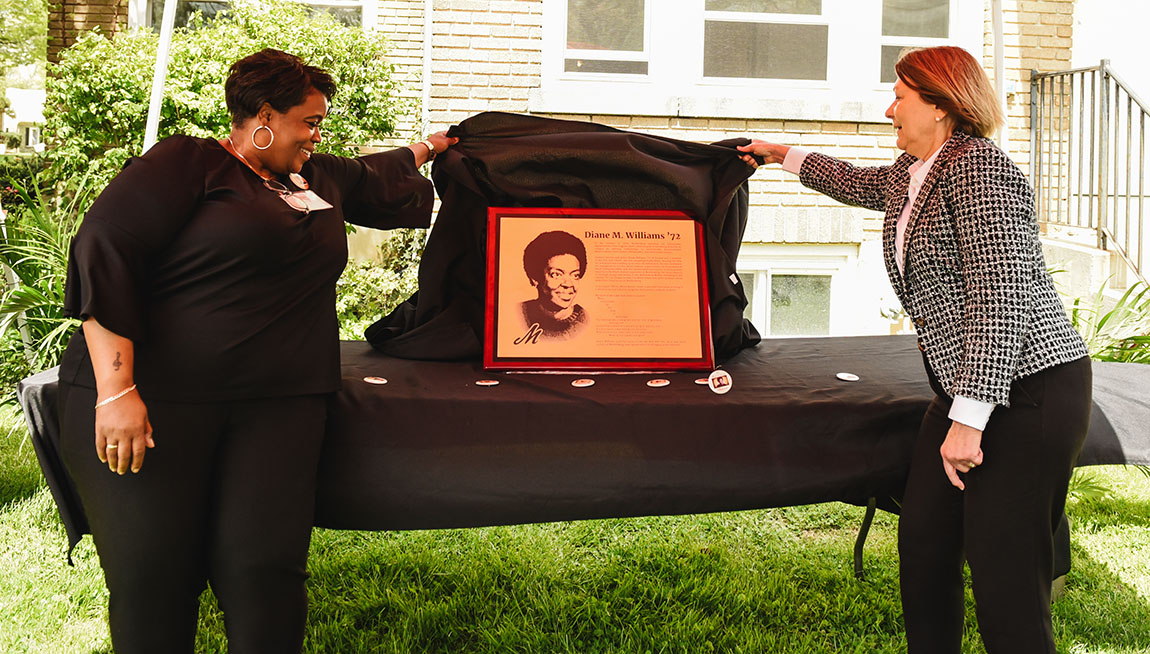 Kenya Albert, Ph.D., the former partner of Diane M. Williams '72, and President Kathleen Harring, Ph.D., reveal a plaque dedicating a Chew Street residence in her memory. Photos by Kristi Morris
On Saturday, students, faculty, staff, alumni and friends gathered for an event more than 50 years in the making. As a student, Diane M. Williams '72 was an activist and writer. Her byline appeared frequently in The Muhlenberg Weekly, giving voice to the experiences of the few Black students on campus at that time.
In 1971, she and other members of the Association for Black Collegians (a precursor to today's Black Students Association, or BSA) demanded a dedicated space on campus; the group was given a basement rec room that, a few years later, would be taken from them as the building was renovated.
This past Saturday began with a panel discussion that served partly as a tribute to Williams, who died in 2014: Over the summer, Giovanni Merrifield '23 utilized the Muhlenberg archives and interviews with Williams's friends to conduct research on her life and legacy that's now published on the Muhlenberg Memories Project microsite, Toward Diversity. He and Hailey Petrus '23, who also conducted research for Toward Diversity, spoke on a panel with Carl Evans '72, Natalie Jackson '73, Assistant Professor of English and Africana Studies and Director of Africana Studies Emanuela Kucik, Ph.D., and Lecturer Emerita in Media & Communication and Africana Studies and former Director of Africana Studies Roberta Meek. The panel discussed the Toward Diversity research, the experiences of Black students at Muhlenberg through the years and how the College's Africana Studies Program has grown and evolved.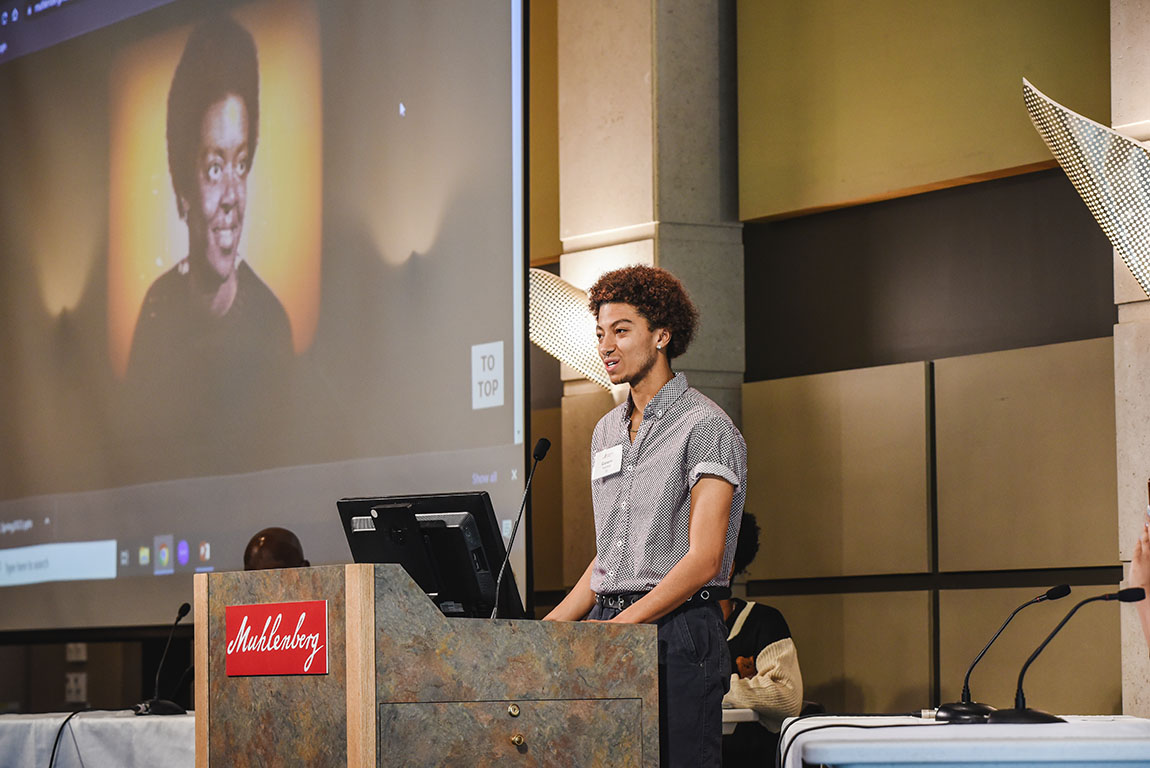 Merrifield speaks about his research on Williams, pictured on the screen in the background.
Then, a group gathered on the front lawn of the Chew Street residence that now houses four members of the BSA for the dedication of the Diane M. Williams '72 House. President Kathleen Harring, Ph.D., spoke, and then, Williams's former partner Kenya Albert, Ph.D., gave her remarks.
Before Harring and Albert revealed the plaque that will hang inside the residence, current BSA President Bianca Bolt '23 delivered a speech, which concluded: "This house has created a space where Black students can forge a shared experience in a way that wasn't possible before. In Emerging Leaders we have a saying, 'On the shoulders of those before us we emerge'. Because of the work of everyone before us, the Black community has been able to emerge on campus in unimaginable ways. So thank you."