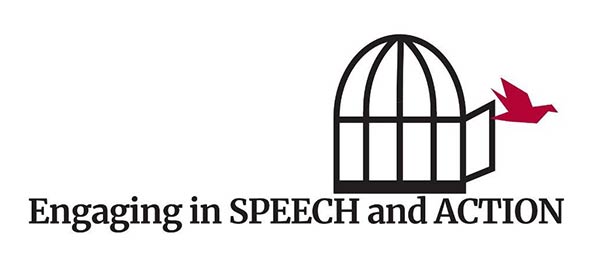 Fall 2020 Calendar

Opening Panel - Exit West as a form of speech and action
Panel Video Release - Sept. 18, 2020
Live Discussion - Sept. 25, 2020 - Common Hour
In the hope that it may be possible to bring Mohsin Hamid to campus this year, after his spring 2020 visit was postponed, the College is once again using his novel, Exit West , as a campus reads text. We hope that many classes will choose to engage with this novel throughout the year. Our 2020-2021 program, Engaging in Speech and Action, will offer an opening panel that reads the novel, not so much through the lens of borders and identity--last year's theme-- but as, itself, a form of speech and action. An opening panel of faculty will offer their reflections on the novel in a video discussion that will be publicly released on September 18, 2020. Then, on September 25, 2020 an open discussion will be held during Common hour (2:00 - 3:15 p.m.) via Zoom.
Faculty Panelists:
Emanuela Kucik, English and Africana Studies
Mohsin Hashim, Political Science
Dawn Longsinger, English
Leticia Robles-Moreno, Theatre and Dance
Mark Stein, History
Scholars at Risk Advocacy Seminar Pedagogy Workshop
September 18, 2020 - Common Hour
The College has become a member of the Scholars at Risk network, a coalition of academic institutions committed to protecting academic freedom and the ability to think, question, and share ideas. During the spring 2021 Muhlenberg joins colleges around the country in offering scholar advocacy seminars. The five courses we will offer will be in Italian Studies, Religion Studies, International Studies, Philosophy, and the DANA Honors Program. On September 18, 2020 Scholars at Risk will coordinate a virtual training seminar that will introduce faculty to the pedagogy that underpins these seminars. The fall workshop is open to the faculty members who will teach advocacy seminars in the spring; in the spring semester, the workshop will run again and will be open to *all* faculty members- date TBA. Both workshops will focus on issues of academic freedom and social responsibility.
Faculty Reading Group - Vita Activa, Engaging Arendt on Speech and Action - One Friday each month during Common Hour
Throughout the 2020-2021 academic year faculty have been invited to participate in a reading group that explores Hannah Arendt's book, The Human Condition , as well as critical reactions to it. Short, podcast style interviews with scholars will be produced and distributed prior to the reading group sessions and will be part of the material for discussions. While the reading group is currently full, we invite others in the community to join in reading these readings and viewing the online interviews. A one-day mini-conference will be held in April to share reflections from this endeavor.
Sept. 11, 2020: discussion of https://www.insidehighered.com/news/2020/05/05/gallupknight-foundation-survey-shows-studen ts-conflicted-about-free-speech , focusing on the problematic that " A continuing trend is the disconnect in students' "theoretical" or "philosophical" view in favor of First Amendment protections on campus, which shifts when asked about specific offensive behavior, said Jeffrey Jones, senior research consultant for Gallup," and Arendt, The Human Condition, Margaret Canovan's Introduction and Arendt's Prologue Guest interview: Olúfẹ́mi O. Táíwò, philosopher on the histories of activism and activist thinkers, the Black radical tradition, and the relationship between power and education, working also in the domain of public philosophy. Assistant professor of philosophy at Georgetown University. Published also in the popular presses, including Dissent, Boston Review, New Republic, Al Jazeera, Slate, and The Conversation.
October 9, 2020: discussion of Arendt, The Human Condition , Chapter 1 Guest interview: Dr. Luvell Anderson, philosopher of language, race, and aesthetics. Associate professor of philosophy, affiliate faculty member in African American Studies and Women's & Gender Studies at Syracuse University. Co-editor of the Routledge Companion to the Philosophy of Race . Specializes in philosophy of slurs, humor, insults, epistemic injustice, calling, addressing, and appropriation, and inclusive pedagogy.
November 20, 2020: discussion of Arendt, The Human Condition , Chapter 5 Guest interview: Dr. Ashley Farmer, historian of Black women's history, intellectual history, and radical politics. Author of Remaking Black Power: How Black Women Transformed and Era (UNC Press, 2017) and assistant professor of history and African and African Diaspora Studies at the University of Texas- Austin. Scholarship on Black women's intellectual production and activism in the Black Power era.
December 11, 2020: discussion of Arendt, The Human Condition , Chapter 6 Concluding semester discussion.
Spring semester reading group meetings will include discussion of chapters from Kathryn Sophie Belle's (formerly Kathryn Gines) monograph, Hannah Arendt and the Negro Question (Indiana UP, 2014), and additional contemporary scholarship on engaging speech and action.
Scholars at Risk Guest Lecturer - Professor Teng Biao
November 12 - 13, 2020 - Virtual Campus Visit
Public Lecture on November 13 during Common Hour

"From 1989 to 1984: The Formation of China's High-Tech Totalitarianism"
After the Tiananmen Democracy Movement and June 4th Massacre in 1989, due to the marketization reform, entry to the WTO and the western "engagement policy," China has become the second largest economy. Contrary to what most had presumed and predicted, the market economy and rapid growth didn't lead China to an open society or democracy. The Chinese Communist Party has tightened its one-party rule and utilized its political-economic-technological power to establish an unprecedented high-tech totalitarianism, which has been the biggest threat to global freedom and democracy. Following the talk, faculty discussants, Casey Miller, Sociology and Anthropology, and Jeff Pooley, Media and Communication, will lead discussion through a guided Q & A session.