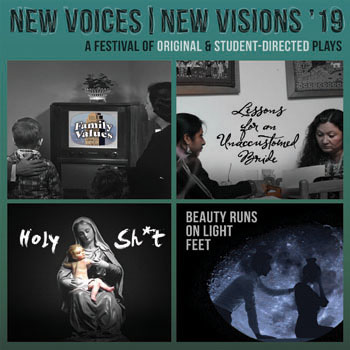 New Voices | New Visions
November 20-24, 2019
Family Values, by Patrick Daly '20
Directed by Nora Germani '20
Lessons for an Unaccustomed Bride, by Jose Rivera
Directed by Frederick Marte '20
Holy Shit, by Caroline Dunn '21
Directed by Heather Nielsen '20
Beauty Runs on Light Feet, by Kenneth Lonergan
Directed by Jacob Wahba '20
New Voices | New Visions celebrates the talents of the rising generation of directors and playwrights with an evening of groundbreaking and innovative short plays.
Family Values looks inside a mid-'90s sitcom, where raw emotions fight for attention beneath laugh-track superficiality. In Lessons for an Unaccustomed Bride, a naive young woman seeks help from the town witch, who knows more than the girl expected. Holy Sh*t pits a single mother against her old nemesis, the nun in charge of her daughter's school, and asks whatever happened to good old Catholic forgiveness. Beauty Runs on Light Feet offers a compelling snapshot of family life, in which a husband and wife struggle painfully to express what matters most. For mature audiences.
Also: Don't miss the companion production, New Visions After Hours!
Wednesday, Nov. 20: 8 pm
Thursday, Nov. 21: 8 pm
Friday, Nov. 22: 8 pm
Saturday, Nov. 23: 2+8 pm
Sunday, Nov. 24, 2 pm
Studio Theatre, Trexler Pavilion for Theatre & Dance
Tickets
484.664.3333
or online.