Payment Options
Starting with the Fall 2021 semester, tuition billing statements and payments will be available through Muhlenberg College's payment partner, Nelnet Business Systems.
Student Billing Statements
When billing statements are ready, students will receive a notification email.
Payments
Students may mail payments by check or make online payments via Nelnet. Students with outstanding obligations will not be permitted to register, change enrollment status, release transcripts or participate in commencement exercises until all commitments are met.
---
Muhlenberg College continues to accept checks for tuition. Please make checks payable to Muhlenberg College and mail directly to
Muhlenberg College - Business Office
2400 Chew Street
Allentown, PA 18104
Please include your name and Berg ID# on the memo area of the check.
---
Nelnet is an easy, online payment portal with the following options:
ACH payments from savings or checking accounts - free of charge.

Credit or debit card payments – with a convenience fee of 2.75%.
---
Steps to access your Nelnet account
Access the Nelnet portal by logging into your Muhlenberg Application Portal.
Click on the Nelnet icon (icon shown below).
Fill in your information.
Submit. Your Nelnet dashboard will show your current balance as well as payment options.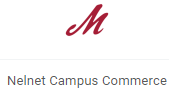 *If you do not have a Nelnet icon on your Application Portal dashboard, please contact the Muhlenberg College Student Help Desk for assistance.
---
Payment Plans and Individual Payments
Nelnet offers two five-month payment plans, one for the Fall semester and one for the Spring semester. Payments may be made for up to 10 monthly installments.
With this option, you have the freedom to use your money to earn your own interest or investment income while you pay in small installments over the course of the semester.
Have questions regarding payment plans? Please contact Nelnet directly at 800-609-8056.