Muhlenberg Recognized for Transformative Leadership in College Access and Success
The College is named an American Talent Initiative High-Flier, one of 28 national leaders in lower-income student enrollment, serving as a model for colleges and universities across the country.
By: Kristine Yahna Todaro Tuesday, May 23, 2023 08:42 AM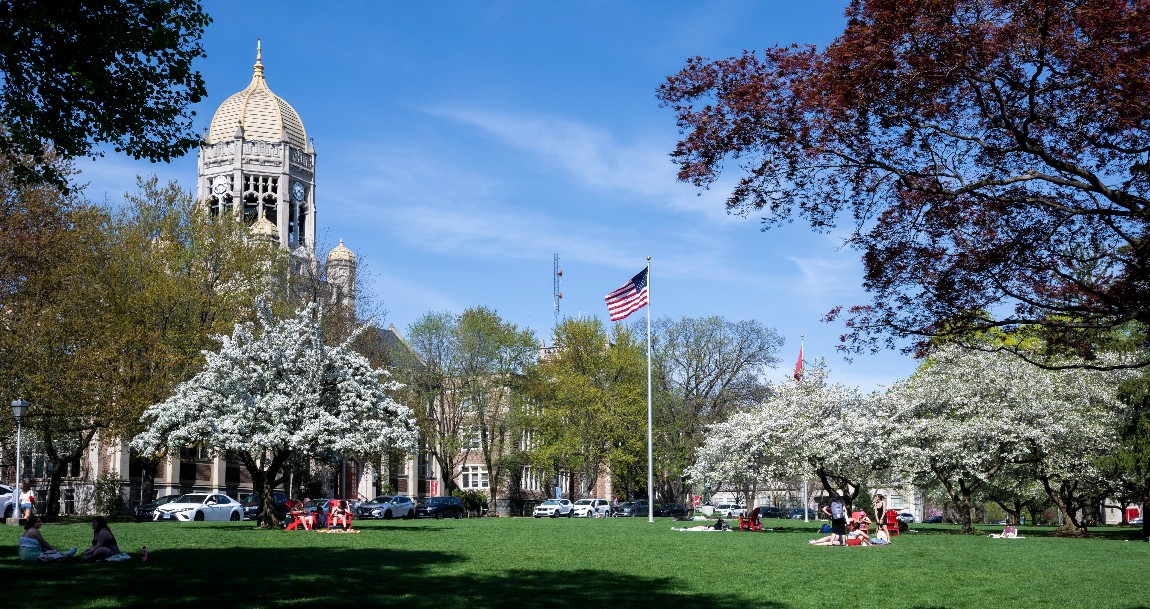 Muhlenberg's College Green
Muhlenberg was recognized today by Bloomberg Philanthropies as an American Talent Initiative (ATI) High-Flier, a group of 28 high-graduation-rate institutions nationwide named as leaders in college access and success for lower-income students.
The College received the distinction for its steady gains in lower-income student enrollment since 2015-16, its growing share of Pell Grant recipients (awarded only to undergraduate students who display exceptional financial need), and innovative recruitment, enrollment and retention practices.
ATI was formed in December 2016 with a goal to attract, enroll, and graduate an additional 50,000 lower-income students at the 341 colleges and universities that consistently graduate at least 70 percent of their students in six years.
The 28 American Talent Initiative High-Flier institutions include Brown University, Princeton University, University of Chicago, University of Michigan-Ann Arbor, University of Texas-Austin, University of Wisconsin-Madison and Yale University. Gettysburg College is the only other Pennsylvania institution receiving this recognition.
Muhlenberg's Pell Grant recipient graduate rate has been consistently above 80 percent since joining ATI, with a 92 percent graduation rate within six years for first-year students in 2016.
The College has also made significant gains in Pell shares among its 137 peers during that time.
Muhlenberg has achieved that progress through comprehensive and coordinated academic and social support, including Academic Advising, the Academic Resource Center, the Emerging Leaders Program, the Writing Center and the Office of Disability Services. The CARE Team coordinates with departments across campus to provide students with a starting point for seeking assistance. Social and community support includes the First Gen Students organization, and the Multicultural Center and partnering Student Affinity Organizations.
The College also offers financial support for the extra and hidden costs of college, including Emergency Grants and Experiential Learning Funds, which allow students who may not otherwise be able to afford it to participate in meaningful co-curricular and extracurricular experiences.
This progress has been particularly evident in the two years since Muhlenberg reaffirmed its commitment to this work through ATI's Accelerating Opportunity campaign. Along with their fellow ATI members, Muhlenberg set public, aspirational lower-income student enrollment goals for the first time to help combat the lingering impacts of the pandemic. In 2019, the College was at a 17 percent Pell share. Two years later, in fall 2021, that percentage had increased to 21 percent and Muhlenberg has met (and continues to exceed) its Accelerating Opportunity goal of a 20 percent Pell share since.
The College is also advancing a shared commitment among all 137 ATI members to close equity-based retention and graduation gaps.
"It's an honor for Muhlenberg College to be recognized by the American Talent Initiative," said Kathleen Harring, President of Muhlenberg and a member of the ATI Steering Committee. "We've been successful in meeting our ATI objectives in part because Muhlenberg's and ATI's goals are aligned; they come from shared values. At Muhlenberg, we take immense pride in our challenging, supportive community. We are committed to enrolling talented students from diverse populations and ensuring that they are able to access transformative experiences that allow them to thrive and succeed."
An initiative led by Bloomberg Philanthropies in partnership with Aspen Institute's College Excellence Program and Ithaka S+R, ATI serves as a growing nationwide alliance of high-graduation-rate colleges and universities grounded in the belief that they can collectively expand access for tens of thousands of high-achieving, lower-income students. By doing so, these institutions are increasing socioeconomic diversity within their respective student communities.
"The economic fallout from the pandemic has made it even more important for schools across the country to adopt innovative new ways to attract and retain students from under-represented backgrounds," said Michael R. Bloomberg, founder of Bloomberg LP and Bloomberg Philanthropies and 108th mayor of New York City. "I applaud ATI's 28 High-Fliers for leading the way in this work and increasing the diversity of their campuses. We hope their efforts serve as an example for other schools that are committed to creating opportunities for more lower-income students, so we can accelerate national progress on this critical challenge."
About Muhlenberg College
Founded in 1848, Muhlenberg is a highly selective, private liberal arts college offering baccalaureate and graduate programs. With an enrollment of nearly 2,000 students, Muhlenberg College is dedicated to shaping creative, compassionate, collaborative leaders through rigorous academic programs in the arts, humanities, natural sciences and social sciences; selected preprofessional programs, including accounting, business, education and public health; and progressive workforce-focused post-baccalaureate certificates and master's degrees. Located in Allentown, Pennsylvania, approximately 90 miles west of New York City, Muhlenberg is a member of the Centennial Conference, competing in 23 varsity sports. Muhlenberg is affiliated with the Evangelical Lutheran Church in America.