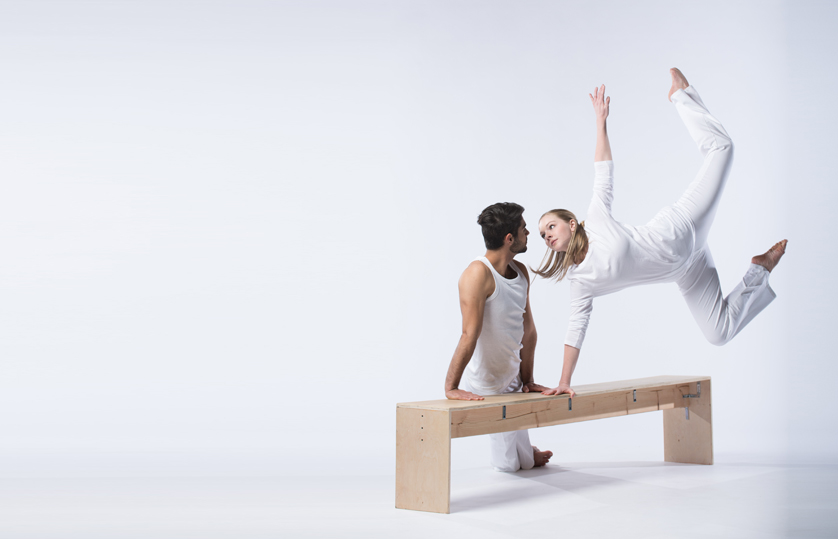 The Guest Artist program offers students in both theatre and dance the opportunity to work and study with world-class artists-in-residence. The Department engages numerous guest artists each year as teachers, actors, directors, composers, choreographers, and designers.
Past residencies have included:
Tony Award-nominated makeup artist Joe Dulude II
Modern dance company

Urban Bush Women
Peter Schumann

and the

Bread and Puppet Theatre
The Chuck Davis African American Dance Ensemble
Composer

Charles Strouse, playwright

Mark St. Germain, and director/choreographer

Barbara Siman
Figurentheater: Wilde and Vogel, internationally-acclaimed puppet theatre artists
Rosalba Rolón

and Pregones Theater
Obie Award-winning poet and playwright

Mac Wellman
Nationally respected choreographer

Danny Buraczeski

and his company Jazz Dance
Internationally acclaimed modern choreographers

David Dorfman

and

Doug Varone
Vocalist

Marni Nixon
Guest Artist Bios: 2020-21
Kayla Farrish

Kayla Farrish / Decent Structure Arts is an emerging company combining filmmaking, photography, and dance. Farrish is a New York-based director with a vision for intimate storytelling. With urgency, power, and transparency, the work delves into sociopolitical structures and the liberation of people. She co-choreographed Gods and Accepting Darkness with Nik Owens (2015). Studying photography and film with Yara Travesio, Benjamin Heller, and Brooklyn Central, she formed portraiture and improvisation studies Beloved Loveless, and premiered With Delicacy and Permanence live solo and film at B.A.A.D! In summer 2018, granted the Chez Bushwick residency, she created five short films and a cinema-inspired photograph gallery. These films screened at Bushwick Open Studios, Triskelion Film Festival, Deconstructed: Dance Films Festival, Mouthfull Presents/Of Bones Dance, and Detroit Women in Film Festival. kaylafarrish.com

Master Class: Feb. 26, 2021

Maleek Washington

A native New Yorker from the Bronx,Maleek Washington is a performer, choreographer, and teaching artist. He began his dance training at Harlem School of the Arts, Broadway Dance Center, and LaGuardia High School for the Performing Arts. Maleek attended The Boston Conservatory on a full scholarship before beginning his professional career with CityDance Ensemble (Washington, D.C.). While there, he worked with Paul Taylor, Kate Weare, and Alex Noeral, and as a SpringBoard Danse (Montreal) participant. Washington also worked with José Navas and Rubberband. Upon his return to New York City, Washington collaborated with McArthur Genius awardee Kyle Abraham and his company Abraham.In.Motion for four seasons before becoming the first African-American male to perform in the critically acclaimed immersive show Punchdrunk's Sleep No More. He has also performed for such musical sensations as Sia and Phish, and with Rihanna in her immersive Antidiary Campaign. Washington's performance and commercial choreographic talent has been recognized nationally at such prestigious venues as The White House, The John F. Kennedy Center for the Performing Arts and Jacob's Pillow, and internationally in Australia, Jordan, Mexico, and Sweden.

In addition to his performance career, Washington is a sought-after national and international teaching artist at the Joffrey Ballet School, LaGuardia High School for the Performing Arts, Broadway Dance Center, and Brent Street in Australia. With multidisciplinary, experiential performance works that investigate the people, practices, and spaces shaping Washington's black identity, he was proud to present his art in 2017 at the Boston Dance Festival, Pepatian and BAAD!, Periapsis Dance and Music Noesis, and at the legendary Movement Research at Judson Church in Spring 2018. Washington was also a 2017-18 Dancing While Black top 10 choreographic finalists. Alongside his creative work, Washington has entered his second season with Camille A. Brown and Dancers in collaboration for her work Ink that premiered at the Kennedy Center in December 2017. Recently Maleek was a part of the ensemble for NBC's Jesus Christ Superstar staring John Legend as Jesus. He also performed at the 2018 Ted Talk Conference in Vancouver British Columbia in Camille A.Brown's New Second Line and performed with ASAP Rocky's testing album release installation at Sotheby's NYC. maleekwashington.com

Master Class: Feb. 12, 2021

Nikkia Parish

Born and raised in Fort Worth, Miss Parish currently works at Lockheed Martin (MFC) us in Precision Fires as a Subcontract Manager. In 1996, she received the opportunity to move to the East Coast and achieve her dream of becoming a professional ballerina. Over a 12 year period, Miss Parish danced numerous soloist and principal roles with such prestigious companies as Pennsylvania Ballet (Phila, PA), Dance Theater of Harlem (NY, NY) and Washington Ballet (Wash, DC). While performing, she maintained a fiercely balanced commitment to the pursuit of her education and attained a degree in Business Management from Texas Christian University in the fall of 1999. As of 2006, she began to transition from the arts to the business world and focused her career on hospitality, public relations, and public service. Upon her return to Fort Worth, she accepted a position as a Federal contract specialist with General Services Administration (FAS-FDIC). She was responsible for the project management of 75 individual contracts with dollar values ranging from $125,000 to the multi-millions. As of December of 2011, she transitioned to Lockheed Martin Aeronautics Company to a position in Supply Chain Management. Being promoted at an average of once per year of tenure, she became responsible for all aspects regarding the subcontract management of the F-35 Alenia FACO Production account, an account well over $297 million dollars in subcontracting funds. In constant pursuit of learning, Miss Parish attained her Masters of Science in Engineering Management from Southern Methodist University in the spring of 2016. To continue her desire to support health and wellness, Miss Parish launched Antibody, Inc., a medical equipment company, providing everything from personal care items to PPE to high hospital grade supplies to the public in April of this year. dancemogul.com

Artist Talk via Zoom: Nov. 12-13, 2020

Monica Stephenson


Monica Stephenson is originally from Fayetteville, North Carolina. She is a graduate of the University of North Carolina School of the Arts and the Professional Training Program at the Houston Ballet Academy. She then performed professionally with The Washington Ballet, Dance Theatre of Harlem Ensemble, and Los Angeles Ballet companies. In 2016, Monica completed her Master of Arts in Dance Education from New York University with a concentration in American Ballet Theatre Ballet Pedagogy. She was previously on staff at American Ballet Theatre as the Project Coordinator for Project Plié, an initiative to increase diversity in classical ballet. Currently, Monica is the Head of School for The Washington School of Ballet SE Campus at THEARC, a satellite school at the forefront of accessible ballet training for students of diverse backgrounds. Her research interests specifically reside in ballet pedagogy and racial and ethnic diversity in classical ballet. kennedy-center.org


Master Class via Zoom: Nov. 4-6, 2020

Debra Austin

Debra Austin received a scholarship to the School of American Ballet when she was 12 years old. Four years later, George Balanchine personally invited her to join New York City Ballet. Praised by The New York Times for her ability to "levitate...and remain suspended in the air," Ms. Austin danced many principal roles with New York City Ballet in works choreographed by Balanchine, including Symphony in C, Divertimento #15, and Ballo della Regina, in which Balanchine created a solo for her. She also danced lead roles for Jerome Robbins in The Four Seasons, Interplay, and Chansons Madécasses, which he created on her. She later joined the Zurich Ballet in Switzerland, where she danced principal roles (many with Rudolf Nureyev) in works by all of the major choreographers, including Myrtha in Heinz Spoerli's Giselle. While there, she toured throughout Europe. After her return to the United States, she joined Pennsylvania Ballet as a principal dancer under Artistic Director Robert Weiss and danced roles in Swan Lake, Coppélia, A Midsummer Night's Dream, Giselle, and La Sylphide. Austin is the recipient of the Raleigh Chapter of the Links Emerald Award of Excellence honoring North Carolina Women, was honored by Governor Roy Cooper for her work in dance during Black History Month; and the North Carolina History Museum hosted by the Triangle Friends of African American Arts. She was featured in 50 for 50: Artists Celebrate North Carolina by The North Carolina Arts Council. Austin also participated in the Chevrolet and National Newspaper Publishers Association (NNPA) Second 2017 Discover the Unexpected (DTU) Journalism Fellowship. The Fellows are students from HBCUs who work with NNPA editors and reporters to write stories about the African American community. Austin was one of those inspirational stories and was interviewed by the Fellows. The Museum at the Fashion Institute of Technology in New York City is presenting *Ballerina: Fashion's Modern Muse," the first targe-scale exhibition of classical ballerinas, and will unveil Austin's costume next to Margot Fonteyn's (Nureyev's former partner) in 2020. Most recently she has been featured in Elysian Magazine for their current issue, has been awarded the 2020 City of Raleigh Medal of Arts Award, and is a Ballet Master for the Carolina Ballet where she has been a founding member since 1998. carolinaballet.com

Master Class via Zoom: Nov. 2, 3, 5, 2020

Eric Bean, Jr.

Eric Bean Jr. officially began his training at the age of 15 under the tutelage of Suzette Harvey (founder of the Bermuda Dance Company & United Dance Productions Studio). Through her guidance and unwillingness to settle for anything less than the very best, Eric found a love for the art form of dance and a passion for sharing it with others. Following in her footsteps, he went on to attend University of the Arts in Philadelphia (PA), where he was eventually invited to become a member of Eleone Dance Theater. Under the direction of Shawn-Lamere Williams, he continued to grow as an artist and performer; working his way through the ranks to a position of principal dancer. Immediately after completion of his undergraduate program, he was invited to join the renowned Koresh Dance Company under the direction of Artistic Director/Choreographer/Founder Ronen Koresh. Here he received opportunities to work with and perform works by pioneers in the dance community including: Donald Byrd (Spectrum Dance Theatre, Color Purple Musical), Robert Battle (Alvin Aliey American Dance Theatre) and Ohad Naharin (Batshava Dance Company) to name a few.

Choreographically, Eric has been given the opportunity to create work for several companies such as Missouri Contemporary Ballet, Brandywine Ballet, and Eleone Dance Theater as well as hold faculty positions in various national and international dance programs including University of the Arts, University of Nevada Las Vegas and 'Dance Bermuda'; American Ballet Theatre's only international dance program. In 2014 he was also given the opportunity to work with the legendary Frank Gatson, Jr. and his creative team on their revamping of the Las Vegas classic Production Show, "Jubilee! The Showgirl Reborn" and served as a member of its illustrious final cast. Most recently, he served as a member of the inaugural cast of the Viking Sea; the second ship in the new Viking Ocean Fleet and is currently on tour with Disney's The Lion King! ebjdance.com

Master Class via Zoom: Oct. 29, 2020

Nicole Wolcott


Nicole Wolcott is a choreographer and dancer living in Brooklyn, New York. For 13 years she was the Associate Artistic Director of KEIGWIN + COMPANY, a professional dance company she co-founded with choreographer Larry Keigwin in 2003. The company has been produced and commissioned by the Guggenheim Museum Works and Process Series in NYC and the Guggenheim Bilbao, and the American Dance Festival among others. K+C has been presented at a wide variety of venues; highlights include the Kennedy Center, New York City Center and at The Joyce Theater for five consecutive years. In 2017 K+C toured to the African countries of Cotes d'Ivoire, Ethiopia, and Tunisia as United States cultural diplomats through DANCE USA, a program produced by U.S. State Department and directed by the Brooklyn Academy of Music. Wolcott stepped away from directing K+C in 2017, but continues to work with Keigwin on other projects including as associate choreographer for the return of Rent to Broadway and the original Broadway musical If/Then, both directed by Michael Greif. In 2018 they began touring their evening-length duet titled Places Please! a retrospective of their artistic collaboration and friendship as well as a commentary on the life of a dancer trying to make it in show business. Most recently she was the Associate Director for him on Bolero Juilliard, an online dance with over 3 million views and featured in PBS Great Performances.

Wolcott's work as an independent choreographer has been invested in intimate dances that draw from the personal lives of the artists with whom she works. She is driven by an interest in the flux between the body as an abstract kinetic form in space, an amalgam of qualities and experiences that comprise a human identity; an individual who has history, expression, a sense of humor. She helps direct a multi-year dance conversation with international artists called The Year of the Dog at dancedialogue.org. Throughout her years as a director, choreographer, and performer, Wolcott has been a dedicated teacher sharing her affection for dance with all communities professional and non-professional. For the past three years she has taught improvisation and choreography at the Joffrey School and is currently teaching composition in BA and MFA programs at Hunter College. She travels the country as a guest artist and teacher. She has taught at Princeton University, New York University, Hunter College, Hofstra University, Muhlenberg College, and Desales University. Dance has been a north star for Nicole since the age of six. Her life is dedicated to this art form as her contribution to the wellbeing of her community and by extension the culture at large. nicolewolcott.com

Master Class via Zoom: Oct. 23, 2020

Emily Schoen


Emily Schoen is a Brooklyn-based dancer, choreographer, and Dance Magazine "Top 25 to Watch" artist. Baryshnikov Arts Center chose her as the 2019 Martha Duffy Resident Artist for their acclaimed BAC Space Residency. She's also received the Gibney Dance boo-koo grant for emerging artist in NYC, a Princess Grace Fellowship nomination by METdance, and was Artist-In-Residence for Jamaica Center for the Arts and Learning. As a dancer, she's worked for Kyle Abraham/AIM; the Metropolitan Opera in works by Doug Varone, Mark Morris and Carolyn Choa; the Rolling Stones in their 50th Anniversary Reunion Tour, and for eight years with KEIGWIN + COMPANY. With these groups, she's performed at the nation's finest theaters and toured internationally. As a passionate educator, Emily has fulfilled commissions for Santa Barbara Dance Theater, METdance, and Ormao, and has worked with university programs all over the country. She additionally directs her own group, Schoen Movement Company, which is home to her creative endeavors: happy hour performance series, international collaborations, and dance on camera. schoenmovementcompany.com


Master Class via Zoom: Oct. 9, 2020

J. Bouey


J. Bouey (they/them) is a current member of the Bill T. Jones/Arnie Zane Company and founder and co-host of The Dance Union Podcast. J. performed with Elisa Monte Dance as an apprentice, Christal Brown's INSPIRIT Dance Company, AntonioBrownDance, Germaul Barnes' Viwesic Dance, and Maria Bauman's MBDance. As a choreographer, J. Bouey has shown their original work at The Chocolate Factory, New York Live Arts, Judson Church, Brooklyn Arts Exchange, Gibney Dance, BAAD!, CPR – Center for Performance Research, La Mama Experimental Theatre and South Mountain Center for Performing Arts. J. Bouey received a BFA in Dance from Arizona State University. jbouey.com

Master Class via Zoom: Sept. 4, 2020
The Baker Artist-in-Residence Program

The Baker Artist-in-Residence Program brings distinguished professional guest artists to the Muhlenberg campus each year. Artists remain on campus for periods ranging from one month to an entire semester, and each resident artist teaches in the academic program and contributes to the artistic programs in theatre, dance, and music. Baker Artists-in-Residence are sponsored by the Dexter F. and Dorothy H. Baker Foundation.
---
Want to Know More?
Thank you for your interest in Muhlenberg College. This form is for prospective students to request additional information about the Theatre & Dance Department.
Performance Patrons: to sign up for the mailing list, or to request information other than prospective student info, please the See a Show page, and click Mailing List Signup in the sidebar menu.
Loading...