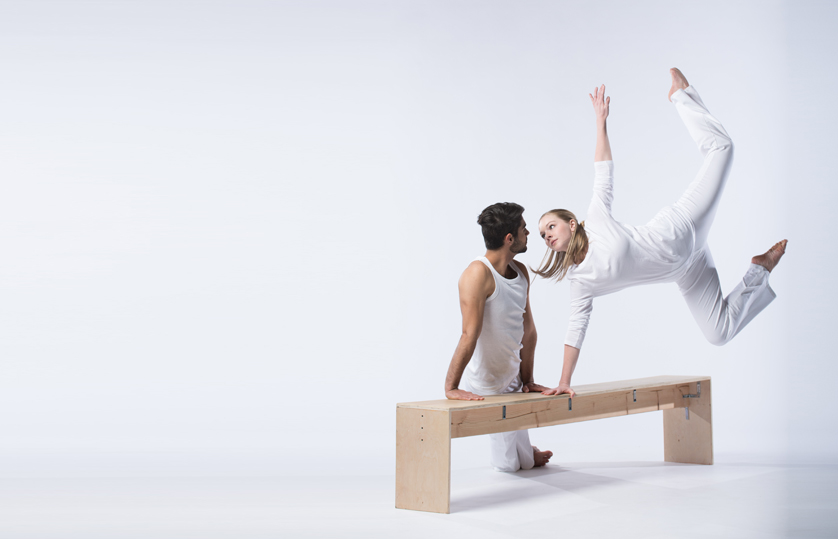 The Guest Artist program offers students in both theatre and dance the opportunity to work and study with world-class artists-in-residence. The Department engages numerous guest artists each year as teachers, actors, directors, composers, choreographers, and designers.
Past residencies have included:
Tony Award-nominated makeup artist Joe Dulude II
Modern dance company

Urban Bush Women
Peter Schumann

and the

Bread and Puppet Theatre
The Chuck Davis African American Dance Ensemble
Composer

Charles Strouse, playwright

Mark St. Germain, and director/choreographer

Barbara Siman
Figurentheater: Wilde and Vogel, internationally-acclaimed puppet theatre artists
Rosalba Rolón

and Pregones Theater
Obie Award-winning poet and playwright

Mac Wellman
Nationally respected choreographer

Danny Buraczeski

and his company Jazz Dance
Internationally acclaimed modern choreographers

David Dorfman

and

Doug Varone
Vocalist

Marni Nixon
The Baker Artist-in-Residence Program
The Baker Artist-in-Residence Program brings distinguished professional guest artists to the Muhlenberg campus each year. Artists remain on campus for periods ranging from one month to an entire semester, and each resident artist teaches in the academic program and contributes to the artistic programs in theatre, dance, and music. Baker Artists-in-Residence are sponsored by the Dexter F. and Dorothy H. Baker Foundation.
Bill Evans


Guggenheim Fellow Bill Evans is an internationally known performer and choreographer of modern dance and rhythm tap dance, as well as an artistic director, administrator, movement analyst, speaker and writer. He has created more than 275 works for more than 65 professional companies throughout the world, and is a recognized master of American Tap, voted one of the "three top world tap artists" by Dance Magazine. Evans founded the Bill Evans Summer Institute of Dance in 1977, training thousands of students including generations of educators who shaped Seattle dance.

Mr. Evans is professor emeritus at the College at Brockport, SUNY and distinguished professor emeritus at the University of New Mexico. He danced, choreographed, and served as artistic coordinator with Repertory Dance Theatre from 1967 through 1974, and has since created or reconstructed 19 works for that company, including a commission celebrating RDT's 50th anniversary that premiered in November 2015.

His book, Reminiscences of a Dancing Man, is available through his website: billevansdance.org


Residency: October and November 2019
Teaching and staging work for Master Choreographers 2020

Yoshito Sakuraba


Yoshito is a founding artistic director of Abarukas and an award-winning choreographer. His work was seen in Germany, Poland, Italy, Spain, Israel, Mexico, and the U.S. He won the International Choreographic Competition at NW Dance Project and Choreographic Shindig at Whim W'him in the U.S. He received the Best Choreography Award in Italy by FINI Dance. He won the Audience Prize at Masdanza International Contemporary Dance Festival in Spain, and he was invited to present his work "Coming Home" for the Masdanza Extensions Tour in 2018 to perform in the seven islands of the Canary Islands.

Mr. Sakuraba has been commissioned to create works for Peridance Contemporary Dance Company, Interlochen Center for the Arts, Jamaica Performing Arts Center, Rozsa Center for the Performing Arts, Alvin Ailey/Fordham University BFA, University of North Carolina School of the Arts, Elon University, Purdue University, Peabody/Johns Hopkins University, Muhlenberg College, HSPVA, Greater Hartford Academy of the Arts, Ballet Des Moines, Ballet Arkansas, Making Moves Dance Festival, Dance Gallery Festival/Level Up, FINI Dance Festival and more. He's presented his work for International Solo Tanz Theater Festival in Germany, Gdansk Dance Festival in Poland, Masdanza International Contemporary Dance Festival in Spain, Mash International Choreography Festival in Israel, and FIDCDMX in Mexico, Festival 10 Sentidos in Spain, and FINI Dance Festival in Italy. He's appeared in the televisions and his work has been featured in NY1 as well as Bric TV in Spectrum Cable Channel. He has taught workshops internationally, Amsterdam Dance Centre (Netherlands), Romestate International Summer Program at DAF Dance Arts Faculty (Italy), FINI Dance Festival (Italy), The Playground (NYC), Sam Houston University (Texas), Manhattanville College (NY), and more. abarukas.com


Residency: October 2019
Guest Choreographer, Master Choreographers 2020

Charles O. Anderson


Charles O. Anderson is artistic director of Charles O. Anderson/dance theatre X, an afro-contemporary dance theatre company, which he founded in Philadelphia in 2003. Born and raised in Richmond, Virginia, Mr. Anderson earned his B.A. in Choreography and Performance from Cornell University and his M.F.A. in Dance from Temple University.

Mr. Anderson has performed in the companies of Ronald K. Brown, Sean Curran, Mark Dendy and Miguel Gutierrez among others. His work has been presented nationally and internationally and has earned recognition by numerous grants and organizations such as the Pew Fellowship in the Arts, one of "25 to Watch" by Dance Magazine, and one of "12 Rising Stars in the Academy" by Diverse: Issues In Higher Education Magazine. Anderson is currently based in Austin, Texas, where he is Head of the Dance Program and an associate professor of African Diaspora Dance Studies at The University of Texas at Austin. Anderson also serves on faculty of the American Dance Festival six-week school in Durham, North Carolina. charlesoanderson.me


Residency, October 2019
Teaching and lecture demonstration 2019

Nicole Wolcott


Nicole Wolcott is a choreographer and dancer living in Brooklyn, NY. For 13 years she was the Associate Artistic Director of KEIGWIN + COMPANY, a professional dance company she co-founded with choreographer Larry Keigwin in 2003. The company has been produced and commissioned by the Guggenheim Museum Works and Process Series in NYC and the Guggenheim Bilbao, and the American Dance Festival among others. In 2017 they traveled to Africa as Cultural Ambassadors for the United States. K+C has been presented at a wide variety of venues highlights include the Kennedy Center, New York City Center and at The Joyce Theater for five consecutive years. She continues to work with Keigwin on other projects including as Associate Choreographer for the return of RENT to Broadway directed by Michael Greif. Wolcott and Keigwin continued to work with Greif on the original Broadway production of If/Then starring Idina Menzel. In 2018 they began touring their evening-length duet titled Places Please! a retrospective of their artistic collaboration and friendship as well as a commentary on the life of a dancer trying to make it in show business. Nicole has enjoyed a long career with dance companies, rock bands and video artists around the country and been the subject of a feature article in Dance Teacher magazine. Currently she facilitates a dance conversation between a cohort of international artists called The Year of the Dog at dancedialogue.org and is creating a new work to premiere in November of 2019 titled "Luggage Lost" nicolewolcott.com

Master Class: Sept. 13, 2019

Emily Shoen


Schoen Movement Company Bio
Schoen Movement Company prioritizes dance as a method to connect people and enrich the quality of life. They are a three-time invitee to the prestigious Jacob's Pillow Inside/Out Dance Festival, a BAC Space 2019 Resident through Baryshnikov Arts Center, and have also presented work at Gibney Dance, Joe's Pub through DanceNOW, LaGuardia Performing Arts Center, and Judson Memorial Church. With support from the US State Department and Dance Motion USA / BAM, and American Dance Abroad, they resided in Tunisia to collaborate with local professionals, the performance of which was then featured in a livestream broadcast viewed by people in 38 countries.Beyond the stage, SMC explores inventive and fresh avenues of dance performance. They've produced evenings of site-specific happy hour performances in active NYC breweries and dance for camera. SMC is a model of economic fairness and transparency within the dance community. Schoenmovementcompany.com


Master Class: Oct. 4, 2019


Anya Clarke & Mitsuko Verdery


MICHIYAYA Dance is a femme-centric contemporary dance theater company based in New York City. Co-founded in fall 2015 by New York natives, Anya Clarke (Long Island University Brooklyn, BFA) and Mitsuko Verdery (Carnegie Mellon University, BFA), their mission is to produce multidisciplinary work that inspires and empowers, synthesizing Clarke's visceral yet cerebral movement with Verdery's contextual landscape to create work that is queer, sensual, abstract and physical. MICHIYAYA Dance has been supported by the Lower Manhattan Cultural Council, Foundation for Contemporary Arts, Opportunity Fund, and the International REVERBdance Festival. They have been presented by Yale University, Brooklyn Museum, Andy Warhol Museum, Gelsey Kirkland Theater, Dixon Place, La MaMa Galleria, among others.

The duo was selected as 2018 Pearl Diving Movement Residency artists, and have been commissioned by schools and companies such as Long Island University, Steffi Nossen School of Dance, and Earl Mosley's Diversity of Dance. MICHIYAYA Dance is also dedicated to nurturing voices and creativity to youth and adults of all backgrounds, and have taught at the American College Dance Association, Montclair State University, Center for Anti-Violence Education, Gibney, Dancing Grounds, and more. Thriving as a powerful group of femme voices, MICHIYAYA Dance has been featured by Thinx, Vice i-D, Medium, and Dance Enthusiast, among others. michiyayadance.org

Master Class: Oct. 25, 2019


Kyle Marshall


Named "New to Watch" by Dance Europe Magazine, Kyle Marshall Choreography (KMC) is a dance company that sees the dancing body as a container of history, an igniter of social reform and a site of celebration. Kyle Marshall Choreography has performed at venues including: Jacob's Pillow Dance Festival, Joe's Pub at the Public Theater, Roulette, Actors Fund Arts Center, NYC Summerstage, Wassaic Arts Project and Conduit Dance in Portland, OR. KMC has received residencies from Center of Performance Research, DanceNow at Silo, Jamaica Performing Arts Center and CoLab Arts. Commissions have included: "Dance on the Lawn" Montclair Dance Festival, New Jersey Performing Arts Center, and Harlem Stage. Artistic Director and dancer Kyle Marshall, is a 2018 New York Juried "Bessie" Award recipient and a 2017 NJ State Council of the Arts Fellow. kmchoreo.com

Master Class: Nov. 1, 2019


Jack Blackmon


Born and raised in Lake Tahoe, CA, Jack Blackmon is a performer and choreographer. His yearning to learn from movement eventually led him to NYU where he performed works by Crystal Pite, Trisha Brown, Bobbi Jene Smith, and Loni Landon. Since graduating from NYU's Tisch School of the Arts he has performed for Larry Keigwin, AnA Collaborations, Patrick O'Brien, Emily Kessler, and Serena Chang. He is currently a member of Sean Curran Company, Schoen Movement Company, and most recently Punchdrunk NYC's "Sleep No More". Jack makes work with his collaborator Charlotte Settle, and is deeply enamored by the power of dance, humor, and absurdity. gibneydance.org/people/jack-blackmon

Master Class: Nov. 22, 2019


Deb Lohse


Born and raised in California, DEBORAH LOHSE is a comedian, dancer and choreographer living and working in New York City. Her work has been presented in theaters, public spaces and festivals including DANCE NOW Joe's Pub, American Dance Festival, Chicago Contemporary Circus Festival, United Solo Theater Festival, La Mama Moves and the Winter Garden at Brookfield Place. She has received commissions from Women In Motion, Mantra Percussion, SUNY Purchase, DANCE NOW and Island Moving Company as well as artist residencies from The Yard, Marble House Project, Djerassi Resident Artist Program, Acadia Summer Arts Program and SILO. As a performer, Lohse has worked with theater directors Michael Preston, Barbara Karger and Anne Kauffman, visual artists Suzanne Bocanegra and Paulina Olowska and choreographers Monica Bill Barnes, Cori Olinghouse and Doug Elkins. She currently performs with Katy Pyle/Ballez, David Parker/The Bang Group and her collaborative dance comedy crew LMnO3 (Lohse, Marquis and Oakley) and as her alter ego indefatigable cabaret persona TruDee. TruDee is a formidable dance artist and storyteller from Tuckahoe, NY.

She began her dance training at the age of five in ballet, tap and aerobics under the tutelage of Miss Belinda in the local parks and recreation department. Her love of theater emerged later on through the coveted role of the Virgin Mary in the church nativity play. In her senior high school drama class she wrote and performed in her first one woman play as the prima ballerina Margot Fonteyn. In the past year, TruDee, an elusive genre straddler, has gone on to share her dance stories at Joe's Pub, American Dance Festival, Chicago Contemporary Circus Festival, and the beloved West Village drag bars Boots & Saddle and Stonewall Inn. SILO and Marble House Project and Djerassi Artist Residency have hosted her musings and creative exercises. She has created dances and led workshops in performance for Advanced Curation and the Borough of Manhattan Community College.TruDee would like you to also note that she is an award winning lip sync artist, ribboned competitive speed walking champion and holds the title as the youngest member of the her church choir joining the ranks at the age of 11. You can follow her and a few of her favorite things on Instagram @yourstrudee.

Master Class: Jan. 31, 2020


Eoghan Dillon


Eoghan Dillon was born in County Tyrone, Ireland. At the age of four, he moved to Canada, where he began dancing at the age of 12. In 2012, Mr. Dillon received a full scholarship to study at the Ailey School in New York City, where he studied under Milton Meyers, Francesca Harper, and many other prestigious professionals. Eoghan is currently a Rehearsal Director, and Educational Coordinator with Parsons Dance in NYC, an internationally renowned touring contemporary dance company. Under the direction of David Parsons, he has worked one on one with choreographers Robert Battle, Kate Skarpetowska, Trey McIntyre, and Ephrat Asherie.

Eoghan has toured, taught, and choreographed all over the United States and Europe and most Recently he has been commissioned to set works on Parsons Dance, METDance, and Dark Circles Contemporary Dance Company, and Ballet Memphis. Eoghan has been featured in international marketing publications, most notably the GAP's "Dress Normal" Campaign and maintains teaching positions at the Flow40 Touring Dance Convention as well as The Broadway Dance Center in New York City.



Master Class: Feb. 14, 2020


Chris Morgan


Christopher K. Morgan founded Christopher K. Morgan & Artists in 2011; the same year Dance Magazine profiled him as 1 of 6 breakout choreographers in the US. Born in Orange County, CA, his Native Hawaiian ancestry and wide-ranging performance career influence his work as a choreographer, educator, facilitator, and curator. "Direct, transcendent and entrancing" (The Washington Post), his choreography has been presented in 18 countries on 5 continents. Awards include a 2013 Native Arts & Cultures Foundation Fellowship, 2014 NPN Creation Fund, 2014 NEFA National Dance Project Grant, 2018 Western Arts Alliance Native Launchpad and 2019 Dance USA Fellowship for Artists.

Teaching credits include American University (2011-14), the BA and MFA programs at the University of Maryland (2014-17), and residencies at over 20 conservatories and institutions of higher learning in the US and abroad. Christopher is Executive Artistic Director of Dance Place in Washington, DC, where he curates 40 weekends of performances annually and oversees a school for youth and adults. He also directs ArtOmi: Dance, an annual collaborative residency for international choreographers in New York. Sought as a speaker and grants reviewer for his informed and balanced perspective, he has been at the forefront of national discussions on equity in the arts. Christopher lives in Washington, DC with his husband, opera director Kyle Lang.



Master Class: Feb. 21, 2020


Johnnie Mercer


Johnnie Cruise Mercer (Artistic Director of TheREDprojectNYC) is a native of Richmond, Virginia and a BFA graduate from Virginia Commonwealth University's Department of Dance and Choreography. As a performance artist, Mr. Mercer has professionally collaborated with Antonio Brown, Edisa Weeks (Delirious Dances), Monstah Black (Reggie Crump), Whitney Hunter (Yon Tande), and Andre Zachery (Renegade Performance Group). He is also a current company member of both The Von Howard Project, lead by Christian Von Howard, and Dance Theater X lead by Charles O. Anderson. As a choreographer Mr. Mercer's work has seen/performed at the Center for Performance Research, The Richmond Dance Festival, The Biomorphic Dance Festival, The Greenspace, The Charlotte Dance Festival, The Dance Place, Brooklyn Arts Exchange, Gibney Dance: Agnes Varis Performing Arts Center, at the Out Like That Festival presented by Brooklyn Academy of Arts and Dance, and on numerous schools and companies throughout the region. Mr. Mercer has acted as a past residing artist in residences at Chez Bushwick Inc. for their spring 2016 cycle, and will work in October as an artist in residence in Denmark, Maine at the Denmark Arts Center. www.trpnyc.com.

Master Classes: March 20, 2020


Alex Biegelson


Alex Biegelson is a strong freelance dancer, master teacher, arts administrator and producer of immersive theater experiences. He earned his BFA in Dance from Mason Gross School of the Arts, Rutgers University in 2009. Alex has worked with Freespace Dance, Jette Performance Company, Nimbus Dance Works, Project: Smith, Carolyn Dorfman Dance Company, and Portables. Throughout his career, Alex has worked with choreographers including Adam Barruch, Al Blackstone, Christopher Williams, Claire Porter, Cleo Mack, David Dorfman, David Parker, Doug Elkins, Doug Varone, Julie Bour, Larry Keigwin, Manuel Vignoulle, Megan Williams, Niv Sheinfeld, Oren Laor, Raja Feather Kelly, Randy James, Sean Curran, Stephen Petronio, and Tiffany Mills. Alex performs in the Paradise Club's cabaret called the "Devouring" located at the Edition Hotel in Time Square. He currently performs with The Bang Group on their award winning national tour of "NutCracked". Alex has been a company member of ZviDance since 2012. Alex also dances for 10 Hairy Legs, in addition to being an original company member of 10HL, Alex also serves as the Associate Artistic Director.

Master Class: March 27, 2020


G^2

John Gutierrez & Beth Graczyk

G^2 (Gutierrez & Graczyk) have primarily independent performance histories, and met doing a series of projects with the feath3r theory from 2014-2016. They have launched G^2 as a collaborative platform for them to explore co-teaching, and co-generating performance work together. They aim to generate practices together that speak to ways in which their rigorous physical expressions can counter, challenge and blend with one another. In the more subtle and complex space of their bodies, John and Beth explore both identity and post-identity, where the individual labels that are afforded or placed on either of them, have the potential to become blurred with each other and the audience, even for a moment.

John Gutierrez is a multidisciplinary artist, creator, and performer originally from Washington Heights, a neighborhood in a densely populated small island known as Manhattan/New York City. Since finishing his BFA (in theater/drama) at NYU Tisch's Experimental Theater Wing, John has ventured into various worlds of performance - working with directors and choreographers from around the world such as Big Dance Theater, Full Circle Souljahs, The Ridiculous Theater Company, Andrew Schneider, the feath3r theory, MOTUS of Italy, Ivica Buljan of Croatia, Jesse Phillips-Fein, Martha Tornay, Culture Hub NYC, and many more, performing in venues all over the East Coast and Europe such as BAM, The Kennedy Center, La Mama, Dixon Place, Danspace, Dance Place DC, BAX, and many more. John's personal work combines theater, movement, and original music ranging from artistic expressions based in everything from hip hop to postmodern and has been presented at The Rubin Museum, Gibney, Theater for The New City, HERE Arts, TADA Theater to name a few. His work, typically collaborative based, often deals with current and historical interpersonal and systemic sociopolitical issues. John recently finished his training at the Terry Knickerbocker Studio which offers a two year acting conservatory in the Meisner technique/method. He is faculty at Peridance Contemporary Dance Center where he co-teaches improvisation with Beth Graczyk, from which has stemmed a new collaboration project known as G^2! Recent credits include performing internationally with Miguel Gutierrez, MOTUS, and Pilobolus. John is a proud member of the Great Jones Rep Company of La Mama and BAIRA / MVMNT PHLOSHPY. @jmg160

Beth Graczyk is a Brooklyn-based dance artist and scientist. She brings a decade of teaching nationally and internationally, working with populations spanning from non-dancers to advanced professionals. She recently began teaching movement practices to artists with developmental and cognitive disabilities through Interact Theater in Minneapolis and is commissioned to make a new dance work with their LGBTQIA artists in 2019. She has a collaborative partnership with John Gutierrez (G^2), in which they co-teach improvisation and create performance works together. In addition, Beth partners with BAIRA in Detroit as a teaching and creative collaborator, is a resident artist for NYC-based Pioneers Go East Collective, and is on Faculty at Peridance Contemporary Dance Center. Graczyk has performed throughout the United States and internationally in Japan, Ecuador, France and India for the past 17 years. Concurrently, she has contributed to 10 science publications in the field of cancer research. Graczyk travels annually to India to work as an educator and choreographer with Kerala-based artists Sen Jansen and Arunima Gupta. She co-directed the performance company Salt Horse in Seattle with Corrie Befort and Angelina Baldoz from 2008-2016. After moving to NYC five years ago, Graczyk launched a solo project called Desire Motor. In NYC, her solo works have been presented by Gibney, La MaMa, Judson Church, Jack, Triskelion, CPR, Movement Research, Oye Group, Kraine Theater, and through Pioneers Goes East Collective. As a performer, Graczyk has most recently danced for Raja Kelly, Sara Shelton Mann, Amy Chavasse, and Jen Salk/Chase Angier.

Master Class: April 3, 2020